Rolling Hills couple enjoy sharing unique spirit
Posted on 23 September 2021 by Anna Smith, Local Journalism Initiative Reporter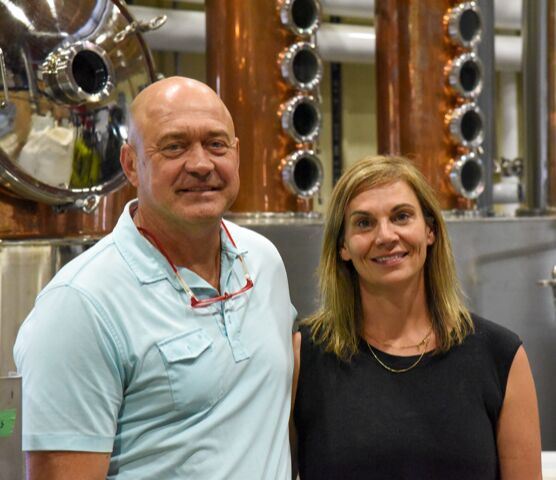 Rolling Hills Pivot Spirits distillery\'s Lars Hirch and Rochelle Fiset are enjoying success.
There were so many pivotal points for a Rolling Hills' couple in the creation of their distillery business.  
Rolling Hills couple Rochelle Fiset and Lars Hirch have been working to create unique spirits in their community since 2018 and now Pivot Spirits is a reality.
Hirch's parents came over from Germany, but he's always lived on Canadian farms, and has been managing his own crops and cow-calf operation for the past 31 years. However, as it became clear that his children weren't interested in taking over the farm, he found the passion for his lifelong career.
The answer to this issue came in the form of an invitation to a destination wedding, one year after Fiset and Hirch were married themselves.
"We had the opportunity to go to Scotland for one of Rochelle's friend's weddings. It was in July when it's quite busy putting up hay typically. Michelle's like too bad we can't go, but I'm like, wait a minute, we can go to the wedding, which is going to be a castle. I can go golfing at St. Andrews, and we can go to a scotch distillery," said Hirch. "So we went and did this tour at the scotch distillery at the start of the tour, they said all you need to make scotch is barley, yeast and water. Right away, I was thinking that would be a way better way to add value to the barley that I grow rather than feeding cattle. Six months later, I saw there was a six day distilling course, in Kelowna. And so I took that and I came home with that little copper steel that I showed you on the fridge and got started."
Fiset works full time in finance for the Grasslands Public School Division, but has been supportive of the distillery from the start, said Hirch, including doing much of the creative and marketing aspects of the business. Fiset is from Brooks, originally, but has lived in several towns across Alberta and Saskatchewan over the course of her life.
"I wanted to do something a little less mainstream in my life," said Hirch. "When I had this idea, it's a huge step to go for that big of a change in your career. I probably wouldn't have done it if it wasn't for Shell, encouraging me to follow my passion. And with that, honestly, with that huge support behind me, I felt like I had nothing to lose, I could just just do that. And it was a daunting task for sure. Yeah. Without that support, I wouldn't have tried it. And we do look back and go like, what this is, it's been way different than we expected."
"Lars has always worked for himself, I've always worked for other people," said Fiset. "It's really made me kind of stretch my understanding of what it is to be a small business owner and how challenging that can be. And what a steep learning curve that also creates for people. And, you know, at this time in my life, I never thought that I would be transitioning into something that is really stretching my comfort zone."
When the pair first planned to open the distillery, they intended to only have a tasting room attached, but as as they had the plans for the building drawn by a friend who happened to be an architect, Fiset suggested adding a restaurant to allow for people from the community to return more often than if they simply sold their spirits and nothing else.
"When our friend designed the building he said to us, get your relationship ready for success," said Fiset. "When you're married, and now you're working together, that's a whole different challenge. He goes to work on the farm, and I go to work, where I work, and then you come home and talk about your day and enjoy each other. And this presents personal challenges for us, because we're different people and now we're trying to run a business together. We really had to think about and have dialogue about what our vision is, because I think they were different sometimes, right? Having real specific, like, goals or things that are important to us. It has seemed to be similar for us most of the time, but when you own a business, you're always kind of rediscovering what you need to do and try to fix your mistakes. That can be sometimes hard, because the disappointments and the stress of it all can play a role in deteriorating your relationship.  It's definitely different when you wake up in the same place, and then you go to work in the same place."
Since their launch in 2018, many things have changed from the original plan, but their relationship and business are both going strong, including a recent break into agri-tourism. Pivot Spirits is now included on a bus tour of the area, that stretches between Calgary and Medicine Hat, and continues to experiment with new recipes.
"When you go further South, there's fewer distilleries and we're trying to create something that's a little more unique, more about the experience. People being able to see potato diggers flying by and things like that. Seeing our cows and our grain and how the process works. I think there is a really big disconnect between people understanding where their food comes from and their liquor. So this really gives them a good story and a good experience. And so that's kind of what we're all about," said Hirch.
Rolling Hills Pivot Spirits distillery's Lars Hirch and Rochelle Fiset are enjoying success.