Iwassa relishes role with City of Brooks; worked hard
Posted on 23 September 2021 by Anna Smith, Local Journalism Initiative Reporter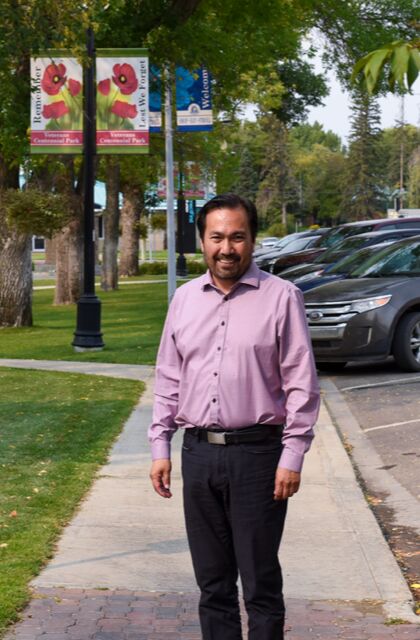 Iwassa a proud and unabashedly huge supporter of Brooks
As a businessman and enthusiastic citizen, Mitchell Iwassa has always marketed and been a major supporter of Brooks; now he does it full time for the City's new Economic Development Officer.
Born and raised in Brooks, Mitchell Iwassa has been an active part of his community from a young age, before eventually leaving for Calgary to pursue his Bachelor of Commerce degree in marketing at the University of Calgary.
"I went away to university, got my bachelor's degree. And then I worked in and around Calgary, and then in Winnipeg for a while in sales," said Iwassa. "Then 25 years ago, actually, my father and my brother had a family business here in town. It was signmaking, and printing, commercial printing, and that. So they just thought it was a good opportunity for me to come back. So I came back here. That's where we raised our family here."
The business itself was started by his father in the 1960s, who Iwassa said introduced him from an early age to service to his community through several different clubs and involvement with the church.
"I've been involved in the Rotary Club for quite a while here in Brooks. In the golf club, I was on the board there too," said Iwassa. "Through the Rotary Club, we have a run out of Dinosaur Park, unfortunately, it hasn't gone in the last few years, it's quite large. Pump it up, run. So we get people out there. So those kinds of things are great. And I love that through my volunteer work."
After the retirement of his brother, Iwassa ran the family business up until the beginning of COVID, when the commercial printing side of the business was shut down. 
"So at the beginning of COVID, we stopped doing the commercial printing side of it, we got rid of that equipment, and we're just doing signs. Business was slow, obviously, through COVID and everything else," said Iwassa. "I was looking at other opportunities, and this job with the City came up, and I thought I'll give it a shot. It's something I'm interested in, you know, economic development. As a business owner, you're always looking at new opportunities, what's out there, and innovation. Being so closely tied to the community for so long, I can really see the potential of what's here, in terms of the workforce, the infrastructure, the location."
"I applied for the job, I was fortunate to get the position. Really enjoying it so far. It's a steep learning curve for me right now, a little bit different. I mean, working in a sort of organizational setting, especially municipal government, is so different from running your own business," said Iwassa. "When you run your own business, you make a decision and you do it. Here, you have to consider all the policies and procedures and bylaws and everything else that goes along with it as well as being somewhat diplomatic, you have to consider everybody's concerns, too. You don't want to step on anybody's toes. But you also want to bring new ideas to the forefront. And so that's sort of what we're, you know, why I'm here."
Iwassa described himself as someone who "always has to have something going on," which he believes is likely a habit he picked up over the course of his career as a small business owner.
"When you own your own business, You're on call 24/7 and it's not necessarily that it was that busy. But you're always got to be primed to go," said Iwassa. "That's not to say that there's no extra work. It's not necessarily an eight to five job here. I mean, there is after hours stuff and I'm looking forward to that. The idea of taking a holiday but staying home and not doing anything didn't make sense to me. If I'm here, I'm going to go to work."
While Iwassa originally wanted to go into computer science when he was young, he's found his calling in business and now in economic development, something he attributes to a natural curiosity about how the world and his community works around him.
"I've got this curiosity about how things work and how things happen. So that's what's really intriguing about this job, because when you're a citizen, you don't think you know what's going on in the government and how things work. But you always have an opinion and a criticism or, or an idea that you'd like to see implemented," said Iwassa. "But now again, I'm just getting into it, you see that there's the process that goes through decision making, and needs to be made this way. So it's very fascinating to me, the whole workings of municipal government at this point. On top of that, the economic development side is really intriguing. I really find that again, goes to my curiosity, to meet new businesses and meet new business people. I love that, you know, just meeting people and hearing their stories."
Iwassa has three children, two of which are currently living in Brooks alongside most of his family. He cites his strong connection to the community as part of the reason he's decided to work in government.
"I find that there's this stigma associated with certain small towns and Brooks being one of them. Whether it's the smell of a packing plant or, or it's an oil town or whatever else, but you come here and you sit in a park like this. I did a bit of traveling this summer. And you appreciate little things now, but even the irrigation that is available in Brooks, our parks have been green, whereas it was in Calgary or other places and the parks were brown because they don't have that same capability to water them during the heat this summer. Brooks, we're sort of isolated. We have to make our own community and we've done that here, we've really developed a unique culture," said Iwassa.
Iwassa a proud and unabashedly huge supporter of Brooks