New card-sized COVID-19 vaccination record can be printed Sept. 16
Posted on 14 September 2021 by Contributed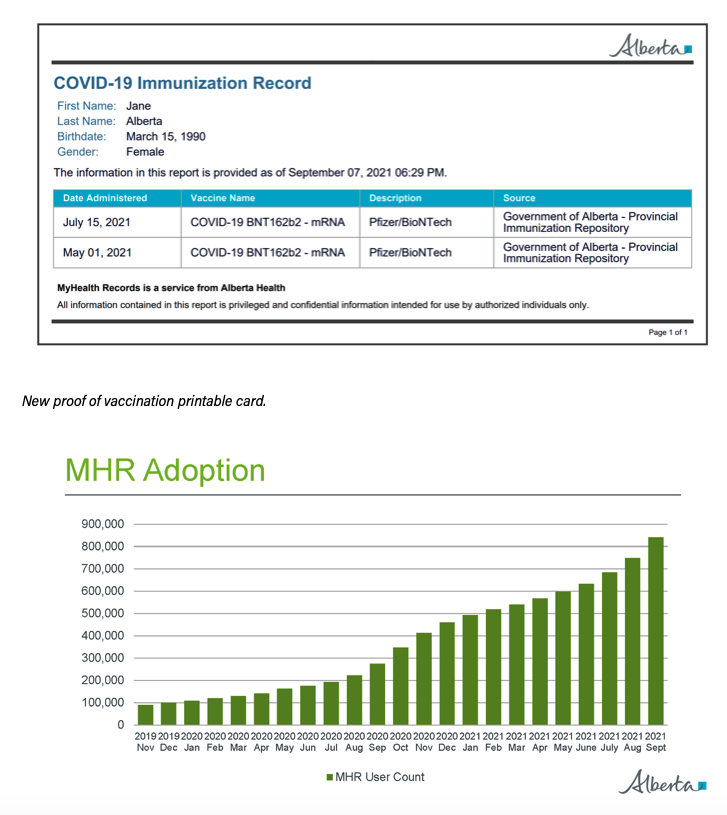 Vaccination card coming; My Health Records usage increases
Albertans can soon get their proof of vaccination on a new convenient card-sized printout through MyHealth Records.
Starting on Sept. 16, Albertans will be able to print a copy of their card-sized COVID-19 proof of vaccination or show it on their phone or tablet.
"We continue to make it easier for Albertans to securely access their health information, including immunization records, in the palm of their hand any time and anywhere through MyHealth Records. More Albertans are signing up for this tool every day to access their health information, and if you haven't done so already, I encourage you to sign up now, explained Tyler Shandro, Minister of Health in a statement.
Work is also underway to make proof of vaccination available through a QR code. A QR code will be an easier, faster and more secure way to share the immunization record when needed. The QR code is expected to be available in the coming weeks.
It is recommended that Albertans plan ahead and save their proof of vaccination card on their phone or print it out before the needed date. MyHealth Records may experience high traffic volume before major events and long weekends.
Albertans who need support can contact the MyHealth Records support line at 1-844-401-4016 from 7 a.m. to 7 p.m. Monday to Friday, and weekends from 9 a.m. to 5 p.m. The Proof of Vaccination FAQ on alberta.ca answers common questions about getting an immunization record.
Alberta's government is responding to the COVID-19 pandemic by protecting lives and livelihoods with precise measures to bend the curve, sustain small businesses and protect Alberta's health-care system.
Quick facts
•MyHealth Records is accessible online through an internet browser or through an app downloaded to a phone or tablet.
•Albertans looking to access MyHealth Records must first have a MyAlberta Digital ID. A MyAlberta Digital ID account can be created at account.alberta.ca using an Alberta driver's licence or identification card.
•Albertans must use their personal health care number to create a MyHealth Records account at alberta.ca/mhr.
•COVID-19 immunization records have been available since December 2020 for Albertans aged 14 and older.
•More than 110,000 Albertans have created their MyHealth Records account in the last three weeks, bringing the total number of users to about 910,000.
•All Albertans should receive a paper immunization record when their COVID-19 vaccination is administered. 
•In addition to accessing the proof of vaccination online, Albertans looking for proof of vaccination can:
â – ¦Contact the pharmacy or physician's office where they received the vaccine or call 811.
â – ¦This includes obtaining proof of vaccination for children under age 14 who cannot get their records through MyHealth Records.
•Albertans can contact MyHealth Records support line at 1-844-401-4016 or email myhealthrecords@gov.ab.ca.
•For help with My Alberta Digital ID, Albertans can contact the support line at 1- 844-643-2789 or email myalbertaid@gov.ab.ca.
Vaccination card coming; My Health Records usage increases