Lethbridge College cancels Coulee Fest
Posted on 13 September 2021 by Contributed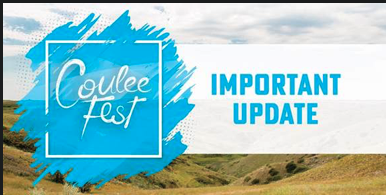 Coulee Fest cancelled for this year
In light of rapidly rising COVID-19 cases in Alberta, Lethbridge College has made the decision to cancel this year's Coulee Fest. Originally scheduled for Saturday, Sept. 18 on the college campus, decision-makers from across the college community agreed that the time wasn't right to host a large festival.
"When we announced this year's festival, Alberta was in a period of rapidly declining COVID-19 cases," says Dr. Paula Burns, Lethbridge College President and CEO. "However, the environment has since changed. We recognize that Alberta's health care system is strained, and we do not want to take the chance of adding more cases to the system. We are a tight-knit community, and we want to support our health care workers, many of whom are our alumni."
Lethbridge College is committed to two significant priorities for the current academic year: keeping its entire community healthy and safe; and supporting all efforts to offer classes in-person for the entire semester. The decision to cancel Coulee Fest aligns with these goals.
"Thank you to everyone who was planning to be a part of this year's Coulee Fest," says Stephanie Savage, Alumni Engagement manager and Coulee Fest organizer. "The support from our campus community and all of southern Alberta is unmatched. We look forward to hosting more exciting events for our community when the time is right."
Lethbridge College received great support from the many community partners in preparation for this year's event. The list of vendors associated with the event will remain posted on couleefest.ca and the college encourages the community to support these local businesses.
Coulee Fest cancelled for this year