Empress Theatre ready to go
Posted on 19 August 2021 by Ryan Dahlman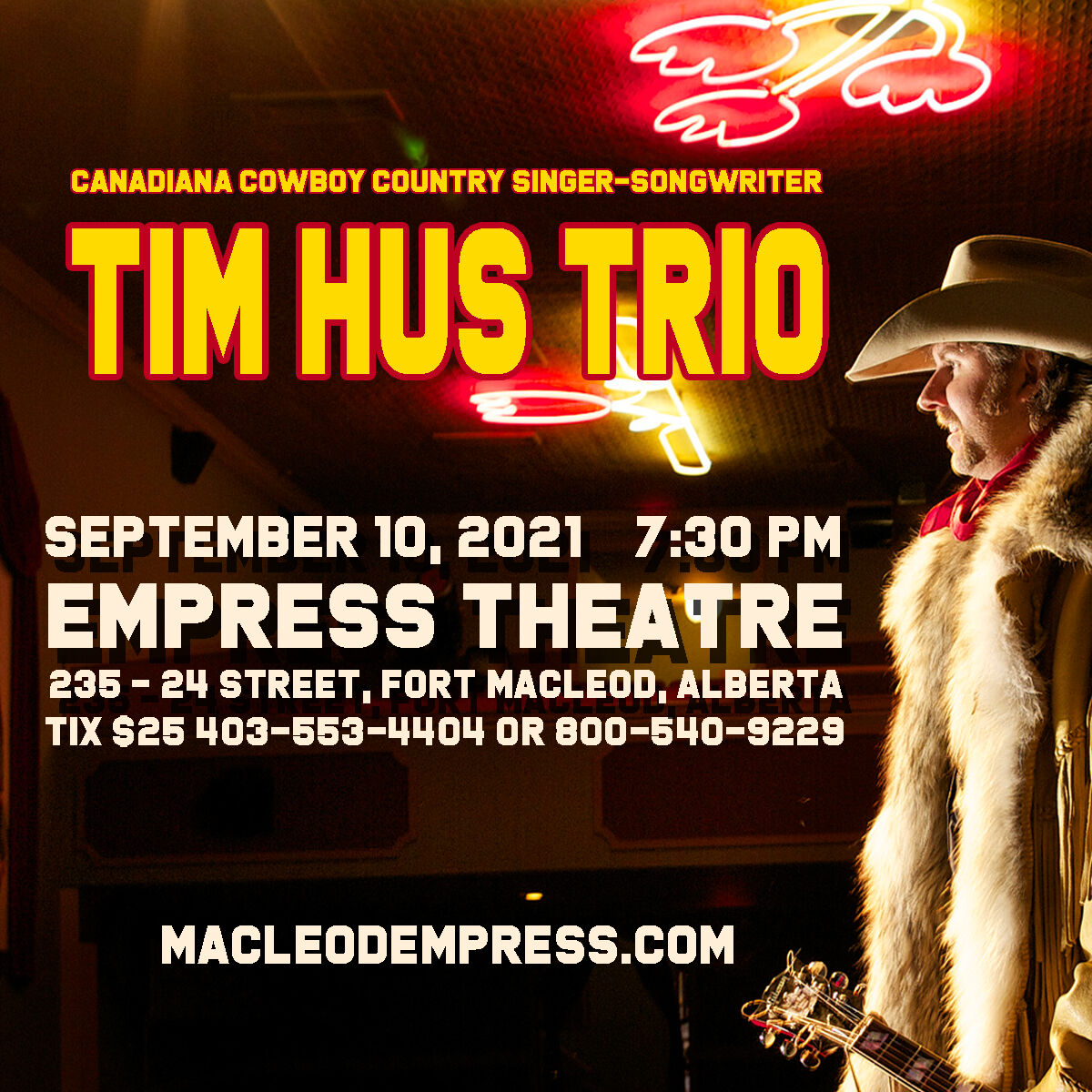 Welcome sight for Fort Macleod and southern Alta. music fans
The Empress Theatre in Fort Macleod is working itself back to pre-Covid-19 status quo.
This means some live entertainment events to go along with some movies already being scheduled. 
As of right now, country singer Tim Hus Trio (Sept. 10) and folk singer Connie Kaldor (Nov. 5) are booked and while it is only two so far, at least the Theatre is getting back to business. 
"It's a huge relief, the whole world has suffered this pandemic. This is very encouraging for the community knowing this slowly opening it. We opened for movies a couple of weeks ago. We are noticing people want to come out and are supporting the Empress," explains Margaret Ann Bianco, Empress Theatre Director. "We are trying to open slowly, I don't know (how regulations will unfold). There's a lot of talk both ways. Alberta (government) doesn't feel the same way (in regards to Covid to much of the rest of the rest of the country) so we are paying attention to what's happening in the rest of the world. Our concerts right now can only happen with our standalones who are mostly in Alberta at the moment." 
Artists are not able to put together tours because the rest of Canada has varying degrees of restrictions and regulations. 
Everybody is open differently, so some theatres in British Columbia are open 50 percent; there are different percentages in Manitoba and Saskatchewan so a Canadian artists is not able to put on a tour, so they are not able to perform the same at any of the theatres so were still under restrictions to what we can bring to the Empress Stage but very optimistic as they have some Alberta artists such as His available and Connie Kalder is from Saskatchewan so she can make the trip easily enough.
Because of the size of the theatre and with all the distancing regulations they were not able to open unless could open unless it was to some rentals. They have been basically closed since early March 2020. There was a short period of time when the government lifted restrictions they could open the theatre to restricted family bubbles, so then a family could rent a theatre to come watch a movies, generally on a Friday evening.
They have followed all of the government proctors especially those dealing with properly and throughly sanitizing the building.
"I tried to accommodate the community when I could, when the restrictions were lifted," Bianco said. 
Bianco explains they will still continue to follow protocols and will encourage, yet is not mandatory wearing masks within the theatre. "We have been able to open our doors, we will do so safely. We will continue to sanitize as we did during the pandemic and that's all kinda behind the scenes. We have got sanitizers all over the theatre, so whatever the patron is most comfortable with, I will continue to wear my mask."
Bianco says management is looking at starting the Theatre's Centre Stage in January and possibly looking at having four artists until we can put on a full year in 2022.
According to a press release, The Tim Hus Trio will bring Empress patrons "their particular brand of Canadiana cowboy music" on Friday, Sept. 10 at 7:30 p.m. Tickets to the Tim Hus Trio at the Empress Theatre are $25 at MacleodEmpress.com. 
For more information, contact the Empress Theatre at 403-553-4404 or info@macleodempress.com.
Welcome sight for Fort Macleod and southern Alta. music fans