County of Newell declares state of agricultural disaster
Posted on 18 August 2021 by Anna Smith, Local Journalism Initiative Reporter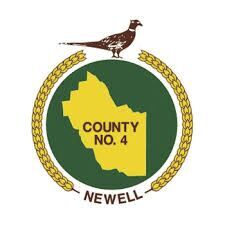 Newell part of a western region drought
The County of Newell has declared a state of agricultural disaster during their last Council meeting on August 5th, due to the ongoing drought. 
"Well, we discussed it, our meeting at the end of July. You are sort of supposed to look at your whole area," said Newell Reeve Molly Douglass. "I've been Reeve of the County of Newell for 17 years, and we have never in that time declared a disaster before. We take it fairly seriously to figure it out. The biggest reason we've declared now is that we waited for two weeks to see if there was any hope of precipitation, and that didn't happen. Because we do have a very pretty healthy irrigation economy, to declare the whole region a disaster takes a bit of serious thought." 
A declaration of agricultural disaster is different from a declaration of local emergency, said Todd Green, Director of Agricultural Services for the County of Newell. 
"State of Agricultural disaster largely just raises the awareness that there's some significant pressure points for producers in the area," said Green. "Maybe not all, but a good swath of the people that have dry land and dry pastures. We haven't had any rain and the extreme temperatures and wind have just made it a bad year for that all around. It raises awareness maybe to different levels of government, ensuring that they understand the pressures and the troubles that guys are going through." 
Declaring a state of agricultural disaster does not provide access to any additional funding, and is instead a show of support for those in the agricultural sector, as well as a way to communicate the issue to higher levels of government. 
"It's more of a supportive statement for an industry that is very critical to Alberta, and particularly in our community itself. It's an industry that relies heavily on the weather conditions. They've had excessive and extreme heat which has worsened conditions a great deal. For me, and I think for most of our council, it's a show of support for, as I said, a critical industry to our community. We were fortunate in the County of Newell because we also have the Eastern Irrigation District, which owns most of the land in our county as well. And so we have a rather unique situation with that, because they run capital leases in the summer, and so if you are an irrigator, you're able to put cattle out into EID lease land. So the EID is a very significant player in our agricultural industry, as well, providing us with the options of a lot of specialty crops that wouldn't exist otherwise. But because they don't irrigate grass or the pastures, the impact of running out of pasture land, probably will be felt for some time if we don't get rain or lots of snow, or something going into another year."
Newell part of a western region drought