Mental health a priority for the Medicine Hat & District Health Foundation
Posted on 6 May 2021 by Ryan Dahlman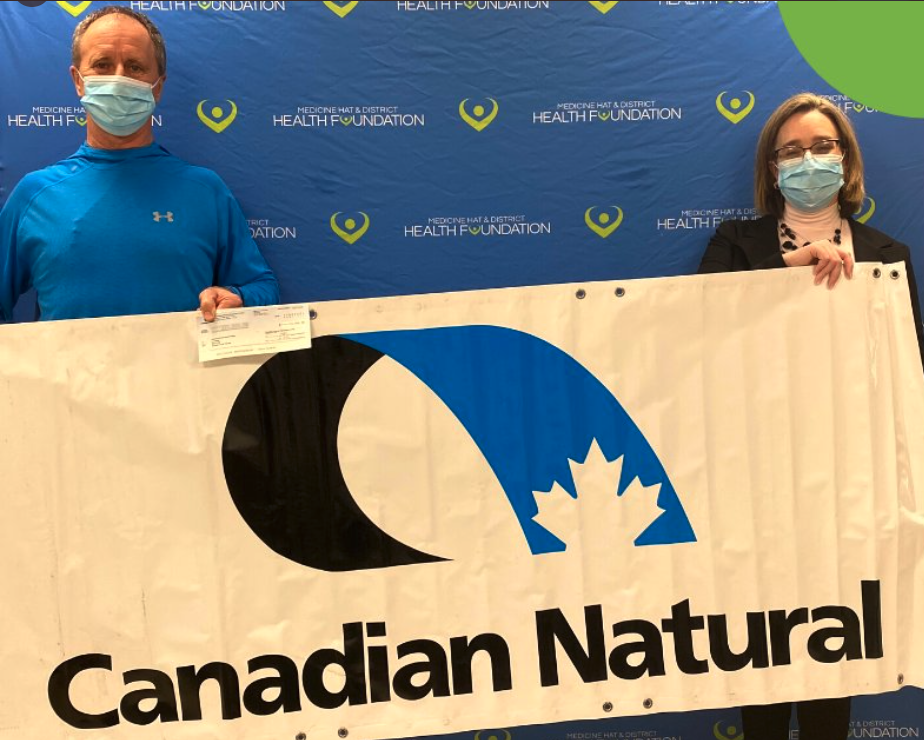 Photo contributed
A representative from Canadian Natural Resources Limited presented Heather Bach with a cheque for $10,000 earlier this April.
Medicine Hat & District Health Foundation is focusing their efforts on an area which is need of some help.
The  Foundation officially kicked-off "Giving Hope for Mental Health" campaign earlier this month and it got a nice start with a $10,000 donation from Canadian Natural Resources Ltd. (CNRL). 
Heather Bach, executive director of the Medicine Hat Hat Health Foundation, says there is a plan in place for what the half million goal is targeted towards in mental health services in Medicine Hat and southeast Alberta. 
"I work in partnership with the directors of the mental health, addictions and mental health is the AHS team in the south zone," explains Bach. "The leadership works with them to identify priorities and sustainable item. Want to make sure we were funding things that won't be moved tomorrow or changed the next year and that we were investing our money that was going to make an impact right away and make an impact for many years to come. 
"It was a lengthy process because there are lots of people involved. There were department managers who have to be engaged and then their director, then you operating officer and the chief operating officer has to to rubber stamp it all. It takes quite a few months. I threw some item up there they didn't know about or they weren't thinking about, just to make them think. I see it from a different perspective. I look through (different) eyes and see the possibilities while AHS is worried about budgets; they are afraid to dream big and so I try to get them to dream big. It takes a long time to convince them 'c'mon let me try.' It does take a few months yes.
"I wish I could go the hospital and pick and choose what I get to fund. That's not how it works. I work in partnership with AHS to make sure we are funding priority items and that we are funding things that they can operationally maintain."
Bach says mental health services are all over the city and there are numerous areas where mental health issues are addresses such as the recovery centre for addiction. She says the recovery centre has been open for a number of years and is in need of some simple, yet vital items. 
"We want to replace the mattresses believe it or not are worn out already in the facility. We want to get them new comfortable mattresses so they can get a good night's sleep," explains Bach. "In the back of the recovery centre, it's a huge big back grass space, but it is all wild grass. Why aren't we utilizing it for outside activity so we'd like to put a walking path in so that they can safely walk around? Right now, it is not a friendly space to walk. (They need) a space for them to develop more fitness, meditation and what not… they need to utilize it for outdoor activities. 
"Then there are patient services like the psychiatric department within the Medicine Hat Hospital. That is the department in the hospital that hasn't seen a lot of donor love and certainly does need it. One of the things I am fighting with them about is give it a paint job, because it is a yucky brown colour like the rest of the hospital, but it's needed for patients that need a pick me up and patients need something to be happy about. I'd really like to improve the colour in the space and improve their beds. They have the really old style of hospital beds and it's time for them to have proper upgraded equipment. One of our biggest investment actually is to replace those beds in 5 North to make sure that those patients are also getting a comfortable night's stay. The patient rooms make them more comfortable and more of a safe environment for everybody. Our paediatric department was built in the 1980s for paediatric patients but not for mental health patients in mind. Here we are in 2021 and it is time to make a safe space for our mental health youth patients. We want to make a dedicated safe space, not only for our patients but the peace and mind of mom and dad and their caregivers, that is going to be one of the biggest price tags believe it or not." 
Bach notes currently they haven't pushed forth the campaign too vigorously and have just contacted long time larger donors.She says bit of the campaign is raising awareness besides raising money. 
"We want to start the conversation because it is a community issue," she adds. "Probably after Mothers' Day and we will start to see some campaigns come out and the first piece we will start with is "I'm Fine" where we are partnering with some coffee shops and breweries and those are places people are having conversations. Everyone is going for a coffee and so we're hope to start that conversation 'I'm fine'. When someone asks you how you are, you usually say 'I'm fine' but are you really?" 
Before they got started with the campaign Bach and the staff conducted a mini feasibility study and instead of getting someone else to do it they did it themselves. 
The response was position and respondents were encouraging the Foundation to go forth with this particular mental health campaign. They thought it was a good idea. They got nothing but positive feedback. In talking with local businesses launching an online silent auction for the campaign. 
"So we went to a few businesses asking for some auction items, and considering the economy I wasn't expecting the positive response I got," explains Bach. "Everybody wanted to help in some small way and it doesn't matter the size or the volume, that's not what it is about. It is about starting the conversation, getting behind it and everyone being part of it. I am glad to see Medicine Hat is not backing down from this, they are talking about it and making it more comfortable and making it more commonplace."
It is a busy time for the Foundation which quietly celebrated its 25th anniversary April 27. Over that time, they have raised $17 million to help with different projects for the Medicine Hat hospital and related projects.
Their last initiative included raising money for the all important special medical bassinets for the hospital. Now the Giving Hope for Mental Health will be their main focus, but not the only focus. 
Bach says it will take a lot of their time but is not their only project.
Photo contributed
A representative from Canadian Natural Resources Limited presented Heather Bach with a cheque for $10,000 earlier this April.