Bassano RCMP make arrest and lay charges in rural theft incidents
Posted on 27 April 2021 by Contributed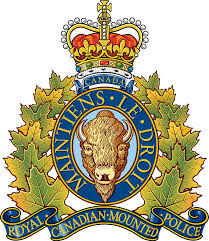 Two from Drayton Valley arrested
On April 25, shortly after 7 a.m., Bassano RCMP responded to a call of suspicious vehicle in relation to a theft of fuel incident in the area of Highway 550 and Range Road 164 outside of Bassano.  
A fuel spill trail from the site of the fuel theft led RCMP to locate the suspects in a field.  Police pursued the suspects on foot for approximately one kilometer and subsequently arrested a male and female for theft.
Further investigation revealed the vehicle in their possession had previously been reported stolen from Brooks. two days earlier and the licence plate displayed on the stolen truck was also stolen from Brooks in November 2020. In addition, it was determined that the suspects allegedly had stolen a vehicle in Bassano a day earlier which had been recovered later that same day by police. 
Other recovered stolen property was determined to be linked to a theft in Drayton Valley, Alta. in June of 2020.
Colin Reid Rumsey (39) and Tyrisa Dawn Hudson (26) both from Drayton Valley have been charged with:
·         Possession of stolen property over $5000
·         Possession of stolen property under $5000 (x2)
·         Theft under $5000
·         Theft of a motor vehicle
In addition, Hudson was also charged with possession of break-in instruments.
After a Judicial Hearing, both Rumsey and Hudson were released on bail.
Rumsey will be appearing in Brooks Provincial Court on May 12, 2021.
Hudson will be appearing in Brooks Provincial Court on May 19, 2021.
"I would like to thank the residents for calling on suspicious persons as it helped lead to the arrest and apprehension of suspects in numerous thefts in and around our community," says Constable Hugh Jia, Bassano RCMP, Lead Investigator. "This is a clear example of the impact the community and police partnership can have in solving and reducing incidents of rural property crime."
If you suspect criminal activity in your community, please contact the Bassano RCMP at 403-641-3677 or your local police. If you wish to remain anonymous, you can contact Crime Stoppers at 1-800-222-8477 (TIPS), online at http://www.P3Tips.com or by using the "P3 Tips" app available through the Apple App or Google Play Store.
Two from Drayton Valley arrested