Lethbridge and area Harambee Grandmas excited about virtual fundraiser
Posted on 8 April 2021 by Mardi Renyk, Harambee Grandmas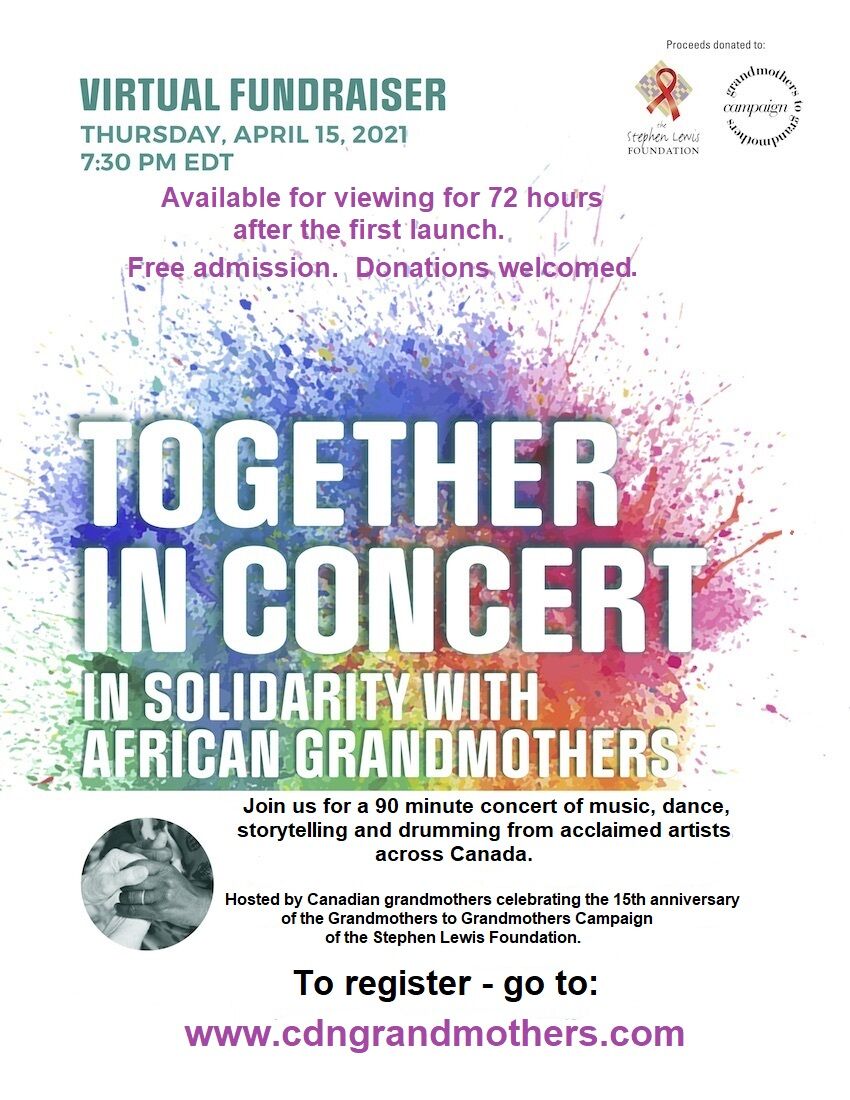 Harambee Grandmas look forward to virtual fundraiser
The Lethbridge and area Harambee Grandmas invite you to watch a virtual fundraiser April 15 starting at 5:30 p.m. and enjoy an amazing Cross Canada Concert.  
"Together in Concert:  In Solidarity With African Grandmothers" will be a gathering of stellar performers representing all dimensions of Canada from coast to coast.  It airs on April 15 and will be available for viewing 72 hours after that first official launch.
 A visit to our engaging website http://www.cdngrandmothers.com will give you all the details about the performers – including Lethbridge's own Bridge Brass Quintet – and provide a quick and easy way to register to attend. Admission is free, donations welcomed.It will be available for viewing for 72 hours after the first launch. 
And who are the Harambee Grandmas?  
We are the local chapter of the Stephen Lewis Foundation's "Grandmothers to Grandmothers Campaign" which is celebrating its 15th anniversary this year.
Stephen Lewis served as Canada's ambassador to the United Nations from 1984-88 and later worked with UNICEF before spending five years as the UN Secretary General's Special Envoy for HIV and AIDS in Africa.  In 2003, that experience led him to form the Stephen Lewis Foundation, which works with community-level organizations by providing support to grandmothers and orphaned children in their care in several African countries impacted by the ravages of the HIV and AIDS pandemic.
In 2006, his foundation initiated the Grandmothers to Grandmothers Campaign in Canada which now has 160 local chapters nationwide.  At that time, a small group of dedicated and determined women in Lethbridge took up the challenge and formed the Harambee Grandmas.  
Many of the groups across the country have an African name and ours, in Swahili, means "working together to make a difference".  Over the years since its beginnings, the Harambees have contributed substantially in various ways in providing hope, empowerment, and truly meaningful changes in the lives of the brave women who selflessly tend to the needs of the children in their care.  In terms of financial contributions – and with great thanks to our community – to date our local group has raised over $215,000 for this very worthy cause. 
Many Lethbridge and district residents will be familiar with the Harambee Grandmas endeavours as a result of having attended our Travel Chats at Casa over the past years and our annual October gigantic Fabric Sale.
Our thanks go out as well to all those who have participated in our other events, including our art auction and the annual "Stride to Turn the Tide Walk" each June.  
For more information, you can find us on Facebook at Harambee Grandmas and visit these websites: http://www.grandmotherscampaign.org  and  http://www.stephenlewisfoundation.org
Harambee Grandmas look forward to virtual fundraiser