HALO Air Ambulance secures multi-year funding agreement with Cypress County
Posted on 24 March 2021 by Contributed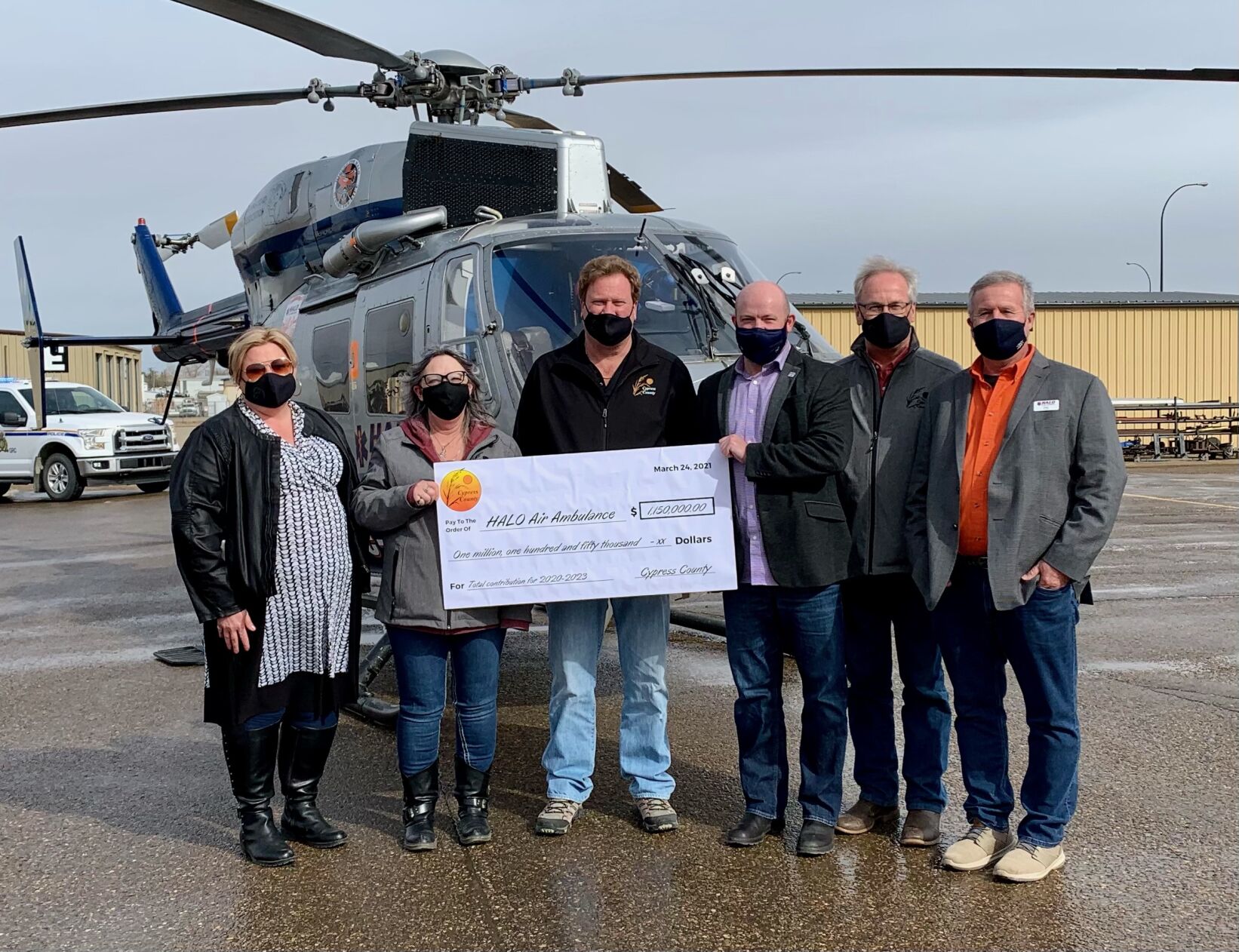 <p>It was all smiles at the March 24th announcement of the Cypress County funding.</p>
HALO Air Ambulance (HALO) in partnership with Cypress County today announced a major investment in the HALO Program. The multi-year agreement provides significant investment to ensure HALO will continue to provide life-saving helicopter emergency medical services throughout Cypress County and Southern Alberta. 
Cypress County Council approved a one-time investment of $250,000.00 for assistance with the decrease in traditional fundraising due to the COVID-19 Pandemic.
In addition, Cypress County renewed their commitment to the HALO Program with a new investment of $300,000.00/year for three years.
"This investment represents our commitment to a fair and equitable funding model of the HALO Program. Over the past four years Cypress County has benefited from having HALO respond to over 30% of their annual calls for service within the county. Recognizing that, Council voted to contribute 30% of the proposed regional municipality third," said Dan Hamilton, Cypress County Reeve. Cypress County averaged 34.5% of the HALO calls for service between 2018-2021. Calls include air ambulance EMS calls, as well as calls for search and rescue, fire department support, law enforcement support, and disaster response. 
"We are very grateful for Cypress County and their leadership, this investment represents a significant step forward for our program," said Carolan. 
HALO is the only life-saving helicopter medevac service that provides dedicated and faithful service to Southern Alberta, since 2007. HALO covers areas that other air ambulance providers are not able to cover, providing rapid response to areas that normally would not be reached within a reasonable timeframe. They rely almost exclusively on the generosity of community-minded individuals; responsible businesses and corporate partners; and regional and municipal governments. 
(More on this announcement in next week's Prairie Post) 
It was all smiles at the March 24th announcement of the Cypress County funding.