Newspaper writer from Coaldale continues to add to his literary legacy
Posted on 19 March 2021 by Ryan Dahlman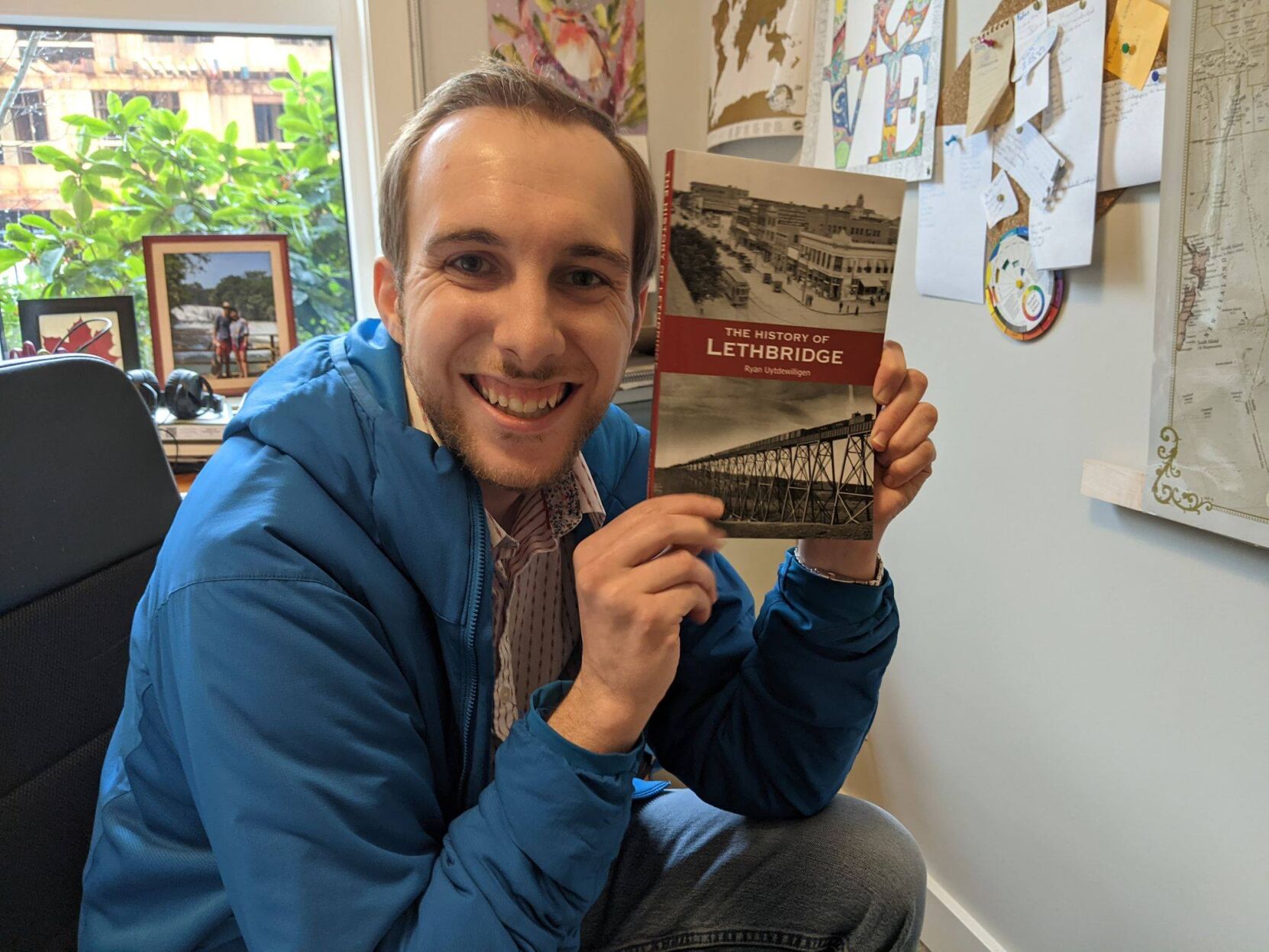 <p>Ryan Uytdewilligen</p>
Ryan Uytdewilligen is a gifted writer and enthusiastic sponge of historical facts, especially those involving Southern Alberta.
Raised on a farm north of Coaldale, having gone to college and worked in Lethbridge, Uytdewilligen now lives in Langely, B.C. where he works for a newspaper group. His stories and editorials appear in numerous papers in the region including his base at the Langley Advance Times, Chilliwack and Aldergrove to name a few. 
He is quite busy but he always finds time to devote to his other love: writing and learning about history. 
His 192-page book "The History of Lethbridge" isn't his first foray into books or writing non-newspaper pieces. He has also has movie scripts, short story and non-fiction titles called Tractor; The Cattle Driver (a novella which earned a 2019 Will Rogers Medallion for Western Short Fiction); 101 Most Influential Coming of Age Movies; and Akela.
Uytdewilligen loves to learn and write about the era between the 1940-70, which he describes as the "sweet spot" for him regardless if it is fiction or non-fiction. He laughs calling it a 'shiny toy.'
"Anyone who talks about that era, I am thinking 'oh my' and I get distracted and obsessed," the amiable Uydewilligen explains. "Anything of note, it just started with me researching, reading previous books, reading posts shared by the Lethbridge Historical Society and collecting these little facts. Writing I find is the best way and the closest thing to time travel that I think I am ever going to be so that's sort what I have discovered why I write. You immerse yourself in the past. And it is why I might have wanted to visit (back then) and why I was doing it in the first place. I was building a clear picture of what Lethbridge was like in this era, it was so interesting. Ultimately when I had a manuscript that was fairly short comparatively to what it is now, a quarter of what the book ended actually being."
He sent it to some publishers and was rejected. One publisher suggested that he kept writing and do the entire history. He acknowledges that like many things in media today he concentrated on a certain era and specialized in one area as opposed to a broader appeal. Because many are aware of the repeated history stories involving Fort Whoop Up or the coal mining era, he wasn't sure what more could be added. 
"I poured myself into research, it was a lot more interesting that I thought it was going to be," he notes. "Very quickly I became obsessed…it is addicting. History is addicting."
It took him a couple of years to finish it off. He is excited to have the book in his hands and having the opportunity to chat with others about Lethbridge history being more informed or something from his book will trigger a poignant or colourful story from their own past which they relay onto Uytdewilligen. 
Uytdewilligen says one could write a whole book on just a couple of years of history. However, he wanted the overall look at Lethbridge in which his role was to gather as much information as possible and feasible and then "distill" what wasn't important and relay that in the best storytelling form possible. Not only reading but he talked to many historians, authors and those knowledgable about what they know or themselves written. From there it was a matter of condensing and filtering through to wind together the most interesting and impactful items. He says he compiled the work done by those ahead of him who did the research on the actual events, items from the last 150 years etc. 
It turns out that he enjoys more than the 1940-70s.
"All the information that is out there, information and research is there, it would take lifetimes to go through it all," explains Uytdewilligen. "Luckily I have studied screenwriting and writing books and journalism. What that has instilled in me is story telling being able to use the hero's journey or formats like that to shape non-fiction and if you are going to do any kind of non fiction or any kind of all-encompassing history book. You still have to find the meat of the story that is going to relate to readers. You have to find the origins, the beginnings, the overall thesis of what you're trying to say and the theme of the city of Lethbridge itself. When I poured myself into this story I found the city of Lethbridge does have a story. It started as this old western, beat up community which came from some rural, western and rough and tumble roots and then got way over its head in development. There's a lot of trouble in the twenties and thirties and ultimately move out of that and then triumph out of that with business booming and the Second World War. So once you distill those sorts of things like that, you can shape it into an exciting narrative that readers can digest."
There are a lot of details he left, and knows there is a lot to include. He focused on the interesting points which told a good story. He loved doing it and is of the opinion more books need to be more generalized. 
The book was more popular than he expected and he wound up having a waiting list once the first printing batch was gone. He ordered more and has sold over 600 books in the last two months. He has filled all the waiting list orders.  
With all the work he has put into self publishing this book, Uytdewilligen is already into two other projects plus is looking at another involving Coaldale. He is going through a major children's book publisher Kids Can Press which has been a major challenging and educational process. 
One is a children's picture book which is about different story telling genres. That one has been going back and forth with edits and revises. He is excited about this book
"The more you talk about storytelling and distilling the information, I'm realizing I'm more interested in the art of storytelling and the kids' book it is about genres," he says and indicates the title is called 'This is Not my Story.' "It is about the protagonist and the author arguing wether they are not they are using the right genre or not. They are going through sci-fi, fantasy, comedy and romance and they are trying out different genres to find the perfect story and there's a lot of human in that and illustrations…you can be as creative as you like. I'm finding it to be a fun outlet to let your imagination run wild. 
Uytdewilligen has one book project where he looks at the movie The Conquerer with John Wayne which he admittedly describes as an awful movie. Being a huge movie buff and obsession, he had heard the story behind The Conquerer just under a decade ago. He said it was too good of a story not to look into further.
"It was a very terrible John Wayne movie where he plays Genghis Khan, (the historically important founder of the Mongol Empire), they filmed it on nuclear test site, bankrupted the studio, a huge colossal failure in the theatre and then everyone died… I'm like, 'oh, interesting.' I am think about it over and over. Hmmm what happened there? And the more and more you go down that rabbit hole there's a lot of conspiracy theories with it, a lot of film history with people like Howard Hughes and topical things (important today) like face make up and women's rights. There's just so many aspects to this one little movie.
"It was made with nothing but greed and haste and everything terrible. It just backfired and in all the right and wrong ways. It was interesting to see how much of a colossal failure it ended up being and rightly so."
He says that one is almost done after getting another major publisher and agent and recently just checked out the cover art for it. It is almost ready for printing and he says it will be out
Sept. 1. 
He is also very interested in doing something on Coaldale.  Uytdewilligen was just in the area not too long ago as he was home as the family gathered for his grandfather's funeral. He immigrated from Holland in the late fifties and found someone in the agriculture community willing to sponsor him.  Uytdewilligen says a huge group of friends settled in the area with many of them having hog or sugar beet farms or cattle. 
They raised the town up with its first little boom in the fifties,"  Uytdewilligen explains. "I would love to do something on that, particularly listening to my family lately talking about it them growing up in granary bin for the first years because they didn't have anything and they worked their way up." 
He says he is not sure how to tackle that one quite yet. May look at doing a documentary with that one. 
To get a copy of The History of Lethbridge, or just to contact him, you can send Uytdewilligen an email at Ryan.uytdewilligen@yahoo.ca or go through Facebook at https://www.facebook.com/UytdewilligenRyan
Ryan Uytdewilligen