Lethbridge & District Exhibition and the Rotary Club of Lethbridge East announce 2021 recipients of $10,000 agricultural scholarship awards
Posted on 25 February 2021 by Contributed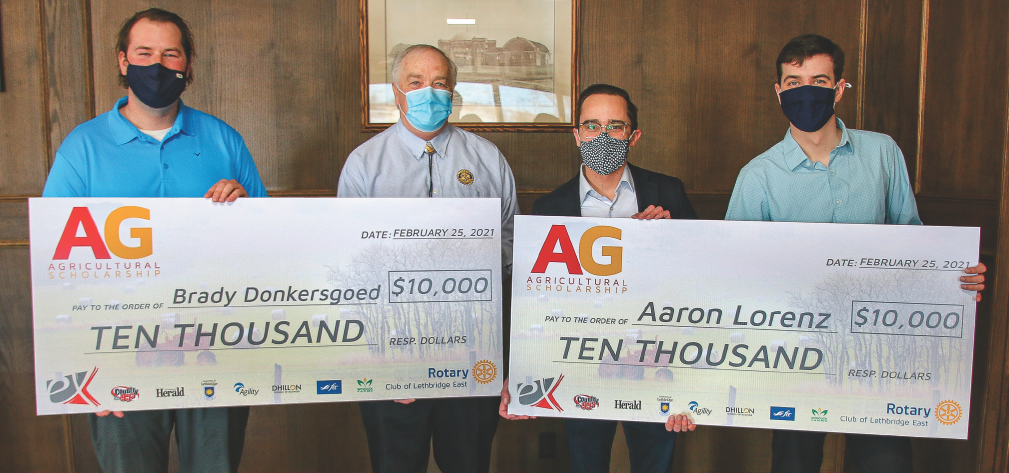 <p>Brady Donkersgoed, Bill Mains, Mike Warkentin and Aaron Lorenz celebrate the scholarships for Donkersgoed and Lorenz.</p>
Lethbridge & District Exhibition and the Rotary Club of Lethbridge East are pleased to announce the recipients of the 2021 agricultural scholarship awards. At a virtual award presentation earlier this evening, University of Lethbridge student Aaron Lorenz and University of Alberta student Brady Donkersgoed each received a $10,000 scholarship award to support their post-secondary studies in the field of agriculture. Agriculture and agri-business in southern Alberta are multibillion dollar industries.
"We wait with excitement for this night every year," said Mike Warkentin, COO, Lethbridge & District Exhibition. "The opportunity to help shape the future leaders of the agriculture industry is something that is part of the fabric of Lethbridge & District Exhibition. Both recipients of this year's scholarships are already incredible community members, and we look forward to them being ambassadors for both of our great organizations."
"Congratulations to Aaron and Brady on being the 2021 agriculture scholarship award recipients," said Bill Mains, Rotary Club of Lethbridge East president and member of the scholarship organizing committee.
"This year marks an historic milestone for Rotary Club of Lethbridge East — 60 years of serving our community, and the world. Four of our founders were farmers and several others had careers in service industries. Our connection to agriculture remains as strong today as it was in the beginning; our entire scholarship committee, as well as several other club members, have roots or careers in agriculture. The agricultural scholarship is our latest partnership with the Lethbridge Exhibition."
"We want to acknowledge everyone who submitted an application for this year's scholarships," said Wayne Lindwall, Rotary Club of Lethbridge East member and scholarship selection committee member.
"We received 17 submission which were reviewed by a six-person selection committee. The calibre of the submissions was impressive and shows the future of agriculture in southern Alberta should be in good hands when these students enter the work force."
Each year, the AG Scholarship Committee (non-profit) raises thousands of dollars to further recognize the importance of agriculture in our community by supporting local students in their pursuit of an agricultural career. The Lethbridge & District Exhibition and Rotary Club of Lethbridge East Agricultural $10,000 Scholarship(s) are southern Alberta's most coveted awards for post-secondary undergraduate agriculture students.
A special thank you to the sponsors who helped make this year's scholarship awards a reality:
• Witdouck Farms Ltd — 50/50 Partner
• University of Lethbridge — Agility Program & Dhillon School of Business — Silent Auction Partner
• Farm Credit Canada — Guest speaker partner
• Lethbridge Herald & Country 95.5 -Exclusive media partners.
About Brady Donkersgoed
BRADY DONKERSGOED
Brady is currently in his 3rd year of a BSc in Agriculture at the
University of Alberta, after graduating from the Agriculture
Science program at Lethbridge College in 2020, earning honours
with distinction. During his time at Lethbridge College, Brady
participated in the AgENT program, which focused on innovation,
entrepreneurship, and leadership. Participation in McDalBridge
and the Cor Van Raay Agribusiness Case competition further
developed his collaboration and innovation skills.
Brady was raised on the family farm near Coaldale, igniting his
passion for agriculture and community service. His career goals
are to continue to farm, working with his siblings and parents on
their crop and forage operation. The AgENT program helped him
start a business plan to convert empty broiler barns on their farm
for sustainable and unique endeavors.
Brady has had the opportunity to travel to New Zealand and India
to attend Bible School, opening his eyes to the need in the world
to feed an ever-growing population, and the negative impacts of
poverty.
AARON LORENZ
Aaron Lorenz is a 4th-year Management student majoring in
Economics with a minor in Agricultural Economics at the
University of Lethbridge. Aaron plans to pursue graduate studies
in Agricultural Economics in the fall.
Aaron grew up in Lethbridge and was able to work at the
Lethbridge Research and Development Center and Farming
Smarter. These jobs demonstrated to him the importance of
agricultural research to his community's sustainability.
Aaron was on the Dean's List throughout his training and
achieved a 3.96 cumulative GPA. Aaron has been actively
involved in southern Alberta's culture by volunteering at the Galt
Museum and Archives and serving as a guide at the Fort Whoop-
Up Interpretive Center. He has dedicated his post-secondary
coursework to studying the economics of Alberta's agriculture
industry.
He hopes to use his education to assist producers and consumers
by contributing to solutions to the industry's challenges.
Brady Donkersgoed, Bill Mains, Mike Warkentin and Aaron Lorenz celebrate the scholarships for Donkersgoed and Lorenz.
Contributed