SE Alberta beekeeper wants to share experiences regarding mental health
Posted on 10 February 2021 by Ryan Dahlman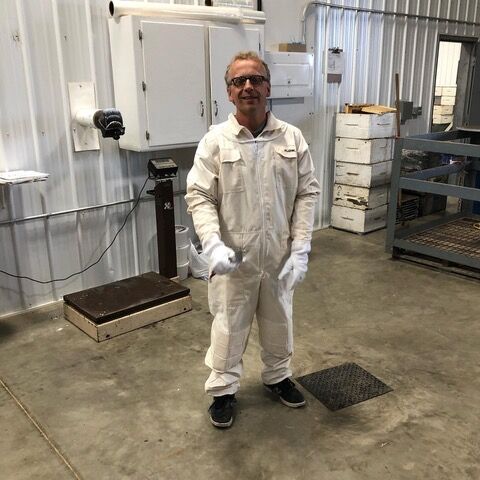 <p>Sheldon Hill in his beekeeping clothes. He is behind a keyboard in an effort to help others struggling with mental health issues.</p>
Sheldon Hill is known as the beekeeper for the highly popular Sweet Pure Honey business that he operates with his wife Stella Sehn. 
While they sell a lot of pure honey and honey products which they sell from their base in Medicine Hat, Hill has decided to add writer to his repertoire. 
The Medicine Hat resident can add title of The Smokey Beekeeper is he is now typing a blog near and dear to his heart… could be a lifesaver in fact. 
In his blog, The Smokey Beekeeper (https://www.sweetpurehoney.ca/blog/smokey-beekeeper.html) Hill wants to initiate discussion about mental health issues. It is okay to not be okay.
As someone who has a physically demanding job in beekeeping which takes him seven and a half hours away from his family in Medicine Hat. The Sweet Pure Honey hives are located near Porcupine Plains Sask, where they used to live. 
Loneliness, hard difficult labour, a weak economy leading to some tough years business-wise and the fact he lost his winter job working in the oil patch has been a tough go. 
It led to some suicidal thoughts midway through 2020. He pulled himself out of it. Courageously, he now wants to help others sharing the same feelings.
"I decided to write because I felt like I had something to contribute that way. I kinda felt I was at point where I could say things that maybe others wanted to say and just couldn't do it," explains Hill. "I see myself as a leader… You have to lead the way and muster the courage to expose things that I have been hiding in my life. A good leader is a person who is absolutely open in that sense — anybody could come to (me) and feel like you know them on a certain level. In order for me to say what I had to say, I had to open people up to my world."
Hill has struggled with his feelings for a long time and knew he was a little different than others from an early age. He was always closing himself off and keeping troubling feelings and thoughts to himself. Baby boomers and Generation X were taught not to talk about feelings, this is especially true for men. 
He has decided to forego that way of thinking and accept consciously to himself, and to those around him, he had unresolved issues. He knows talking about it aids in the initial healing. 
"By the time I decided to do the writing I had come to grips with it, coming to terms with it; I really don't have that fear with telling people what's going on in that sense," explains Hill. "It definitely took me to hit rock bottom before I knew where I was in the situation. It was clear I had to change what I was doing in some way and just look at it in a different of the way than I was looking at it before."
Mental health has meant something to him his whole life. He can't remember when that he wasn't thinking about issues, even as a child. He says he was "just different" than others. He says this exposes those to a lot of hurt in life. The beekeeper says in a lot of ways, he has been preparing to share his story his whole life. 
"When it was time to speak about it or open up about it, I was going to be free about it. They were going to be those understanding; there are some people are going to disapprove about this… because of the way culture is and (mental health affects) so many people in different ways… I am just going to roll with it for now. I am going to keep talking about it." 
2020 was turmultuous for many, including Hill. During his most troubled moments in an overall dark season emotionally and mentally, he learned of all the men taking their own lives in Medicine Hat during the summer. It was the catalyst which pushed him to do more to help.
He noticed after the suicides happened in Medicine Hat, after their private grieving, members started to discuss it in an open forum: either in media or at public events. Hill was inspired to do more himself. 
"I started to realize yeah, these people are doing something meaningful and they are really resonating with me…they are sharing and I thought, maybe I needed to better connect with my friends and families (too)," explains Hill. "I knew that I could share what was going on with me. 
"During (those) tragic events, I knew something needed to be said from a male perspective. I felt that I had to do something, and just thinking about the outcome of things (in the future) if I don't do something. Covid definitely brought it to (light). For me personally, in that moment the first time I was feeling suicidal in a real sense, you're thinking that's probably not a real good idea, but that real hopeless feeling I was stuck with at that time — I was at rock bottom. I could totally relate to what the victims were maybe thinking. The hopelessness and feeling that your loved ones would be better off without you or just holding down whatever that sense is."
Hill was inspired and encouraged by his family and friends to write and open up about his struggles. He valued and wanted to strengthen his bond with all of them. He no longer wanted to close himself off and ultimately neglect them.
Hill was confident he could help. In reading the initial Smokey Beekeeper's blog regarding mental health, he communicates his feelings in a well thought-out, conversational manner. He has a lot of experience and feelings to share but also has knowledge having done a lot of reading and fact-finding on a variety of mental health topics.
"Because I always have been dealing with mental health, I kinda knew of the things I should be doing," explains Hill. "I had that research and thinking so I had that right from the start. I was fortunate in that sense. Even at my deepest and darkest and not at all times but sometimes, it was so deep and and dark that it was scaring me that your brain could think, actually think that it would rationalize or take it to an end and thinking out how you are going to plan your day (to end it). 
"Then there's times where you are thinking 'okay you are not being rational'… It was really until I opened myself up completely emotionally (that it improved). As a man that isn't something you do, not only because society says so, we are so conditioned on what to do or what we are allowed to do. It is an ego thing for sure. The ridiculous part of it all is that if you open yourself up, you think I will be ridiculed. Just ridiculous thoughts that you can have, but when you are isolated, you can talk yourself into that position."
It was baby steps for Hill in writing and wanted to learn more. He got background information as he did such things as talking to a rep from the Inner Man Project. Sweet Pure Honey helped sponsor a project which would aid that organization. 
Discussion of mental health in men or in general is becoming more talked about and is less taboo than it used to be. He was really surprised that some of the people who he felt wouldn't be receptive to the blog were very supportive and open with their own struggles.
He thought that one could "peg that person but I guess they are that good at hiding how they are feeling." 
Hill noted they were happy in some way he could help them open up about how they were feeling. 
"I do believe it is changing. It is going to take some time," explains Hill. He says the way the generation before him reacts to mental health discussions was usually a be tougher kind of attitude. He says he was fortunate because his father would never criticize him and was supportive.
"I was very lucky to have that beginning. A lot of people have been wedged into this position because they never really had (the support) or had the okay to say out loud that they may be feeling  certain way. There's always been the mentality that 'I'm a man, I just got to buckle down; I got to get things done. I'm going to sacrifice myself for my family. That's just the way it is.'" 
"I really want people to know there are resources available, I'm not saying I am an expert or anything, but I want people to know there's help."
Hill points to inner man project foundation: https://www.facebook.com/theinnermanproject/; plus 24 hour support systems such as Mental Health AHS 1-888-785-4294; Mental Health Help Line Alberta 1-877-303-2642 and Canada Suicide Prevention Line 1-833-456-4566 .
(In the second part of our look at Sheldon Hill next week, he describes what being a beekeeper is really like.)
Sheldon Hill in his beekeeping clothes. He is behind a keyboard in an effort to help others struggling with mental health issues.