Fire Restriction lifted in Lethbridge County
Posted on 22 August 2023 by Ryan Dahlman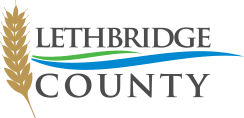 Contributed
Lethbridge County has lifted the Fire Restriction due to cooler temperatures and precipitation that was received yesterday and this morning. The County's Fire Services department has been closely monitoring fire conditions throughout the summer as hot, dry, windy weather had elevated the risk across the region.
"Although we are lifting the Fire Restriction, we want the public to be aware that with higher temperatures forecasted in the coming days, there is a probability that restrictions will need to be reestablished later this week," says Fire Services Manager Byron Fraser. "These higher temperatures can easily reverse any benefits gained from the recent precipitation."
Fire permits are required for most burning activities. They are free of charge and can be applied for online at https://lethcounty.ca/p/fire-permits, on the Lethbridge County app, or in-person at the Lethbridge administration office (#100, 905 4 Avenue S.).
Fire permit holders may burn the following items:
• Paper products
• Untreated wood (wood or wood products that do not contain preservatives)
• Yard waste (grass/tree clippings, leaves, branches, fallen trees, brush, weeds, etc.)
• Straw and stubble
These items cannot be burned at any time, even with a fire permit:
• Wood or wood products that contain preservatives
• Plastic (including silage plastic, grain bags, and baler twine, but these can be recycled at the Iron Springs Transfer Station: https://lethcounty.ca/p/recycling)
• Rubber (including tires)
• Animal manure or cadavers
• Waste material from construction sites (only untreated wood is permitted)
• Pathological waste
• Containers that have held chemicals or pesticides
• Oil
If you are unsure if you require a permit, visit https://lethcounty.ca/p/fire-permits or call 403-328-5525.
Should conditions change and the wildfire risk increases, Lethbridge County may impose a Fire Advisory, Restriction, or Ban at any time. Before burning, always check our website (https://lethcounty.ca/p/fire-bans) to ensure there are no restrictions in place.