Redcliff teen is a royal-talent
Posted on 6 June 2023 by Ryan Dahlman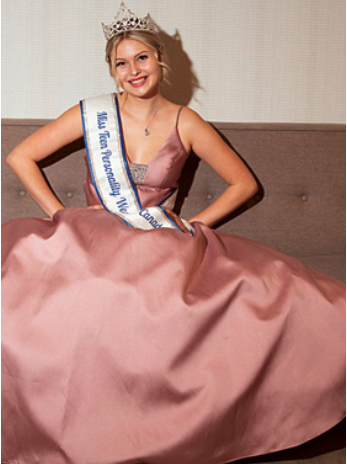 Redcliff native Katelyn Lonson is a contestant in the virtual Miss Teen Personality Americas Pageant, running now until June 10.
By Kendall King
Alberta Newspaper Group
A Redcliff teen is finding success in the world of pageantry, and through her platform, is raising awareness of chronic illness.
In a matter of just two years, 16-year-old Katelyn Lonson has gone from pageant newcomer to Canadian multi-title holder, having won the titles of Miss Junior Teen Southern Alberta (2021), Miss Teen Personality Alberta (2022) and Miss Teen Personality Western Canada (2023).
A former figure skater who began competing in pageants after suffering a back injury that prevented her from skating, Lonson is vying for the international title of Miss Teen Personality Americas, competing against individuals from North and South America in a virtual pageant which began May 24 and concludes June 10.
While the pageant includes multiple categories, such as interviews, video introductions and evening wear, Lonson says her main focus is to draw awareness of an issue close to her heart: that of chronic illness.
"As someone who has had a back injury and also has endometriosis and postural orthostatic tachycardia syndrome … it gets very difficult within the health system," said Lonson. "So, I'm just trying my best to advocate for those with chronic illnesses, as well as break the stigma around (how people with chronic illnesses are treated) based on the way they look, because there is truly no way an illness should look, or has to look."
Lonson says as well as raising awareness of the challenges individuals living with chronic illnesses face, she also hopes to inspire those who are struggling through her achievements in pageantry.
"My success has been so good so far," said Lonson. "So, I'm really just hoping to continue to grow (and) continue to promote this platform because I know that there's so many people out there that probably have gone through the same situations (as) me, (such as) doctors saying 'You don't look sick enough' or 'You're too young to be sick.'
"I'm just looking forward to continuing to share (those experiences) and to being a role model for those who may not feel they're confident enough to speak up for themselves."
While Lonson would be pleased to win the title, she expressed simple happiness at being able to partake in the international pageant, and further her understanding of pageantry and develop her skills in advocacy.
"I feel very proud of what I've been able to do this far, but I also know that I'm able to do so much more," said Lonson. "So, I've never came into any of these pageants wanting to win. I've all come in them with an open mind thinking that … it's a way of learning."
Miss Teen Personality Americas 2023 will be crowned on the final day of the pageant, June 10. The crowning will be live streamed at instagram.com/personalitypageantsca.