Cypress County sends seven to battle Alberta wildfires 
Posted on 16 May 2023 by Prairie Post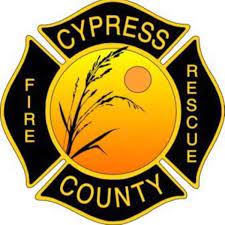 Contributed
Cypress County is sending a team of seven firefighters and three vehicles to assist with the devastating situation in Northern Alberta.
"We've all seen how dangerous the fires in our province are and want to do what we can to help as they deal with the ongoing crisis," says CAO Tarolyn Aaserud. "These resources will not impact our ability to respond here at home, but are desperately needed by our neighbours.
"Our hearts go out to everyone impacted, and we thank the members who are so willing to help."
The province is in a state of emergency with 77 active wildfires as of Thursday evening, 24 of them classified as out of control. More than 16,000 people have been evacuated, and more than 800 firefighters are working to combat the blazes.
Cypress' crew is part of an Alberta-wide rotation and is expected to return home in a week.
If you'd like to help, the federal and provincial governments are each matching donations through the Canadian Red Cross. Every $1 donated will become $3 to the Alberta Fires Appeal. Those with goods or services to offer can email EmergencySupportOffers@gov.ab.ca.