Lethbridge College researchers to give tour of Brooks greenhouse facility
Posted on 28 November 2022 by Prairie Post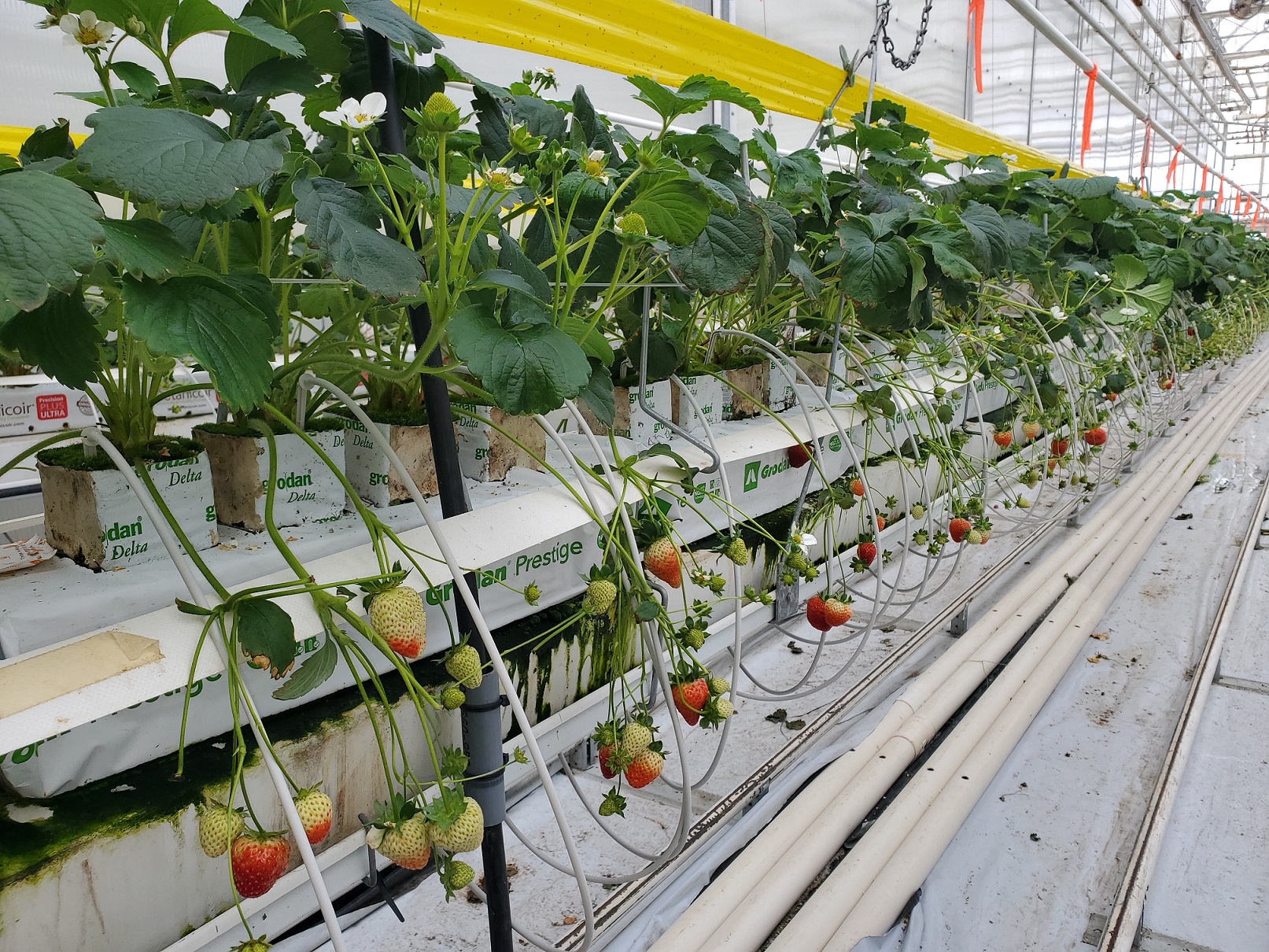 Brooks Greenhouse tests many crops including strawberries.
Contributed 
Lethbridge College is opening the doors to its 60,000-square-foot greenhouse research facility in Brooks, Alta.
On Thursday, greenhouse growers and related industry representatives will visit the space to learn about the college's footprint in greenhouse research and a project currently underway with Sunterra Greenhouse.
Funded by Results Driven Agriculture Research and the Canadian Agricultural Partnership, Lethbridge College's collaboration with Sunterra encompasses both strawberry and tomato trials and spans two locations: pre-commercial validation studies at the Brooks facility as well as commercial application at Sunterra's high-tech 20-acre operation in Acme.
Lethbridge College assumed management of the Brooks Greenhouse from the Government of Alberta in October 2020.
Researchers with the college's Centre of Applied Research, Innovation and Entrepreneurship will also be available to discuss strawberry and tomato production findings with tour participants.
Media are welcome to join one of two free tours by pre-registering on the event page.
When: The first tour will take place from 10 a.m. to noon and the second, from 1 to 3 p.m. Interviews with Lethbridge College researchers can be accommodated between the two tours – at 12:30 p.m. on Thursday, Dec. 1.
Where: Lethbridge College Brooks Research and Production Greenhouse
• Pin: https://goo.gl/maps/RWV87op7jXFxKPzV8
• Directions from Highway 1 (note you cannot access the building from the south)
◦ Take the Cassils Road exit at the east end of Brooks.
◦ Proceed west on Cassils Road toward the City of Brooks.
◦ Take your first left (south) onto the service road (College Drive) across from the Shell gas station.
◦ Follow the service road (College Drive) past Fortis and the Medicine Hat College – Brooks Campus. This road will take you into the Crop Diversification Centre (CDC) South site.
◦ When passing under the trees, take a right and follow the service road up to the gate. From the gate you will see the greenhouse facility. Please park in the lots outside of the gated compound and walk south toward the greenhouse.
RSVP: If you are planning to attend, please register for one of the tours as soon as possible to secure your spot.