Med. Hat neighborhood grocery store building wins national award
Posted on 3 October 2022 by Prairie Post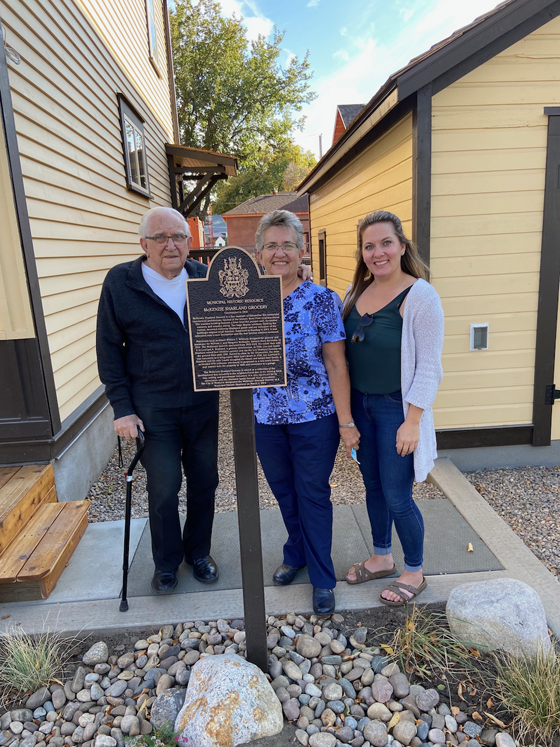 Restoration work to conserve the 1912-built McKenzie Sharland Grocery in the North Flats neighbourhood won an Award of Excellence from the Canadian Association of Heritage Professionals (CAHP) in their 2022 national awards competition.
The award recognizes an extensive eight-year restoration process to address flood damage from 2013, and to designate the building as a municipal heritage resource. The 110-year-old building is valued as a reflection of the 1910s development boom in the River Flats neighbourhood due to its proximity to the thriving local industries at the time.
"Historic places are community markers. They are spaces that may hold a variety of meanings to different individuals; but they help us understand where we have come from and who we are as a society," said Christienne Uchiyama, president of the Canadian Association of Heritage Professionals.
CAHP's annual awards celebrate preservation, restoration and conservation work in areas including archaeology, architecture, engineering, craftsmanship, education and planning.
Restoration efforts at the McKenzie Sharland Grocery focused on rescuing the building from demolition by moving the building to a higher location to prevent future flooding, replacing the foundation, preventing further deterioration of the structure and restoring the building to be used again, while maintaining the historic character and meeting current environmental standards.
For their work on the project, Jeanie M. Gartly and Sam Boisvert received an Award of Excellence in the Conservation: Small and Lovely category in the 2022 CAHP annual awards.
"These awards celebrate heritage professionals' efforts to rehabilitate, revitalize, and reuse existing buildings and spaces. The people who adapt and conserve existing buildings are playing a significant role in reducing greenhouse gas emissions and addressing climate change," Uchiyama said.
CAHP is a non-profit organization representing heritage professionals from across Canada in the public, private and not-for-profit sectors. CAHP members are specialists in a variety of fields, such as conservation architecture, planning, history, archaeology, landscape architecture and engineering.
CAHP establishes standards of practice, shares knowledge about heritage conservation, and supports the involvement of heritage professionals whenever places of heritage value are being identified, preserved, restored, and rehabilitated. As part of its mandate, the organization fosters and promotes public and legislative support for heritage conservation.