Medicine Hat Animation festival hoping to draw creators, fans from across southeast Alberta
Posted on 29 September 2022 by Ryan Dahlman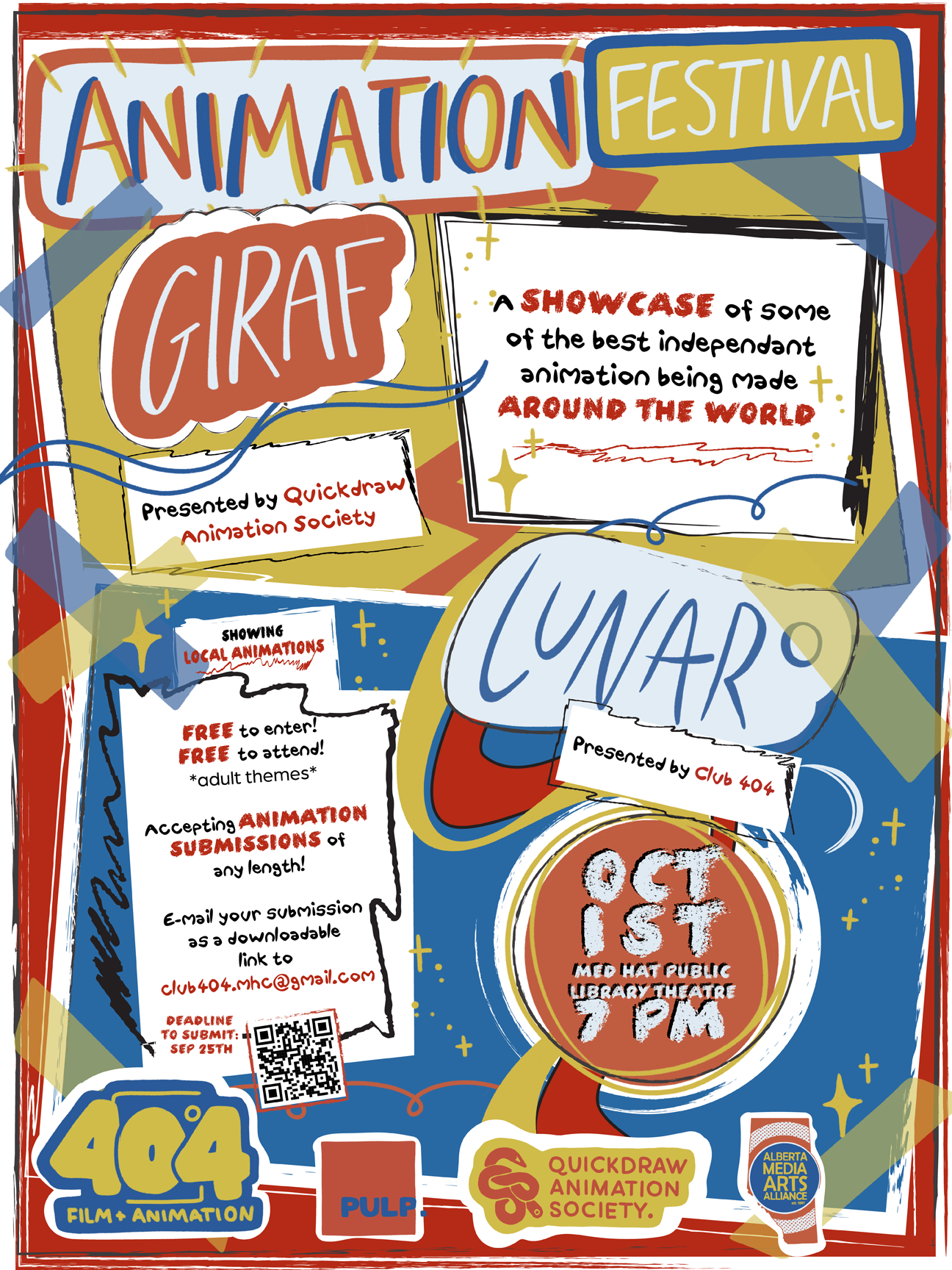 By Anna Smith
October begins at the Medicine Hat Library with a showcase of animation talent, both local and worldwide.
The first of October marks the Medicine Hat Animation Festival, a partnership between Pulp Digital Creators, Medicine Hat College's student-run Club 404, and Quickdraw animation, said Jessikah Babe, President of Club 404 and Secretary for Pulp.
"We are hosting an Animation Festival in conjunction with Quickdraw Animation Society from Calgary. And it's going to take place at the public library. And half of the festival, one portion will be top selections from submissions around the world from the GIRAF festival with Quickdraw," said Babe. "So we'll be showing lots of like, amazing independent animations. And then another half will be made up of local submissions from Medicine Hat and the surrounding areas, maybe even Bow Island as well."
The festival is still accepting submissions for the local portion of the vent, and continued to do so until Sept. 30.
Club 404 is presently in their second year of running, and this is their second festival, the first being a film festival that they organized last year.
"Since our club is made up of people that do film and animation, we decided that we want to have two festivals a year and one more animation focused and one more film focused," said Babe. "This one's our Animation Festival. And because there's no film and animation, or very limited film and animation opportunities like Medicine Hat and rural areas. We want to provide the opportunity for people to enjoy film and animation and inspire creativity among people that are interested in that kind of stuff."
Putting the event together has been a fun experience, said Babe, starting as a handful of people with an idea and turning into a full-blown festival.
"We're starting to see lots of people in the area that are actually interested in this stuff coming to us, but they usually don't have a place to go to learn about filming animation or to explore their potential," said Babe. "It's exciting."
At the time of writing, the festival has received seven local submissions, but they're hopeful to receive a few more before the deadline.
"We're also screening, I think about, I think an hour's worth of screen time of artists from around the world for the Quickdraw portion of the festival," said Babe. "It's a lot of content, but how we're structuring the program, it's not going to be overwhelming, and it's going to just be pretty enjoyable, how everything transitions into the next work of art. So it's gonna be like a two hour long program with breaks."
"I think there's lots of people that are wanting this kind of stuff and are starting to do this kind of stuff. But there is no real community yet," said Babe. "And so that's why it's important for us to have this club. So then we can foster that community and create it. But I've yeah, I've met lots of super talented people that are like working in the industry, or just starting out by just spending lots of time making animations on their own."
The festival will begin at 7 pm at the Medicine Hat Public Library Theatre, and those interested in attending are encouraged to secure their space via Eventbrite, as while the event is free to attend, a ticket will ensure entry in the event of a packed venue.