Vauxhall family helps raise $3,500 for CMHA South with inaugural fundraiser at Picture Butte Golf Club 
Posted on 20 September 2022 by Ryan Dahlman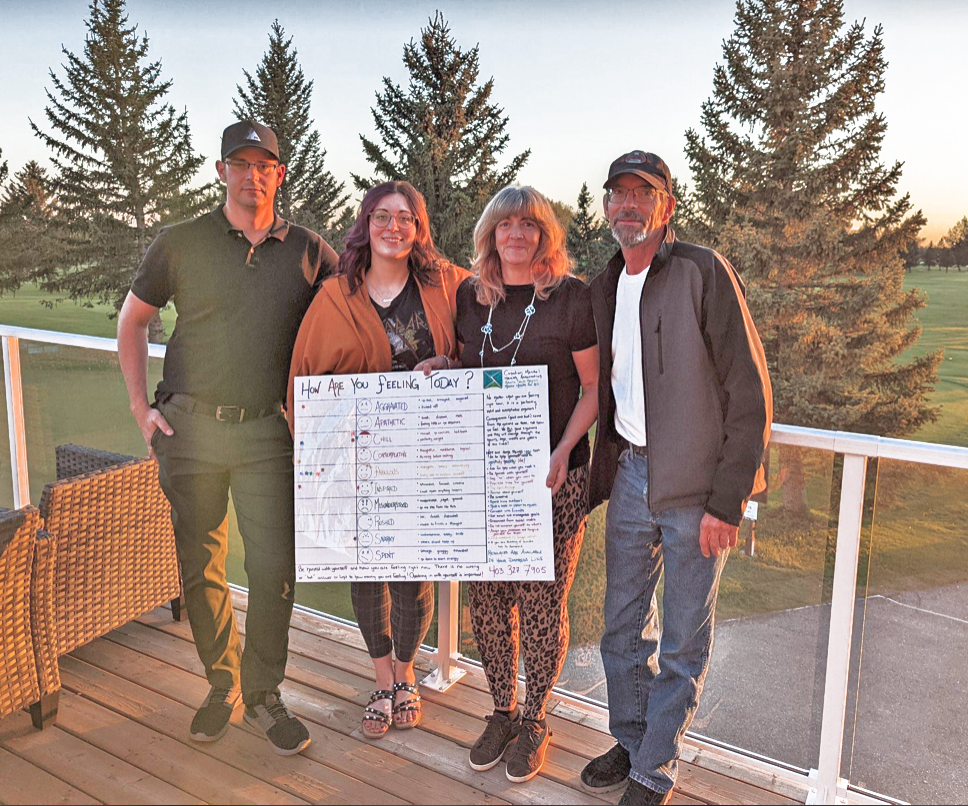 By Ryan Dahlman
Bryce Senneker would have been proud.
The 1st Annual Bryce Senneker Memorial Golf Tournament was held at the Picture Butte Golf Club Sept. 9 in honour of the popular Southern Alberta petroleum worker.
Bryce lost his life due to suicide in 2015 and after a lot of healing and organizing, Bryce's family including his mom Mary Ellen and especially his sister, decided to organize a fundraising golf tournament, supper and silent auction which would help mental health in southern Alberta. Thanks to some generous sponsors, friends, family and classmates of Bryce's, $3,470 will be going directly to the Canadian Mental Health Association South (Lethbridge).
There were 13 teams involved with people coming from all across Southern Alberta.
"We hoped we would get seven or eight teams and we would be ecstatic," explained Mary Ellen. "It's on a Friday, in September, people are still in the fields, so the amount of teams we got was 'wow, very cool.' We had more than came for supper actually."
Mary Ellen agrees that mental health discussions are becoming more prevalent but she believes in Southern Alberta "there's a lot of young men that have taken their lives. Too many of them as far as I'm concerned."
"I'm sorry, we live in redneck country where the good ol' boys theme is 'you just suck it up, throw some dirt on it, you're good.' You know, and I hope that they're starting to be a change. And that's what we want to be a part of, we want to be a part of that positive change," explained Mary Ellen.
"We had a silent auction that went along with supper and (Bryce's brother) Jess did a just did a fantastic and it was really, really nice and the biggest theme of the evening was that men's mental health is just as important as men's physical health," explained Mary Ellen. "He's like, we're supposed to as guys suck it up and everything's fine and move on. And he's like, 'No, we're allowed not to be okay. We may need to talk to somebody, whether it's a friend, a colleague, or professional and it's okay for a guy to do that.' It was really good and everybody there is "yeah, we don't talk about those things. Right? Women, it's okay to go. It's okay for us to go see a therapist. It's okay for us to say you know, my mental health isn't good but for a guy to do that (it's frowned on)."
Senneker said the golf course professionally handled everything as far as the actual golf went. The Sennekers' liked the course on a number of levels including its size, layout and learned that it was across the road from a campground which makes it convenient for those travelling in from out of town.
Mary Ellen gives full credit to Shelby who worked hard in setting up the event and to the CMHA who came out to Picture Butte in order to provide related information for mental health wellness and mental health issues.
This was not a one and done type of event. Mary Ellen wants this to become an annual event. They have learned a lot along the way regarding organizing and sponsorship. Calling the nearly $3,500 they earned for the CMHA just a start, they hope to raise even more next year.
They want to build a legacy in Bryce's name, but more importantly they want to help as many people as they can with their various stages of mental health.