Bandits sign two offensive juggernauts from the Ukraine
Posted on 16 September 2022 by Ryan Dahlman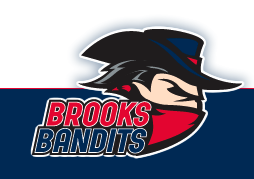 The Brooks Bandits of the Alberta Junior Hockey League (AJHL) have signed 2002-born forward Mikhal Simchuk and 2003-born forward Danylo Korzhyletskyi from Sokol Kiev of the Ukraine Hockey League (UHL).
Both Simchuk and Korzhyletskyi are from Kyiv, Ukraine and are members of the Ukraine U20 National Team. Simchuk was also a member of the Ukraine Men's National Team, playing in the Men's Division 1 World Championship.
Korzhyletskyi, 19, finished 2nd in scoring with 15 points (5G, 9A) at the recent Division 1 World Junior Championship. Simchuk, 20, finished 3rd in scoring with 13 points (4G, 9A). Both players did so in only 5 games.
"When we learned there was an ability to support Ukrainian players in Canada this season we started to explore how we could not only help the players but improve our team at the same time. Danny and Misha are two of the top U20 players in Ukraine and will bring our club added offensive depth. They are coming from a Country at war and have incredible experiences they have shared with our staff. They are motivated hockey players that want an opportunity to contribute to our program while representing their Country in a time of need," said Bandits General Manager and Head Coach, Ryan Papaioannou.
"From the beginning of the recruiting process, we've really enjoyed the personality both players have shown. They are certainly fun to talk with and they want nothing more than to have their families safe and continue to play hockey. We're excited to add them to our group and support them through the National Team events they will attend this season. We hope to have both Danny and Misha in the lineup as soon as possible, they are both currently in the final stages of acquiring all required travel documents before travelling to Canada."
The Bandits 2022-23 Regular Season Home Opener is Friday, September 16 vs the Calgary Canucks. Game time is 7:00 pm, but prior to the game, there will be a special ceremony commemorating the 2021-22 Championship team as four banners will be raised to the CRA rafters for Regular Season Champions, South Division Champions, AJHL Champions, and Centennial Cup Champions.