ADC Fall Gather and Production Sale will be a harvest celebration for students, supporters and buyers alike
Posted on 13 September 2022 by Ryan Dahlman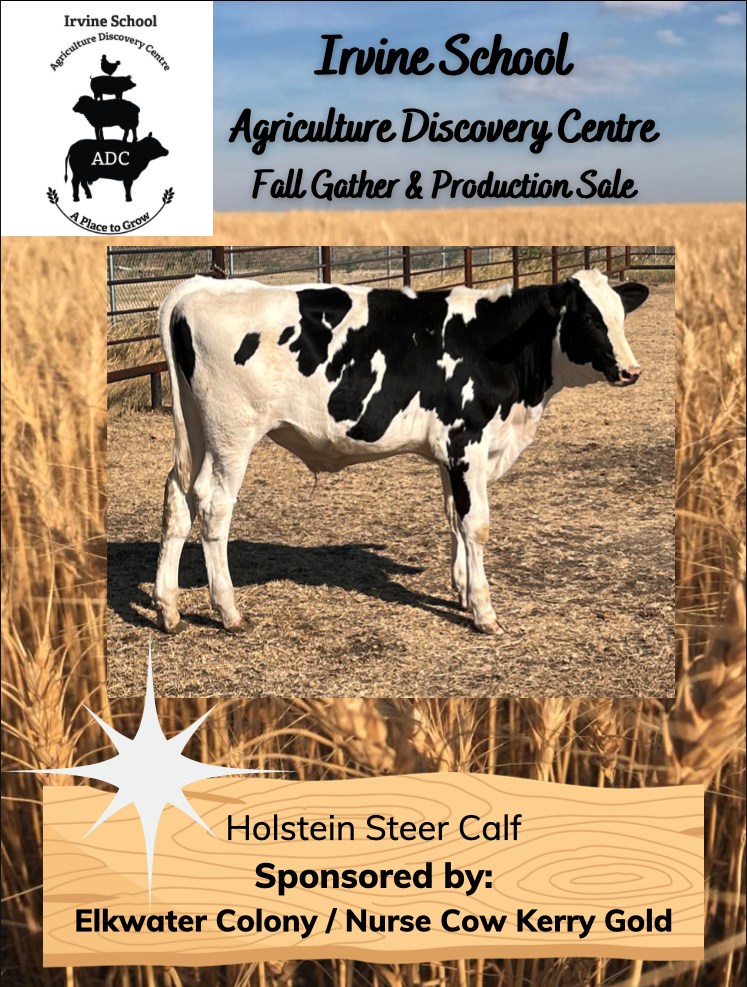 The Agriculture Discovery Centre's (ADC) fitting motto is "a place to grow." On September 24, is the end of the first growing cycle for the progressive agriculture education centre at Irvine School with the Fall Gather and Production Sale.
Much like an end-of-the-year harvest party so coveted by farmers, the Fall Gather and Production Sale will celebrate the past year, sell some of the commodities not only to help fund the school but also to educate the students on a number of facets of the commodity marketing and sale aspect of agriculture. An ultra fresh meal will also be served.
"It really will go a long ways to celebrating the work that's been done over the course of the last year and it also brings the reality of what agriculture is all about," explains Nichole Neubauer, ADC coordinator. "There's a lot of hard work up front and then you get to see the results of that work by selling what you've produced. So, the kids are really excited about it, as well as the staff and and we just can't wait. It'll be almost like our big unveiling to the community so that everyone gets a chance to really learn about what we've been up to."
Neubauer who was contracted to operate the facility and also spearheaded the initial ADC planning, was extremely excited and proud to have the event come to fruition. She said due to timing with fall, other events starting to gear up and the fact that harvest would be completed for many producers, it would be the most convenient time for everyone involved.
"Truly a lot of decisions surrounding our (choice). The Urban School Agriculture Discovery Center was never designed to be a winter facility and so there is a there was a push for us to have the livestock all results in or add a new destination before the cold weather sets in," explained Neubauer. "We also wanted it to be a fall celebration, which really aligned with harvests in our communities right now. You know, that whole fall tradition of bringing in the bounty, celebrating and giving thanks for the success of the past year's growing.
"We chose that date just because it occurs before hockey gets really rolling. We're just getting started with volleyball. We had a sense that there was some good availability with everyone within the school so kids would be around for for the event. Definitely getting our families to come and attend and support it is huge; we get all of that community buy-in too so it just seemed like the logical time to have it because the livestock (projects) are finished. They're grown out ready for harvest and there comes a point in their production that the quality goes a little bit backwards if they're overfit. So we just thought that was always been about the end of September and the 24th was the perfect day for us."
She says the sales and marketing are important aspects of agriculture that often gets forgotten. Most people thinking of the actual raising livestock and growing crops is what ranching and farming are all about. There are other important aspects and employment possibilities. This dinner and auction is more than just a simple school fundraiser.
"All of these things are certainly more about the process than the product, the product is just the side benefit of the work that goes into it. So certainly, as a student-led farm, some of the values that we have is experiential learning, which is basically kids, they learn (better) while they're doing something," explained Neubauer. "Then, they reflect on what happened so it creates an education that responds to the rapidly-changing world and the need for them to really look at that how to problem-solve and how to plan so the kids are going to be part of organizing the event, all the way through delivery of the products, the 'everything' that happens on that day. So what it does, is it allows them to develop a number of skills so creativity, there'll be kids that will be working on decorating and setting up the room and creating slideshows and presentations will be working in collaboration with different classes.
"We create a community of learners that are working on a shared purpose that they want to make this successful event and, and then in addition to that, it's a chance to stop and celebrate achievement. It's 'we've achieved a goal we we set out to start a farm, to grow a garden, and to raise some livestock that we could be proud of.' We've achieved that and now this is an opportunity to really celebrate that effort. And then what we feel the event will do is inspire the other kids, the younger kids that are going to be taking on some of the leadership positions. It'll inspire them to become more engaged and more involved with the process because now they see how it all fits together and how it all works."
The event starts Sept. 24 with a viewing at 4 p.m. at the Agriculture Discovery Centre with the program starting at 6 p.m. at Irvine School's gymnasium. The school is close to the ADC. Tickets are $10 per person.
The beauty of the event is the meal where food products grown and raised at the centre will be served as part of a farm-to-table event. The students are also preparing the food. 7:30 p.m. is the livestock auction and silent auction. Tax receipts will be issued for auction purchase. What is up on the live auction list is two finished steers, two weaned calves, two finished hogs, two finished lambs two weaned Nubian kinds, 11 laying hens, and two chicken tractors.
"Folks can come out and have a look at what they would be potentially bidding or buying. We'll have some of our students ambassadors out providing guided tours and answering questions," said Neubauer. "From there, we'll head to the school gymnasium where we will our students will be hosting a farm to table that will feature products that we've grown in our garden — grown, harvested and then prepared by our students.
"We'll have a few speeches and we'll hear from our president who has graduated from our program and is now in high school (grade 10) but our president will say a few words and introduce the other students on the student board. Then the auction will start. We're really fortunate that Darren Lutz has agreed to step up to the microphone and is going to start the auction and it won't be a live auction. It'll actually be a video auction and we have students who are working on that video right now. We'll have that playing on the big screen in the gym. And we'll we'll take some video of each of the livestock out in the ADC and then play that on a loop while they sell and then from there, we'll have everyone settle up. And just to make it really easy for someone maybe from the city who wants to come and support us I've got (animal preparation) all organized. To make things easier, we will be doing delivery on the following Monday the 26th, so basically, they just have to bid and then waited home for the call from Deerview Meats to let them know that their quality meat products are ready to pick up."
For more info about the event and to donate silent auction items contact Nichole at 403-580-9654 or Irvine School's Michelle at 403-834-3783. Tickets can be purchased though SchoolCash Online. All proceeds raised will be invested in the student-led farm.
For more on the farm, please check out the Commentator's special agriculture section coming out at the end of September.