Irvine Library, librarian enjoy successful Western Spirit  Days 
Posted on 31 August 2022 by adminis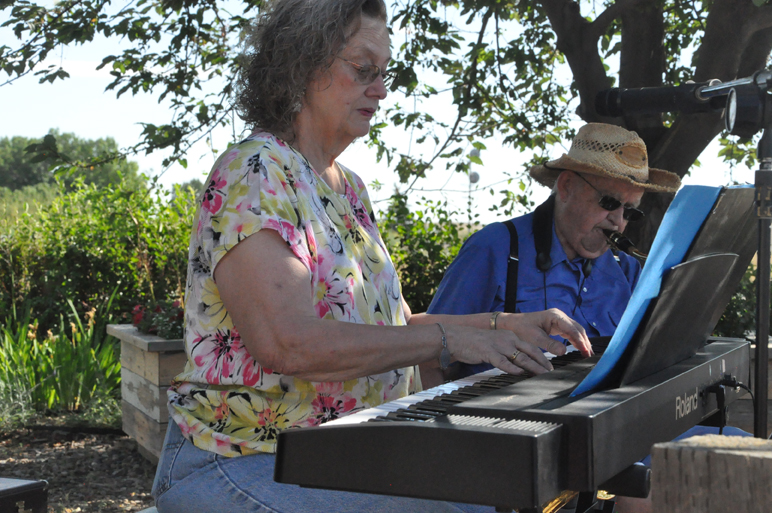 Librarian Joan Côté was busy on the organ singing besides hosting the library book and DVD sale.
By Anna Smith
Alberta Newspaper Group
Though the weather was hot, that didn't stop the Irvine Library from taking full advantage of the influx of visitors during Western Spirit Days to find new home for some beloved titles.
The primary focus of the sale, said Joan Côté, Library manager, wasn't necessarily to make money, but to open up space for new books on the shelves.
"The library here is exceedingly small, with the result that to put new books on the shelf, I have to take books out, which means we end up with a lot of books," said Côté. "For a book sale, I probably got rid of the equivalent of about four boxes, or five boxes of books, which is phenomenal. And then I know the books are going to a good home, which really makes me feel better."
Côté estimates the library made roughly $200 as a result of the sale, which she lists as a bonus to being able to ensure that the books that were on their way out were being taken by people who wanted and would take good care of them.
"I absolutely detest having to throw out a book. And I don't do that unless they're really damaged or dirty, or you know, something like that. I also take boxes of books periodically and donate them to the co-op, where they have a bookshelf there for drop off and pickup kind of books," said Côté. "So I take in a couple boxes every now and then and just drop them off there, so this was nice."
In addition, Côté and a friend also enjoyed playing music on a large organ for a while, which she described as a great time despite the sun.
"We had a great audience, but they were across the street in the shade," said Côté. "There were a few people that were in front of us dancing, but most of them were across the street where they could keep cool."
Côté would like to thank everyone who came out, as well as express the importance of supporting their local libraries.
"Libraries aren't just books anymore, there are activities, electronic resources, there's way more things than just coming in and taking out a book," said Côté. "So support your local library. I think that's really important."