Little Britches Rodeo Sweetheart Competition back Sept. 2-3
Posted on 24 August 2022 by Ryan Dahlman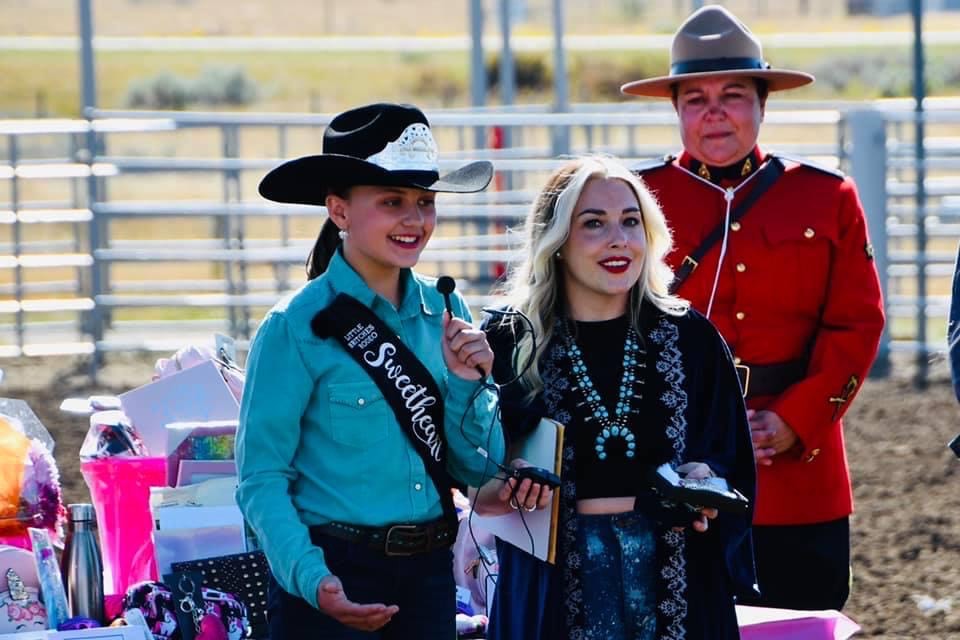 Current Rodeo Sweetheart Emma Baedke receiving her hard earned crown at the 2019 Rodeo Sweetheart Competition. Photo provided by Little Britches Rodeo Sweetheart.
By Anna Smith
Commentator/Courier
For girls looking to get some practice in wearing the crown, the Little Britches Rodeo Sweetheart Competition is coming back to Dunmore on September 2nd and 3rd.
The competition was initially created in 2018 by Brittney Chomistek, said current organizer Haley Schlenker, as a way to help girls get more experience seeking the title of rodeo royalty.
"Basically, it was to create more rodeo royalty opportunities, so when girls get to the professional level, like when they run for say, Medicine Hat, they're more prepared," said Schlenker. "I took the group over, the Dunmore Equestrian Centre Little Britches Rodeo Sweetheart group over the following year in 2019. And Brittney and I had never, ever been able to compete for a Rodeo Queen title besides Medicine Hat and then we were off to Miss Rodeo Canada. So it was to gain more experience that way and just mostly to help girls grow. We're just giving girls an opportunity to get that head start there because they can compete at 12 and under as of January 1 is the date so we're just giving girls an opportunity to get ahead."
The Little Britches Rodeo Sweetheart competition has a solid foundation. Chomistek won the Miss Rodeo Canada title following in the footsteps of her mother Shelley who won the national title in 1986.
Most events for rodeo royalty are for late teens in the 15–18 at the youngest, said Schlenker, but this allows for girls to get experience representing their sponsors and rodeo at an earlier age.
Since the first, more and more girls have shown interest in the competition, said Schlenker, and thanks to the work of volunteers, setup is going smoothly so far.
"So this year it's been rolling right along and we have really good support. Lots of volunteers, we have really good sponsorship and we have interest so it seems to be going smoothly," said Schlenker. "It's a lot of organizing on my end; I organize judges, prizes, sponsorship for the prizes and then book venues so we'll have Friday's at Safety Buzz for public speaking and modelling. And then Saturday we're having at the Dunmore Equestrian Centre riding arena for horsemanship."
In addition to these three categories, entrants will be judged on their personality, which will be over the course of the three other events.
Schlenker hopes to encourage not only girls to enquire to apply, but also the general public to come out and support their community's prospective Rodeo Royalty.
"If you want to attend the public speaking and modelling portion, it's a donation to the food bank, but anyone can come see the horsemanship portion," said Schlenker. "Anyone interested in applying can contact me at littlebritchesrodeosweetheart@gmail.com, Or we have a Facebook page."