APEX wants remotely piloted aircraft systems to really take off in southeast Alberta
Posted on 7 July 2022 by Ryan Dahlman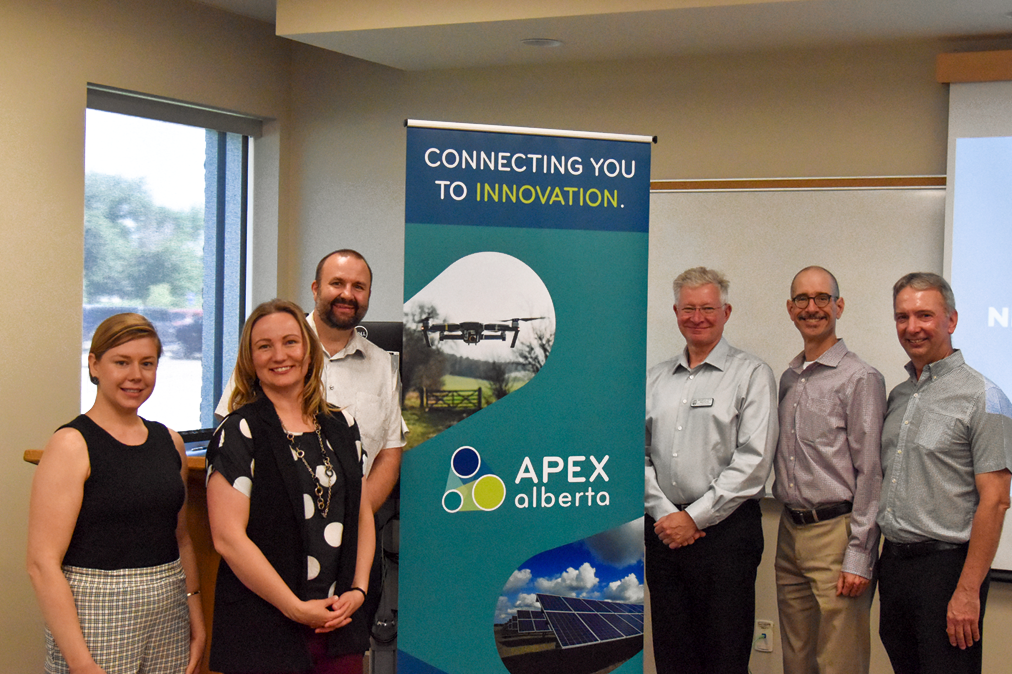 Mark Keller from Medicine Hat College, John Stroh from Alberta Innovates, Sean Blewett from Community Futures, and Roger Haessel, Lisa Galecki, Tracy Stroud from APEX pose for a portrait during their networking event on June 17th.
By Anna Smith
Commentator/Courier
At Medicine Hat College, APEX Alberta gathered industry leaders from throughout the province to put their heads together and figure out how to get remotely piloted aircraft systems (RPAS) ever further off the ground here at home.
APEX, a partnership between Medicine Hat College, Community Futures Entre-Corp, and Alberta Innovates, hosted a free networking event for "aerospace industry stakeholders, researchers, or adjacent businesses," according to the event description.
The sector has seen some significant growth, and is expected to see even more growth in the near future, said Tracy Stroud, Regional Innovation Coordinator.
"Our Regional Innovation Network has been around for over a decade now. But this year, we were successful in getting additional funding from Alberta Innovates to grow this sector. And the reason we wanted to do that is that we have seen a lot of growth locally. And also the predictions for the sector are quite high," said Stroud. "It's a $6 billion industry globally. But Transport Canada expects it to grow by 17% in Canada, every year, over the next five years. So up until 2027."
The technology around RPAS systems, which are more commonly known as drones, is growing quickly, said Stroud, and a lot of new applications that continue to evolve.
"RPAS goes really well with other industries such as agriculture, or oil and gas. So there's so many sectors that are already in our region that RPAS really pairs nicely with. And so yeah, there were multiple reasons why we're excited about this initiative," said Stroud. "And we're so grateful to receive funding from Alberta Innovates to now really grow this sector, which will benefit all of Alberta."
APEX was very happy with the turnout for the June 17th event, said Stroud, both from industry and from various community leaders, such as the Mayor of Medicine Hat and representatives from Cypress County.
"It was really great to see government and elected officials there too, and wanting to know more about the industry and how industry and governments and education could collaborate, because we had our education partners there as well," said Stroud. "It's just really great to see all these different collisions from people of different walks of life coming together to support the sector. That is what we like to do as a regional innovation network is to increase those opportunities for network and collaboration because we know innovation happens when two sectors are coming together. That's usually when innovation happens. So it was really exciting for us."
Stroud estimates there were likely about 40 people in the room though it was difficult to say, as there were more heads than initially planned with the tickets via Eventbrite, all converging to share their unique perspectives on the "flight plan" they were building.
"In Alberta, right now, there's actually not an RPAS strategy. So most industries, they, they have that. And so it provides a guiding framework to go forward. So that doesn't exist right now," said Stroud. "So that's what we're going to create. The funding has allowed us to hire our subject matter experts, which was Roger Haessel, who was at the event, and he is really reaching out to companies, locally and across Alberta, to find out, hey, what are your needs? And what are your opportunities, and what would basically help fill those gaps, both from a training perspective, business support perspective?"
One thing that APEX is currently particularly looking into is training for the sector, said Stroud, and is in fact in the college portion of the partnership hiring someone to take a deeper look.
"So they will look at post-secondaries across Alberta, and find out what already exists for training, but what is missing. The college has the intro program, the basics, but the tech is growing so fast that additional education is needed," said Stroud. "And so this other position that will be hired will look at that. And those two individuals will come back after the end of this year, which is March 31, for us of 2023. And they will create this just before that day to day will create this strategy for the sector going forward."
Between this, and the increased desire for visibility which was expressed at the event, APEX and those who attended will have their hands full in the near future, but the flight path seems clear and Stroud is optimistic for the future of the RPAS industry.
Stroud added that APEX's interest doesn't stop and end with drones, however, and encouraged "problem solver" companies doing something innovative to reach out and see what support they can find working together.
"A lot of companies in our region don't think of themselves as tech companies. What I find is the companies that we're working with are problem solvers," said Stroud. "So they've solved a problem in a unique and novel way that hasn't been done before. So if a company is reading this, and they're like, Oh, I've done this, please reach out to us because there's support so that we can help them and they don't have to do it all on their own. If a company is doing this all on their own, please reach out to us. Because we can provide support, obviously, the company still has to do the work. The individual still has to do the work, but we can at least provide them with the path to get them there."