Cypress County's new emergency services coordinator has a lot of local experience
Posted on 6 July 2022 by adminis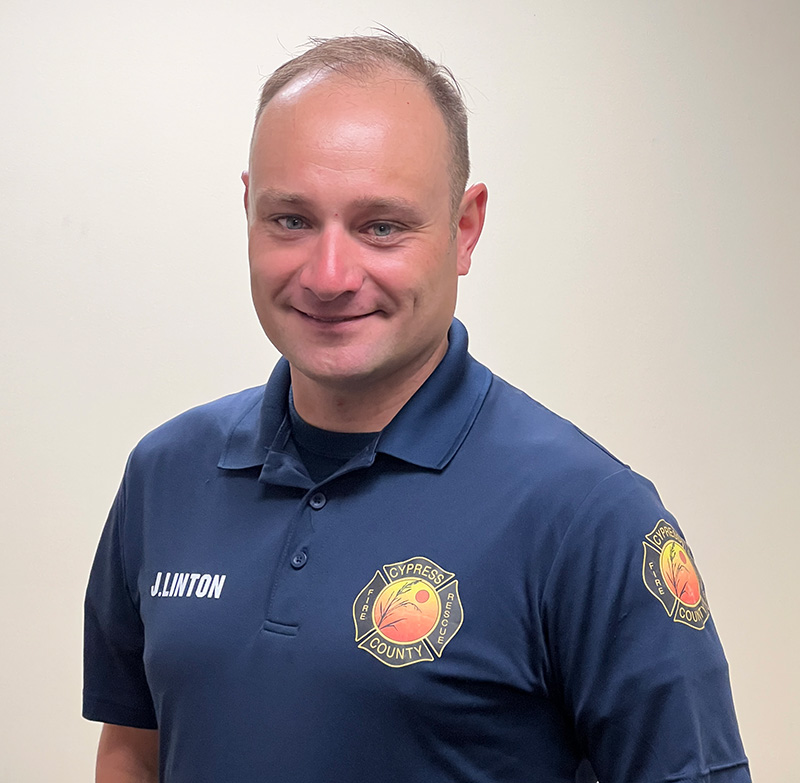 Jason Linton
By Anna Smith
Commentator/Courier
Cypress County's new Emergency Services Coordinator says that firefighting is in his blood.
Originally from Halifax, Jason Linton began his 19 year career at fire school in Newfoundland, and then volunteering with Halifax Regional Fire. The profession runs in the family, said Linton.
"After I moved out west I worked as an industrial firefighter for eight years, both in and around here as well as up north in Fort McMurray. And then from there, I moved on to become the emergency services coordinator at Methanex, here in Medicine Hat," said Linton. "At the same time, I became a volunteer firefighter with Cypress coming up the Boxsprings station."
Throughout the years, Linton has been moving up the ranks to become a station chief for the Boxsprings area, before finally becoming the successful candidate for the Emergency Services Coordinator position with the county.
"I already know the fire department and all those guys and girls, so I thought it was a natural for me to transition over to Cypress County and help move us forward," said Linton.
Linton is feeling humbled and honoured to be selected for the role, and so far has found it an easy transition, something he attributes to already knowing many of the firefighters and county staff.
"I want to do lots of listening and, and understanding what all the different stations' needs and concerns are, lots of collaboration," said Linton. "Then going forward in a positive manner as a one team approach to help out all the different areas and the unique challenges they have."
He anticipates the job to be similar to his time at Methanex, just with a larger scope in working with eight stations instead of just one. One of this focuses is going to be dealing with the recruitment and retention of firefighters, a challenge that many rural counties are currently dealing with.
"Our biggest challenge, not just for Cypress County but for rural Alberta is retention and recruitment of new firefighters. I'm going to have that as a focus for the next two, three years and have some sustainability around that initiative," said Linton.