Canada Day celebrations return to Elkwater
Posted on 1 July 2022 by Prairie Post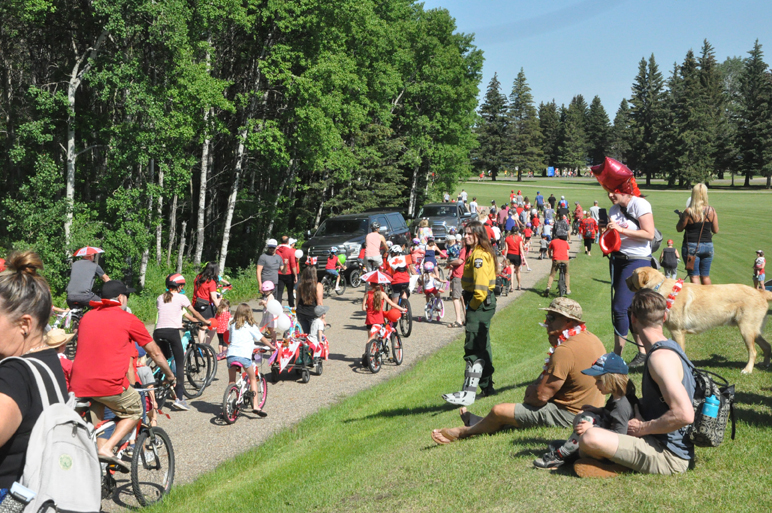 The Kids Bike Parade was full July 1.
By Samantha Johnson
Alberta Newspaper Group
This year, a core group of volunteers decided to bring back the Canada Day events in Elkwater. Val Pearson, one of the key volunteers, said, "A group six volunteers decided they would organize the events this year and hopefully it will continue in upcoming years."
Most morning events are at the Learning Centre. A tattoo booth will be set up with various Canada-themed tattoos available, including flags and those that are hockey related.
Pearson stated, "We want to do these things for the kids as they've missed out on so much due to COVID. It's an opportunity for them to come up to the booth to get some temporary tattoos to show their pride in Canada."
A photo booth will be set up that has Canada-themed props available to use in group photos or selfies. It is an area the entire family can have fun with and enjoy. If participants wish, they can share their photos on the Facebook page that's been set up.
There will be a raffle with a gift basket sponsored by the 12-34 Café and an Afghan made by artist Brenda Ebhan. Cypress County Emergency Services will be on site, and HALO is planning a flyover at noon.
After singing O' Canada, the bike parade will start from the Learning Centre at 10:15 a.m. Bikes can be decorated behind the Learning Centre if they haven't been decorated at home.
"The kids will bike down from the Learning Centre and take the path along the beach all the way to the minibus, turn around and return," said Pearson. "There will be marshals at each of the points where kids need to cross the road with parent volunteers along the way.
"It's not only for the kids, but also for parents and grandparents who've missed out on seeing kids involved in things in the past two years."
The annual Elkwater Rodeo returns this year for its 66th year. Pearson says it's a small rodeo, occurring from 1-5 p.m., but it's a treat to go hang out during the afternoon and watch the contestants. There is a concession on site at the rodeo grounds.
On Saturday there will be a community-wide yard sale in Elkwater. At 9 p.m. an outdoor movie will be showing, Jungle Cruise (PG13), and at 8:30 p.m. will be Dances with the Dark Sky at the Learning Centre.
"It is a presentation by Eagle Butte Observatory," said Pearson. "It is for anyone interested in star gazing. We have the most beautiful location to look at the night sky and see the stars without all the city lights."
Val Pearson created a Facebook page called Elkwater Area Events and Activities. With many wishing to stay closer to home this year, Pearson thought it would be a great way for everyone to come together and promote activities.