HALO in the Hangar June 30 celebration should be a 'classic'
Posted on 29 June 2022 by adminis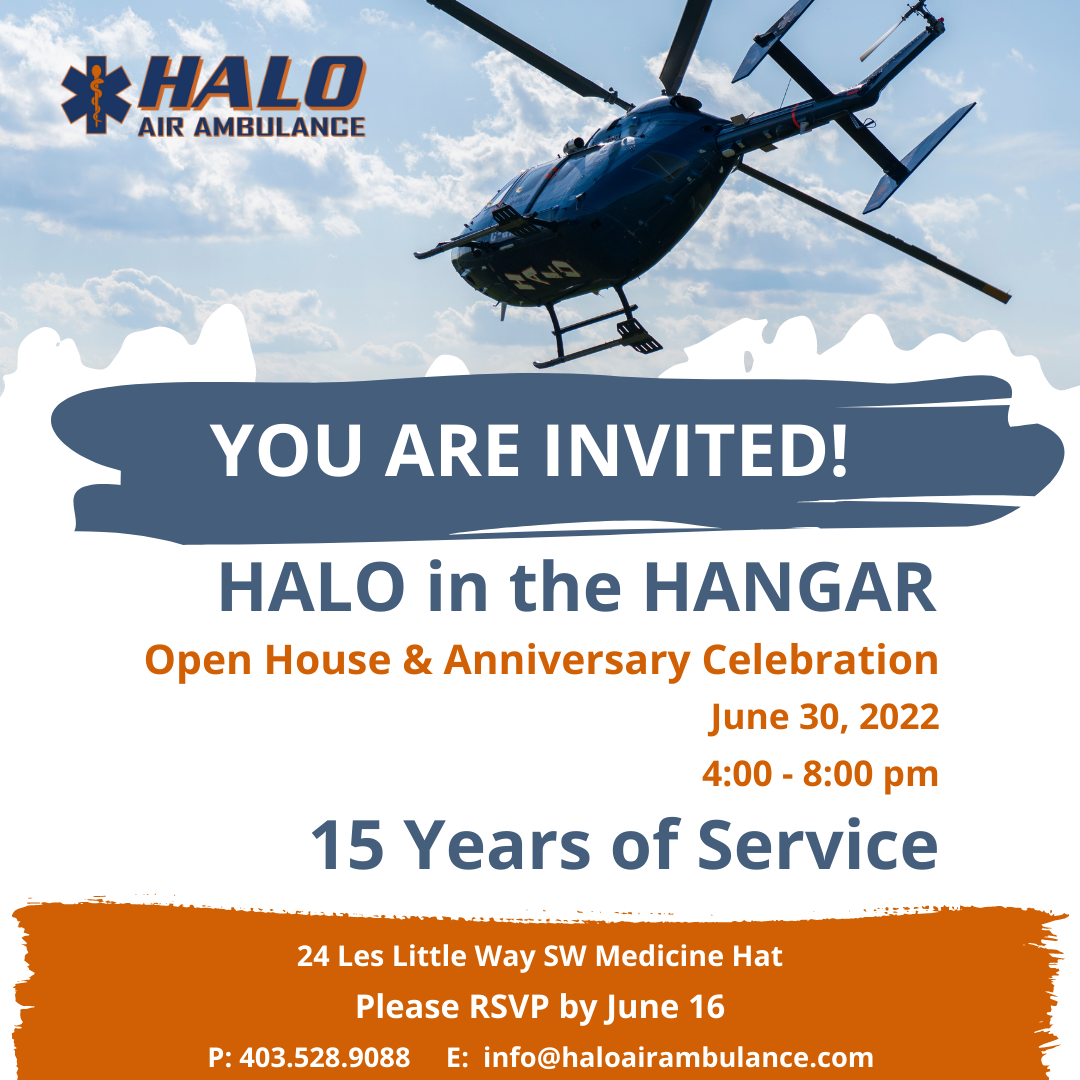 By Anna Smith
Alberta Newspaper Group
Able to host what CEO Paul Carolan calls a "classic HALO event," the air ambulance is looking to celebrate the year and everyone who helped them take flight.
The time has come for HALO in the Hangar celebration is also doing double duty as the annual open house on June 30. It will take place at 24 Les Little Way SW at the Medicine Hat Airport with its specially marked hangar.
"It's kind of meant to just make everybody available and make the helicopter available and allow people a chance to come in and sort of see what their impact is," said Carolan. "So this year, because our 15th anniversary falls just a short few days afterwards (from the traditional open house time), we decided to have the open house linked with our 15th anniversary, so it's an anniversary celebration as well."
Helicopter Air Lift Operation or (HALO) began July 4, 2007.
Though Carolan has been CEO for the past four years, he's been volunteering for longer, and added that looking back on what they've accomplished not only in his time with them, but since their first flight.
"It's certainly not lost on us, with lots of lives impacted over that time. And, it's been a roller coaster. HALO has definitely put out messages in the past that we didn't know what the next month or next year looks like," said Carolan. "We've worked very hard and very diligently to make sure that we take advantage of every dollar that's donated in support of the program and made sure that we provided services as consistently as we possibly could, given the environment and advocating for sustained funding."
"I think it's super important to recognize, you know, where we came from and never forget our roots and the purpose behind starting the program in the first place," said Carolan. "And, and we still honour and cherish a lot of those, those fundamental core values from the very beginning. That whole idea of every single dollar matters is still true, as true today as it was in the beginning and we maximize as much as we can."
Though the government has recently announced funding for the air ambulance, and it is certainly cause to celebrate as well, Carolan does stress that they have not yet begun negotiations, and even if they reach the full potential 50%, HALO will still need the region's support to continue the "flight for their lives."
Despite this important message, Carolan adds that HALO in the Hangar is not a fundraising event, but instead their chance to give back to their community and hopefully let those who care about the program know a little more about the impact their support is having.
"So there'll be cake and there'll be some pulled pork on a bun, just a come and go… Very, very short program, hopefully no more than 30 minutes, starts around six o'clock, probably," said Carolan. "We'll just have some people share some HALO impact stuff, and, and, and maybe have some dignitaries speak a little bit. Helicopters will be there, pilots will be there."
"It's just really a chance to see kind of behind the curtain a little bit, and just mingle and network and have a good time supporting a great cause," said Carolan.