Lethbridge College Plumbing apprentice wins national competition
Posted on 16 June 2022 by Prairie Post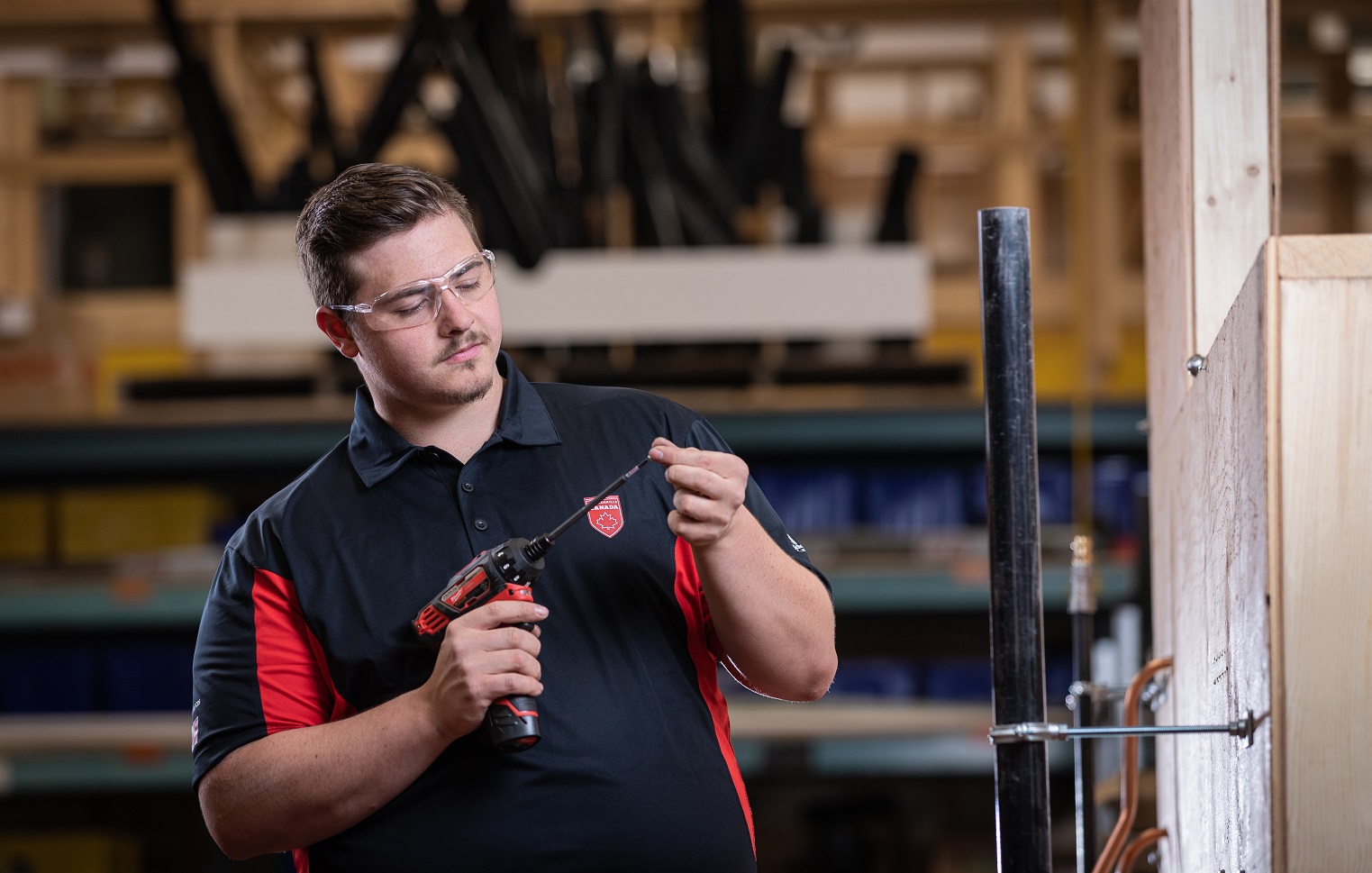 Joshua Mandin
Contributed
Second-year Lethbridge College Plumbing apprentice Joshua Mandin needed a little convincing from his uncle, a Carpentry instructor, to try competing for the first time in the Skills Canada Alberta competition in Edmonton in May.
"My uncle said it was an opportunity I didn't want to miss and an experience I'd carry all my life," Mandin says. So, he signed up – and ended up winning gold medals at both the provincial and national competitions.
Mandin's success at Skills Canada nationals in late May means he is the best Plumbing apprentice in the country and officially part of Team Canada. In non-pandemic times, he and other gold medal winners would go on to compete at the WorldSkills competition, this year scheduled for Oct. 12 to 17 in Shanghai, China. However, Mandin and his fellow teammates just learned travel to China won't be possible, but "Team Canada promised they'll do their absolute best to send us somewhere and do something in the form of training or a different competition."
Mandin adds that Skills Canada officials "told us to continue our training throughout the summer, and to 'be ready'!"
Mandin wasn't the only Lethbridge College competitor to bring home hardware from the national competition. Automotive Systems student Tyson Rasmussen and Heavy Vehicle Technology apprentice Danny Peeters both won bronze medals in their categories at nationals after qualifying at the provincial level. Peeters also won a gold medal in the national competition last year.
"We're so proud of all of the students who represented Lethbridge College at the Skills competitions, and we were thrilled to see Josh, Tyson and Danny do so well," says Sheldon Anderson, Dean of the Centre for Trades. "We also appreciate the instructors who served as coaches this year, including Jeremy Bridge (plumbing), Eric Mitchell (automotives) and Walter Michel (heavy equipment). They gave so much time outside of class to help their students be as prepared as they could be."
Mandin, a talented musician who plays piano and alto saxophone and sings, is a lifelong Lethbridge resident who graduated from Lethbridge Collegiate Institute. He is working at Artex Plumbing and Gasfitting in Coalhurst as he completes his apprenticeship, and he credits his uncle as well as Bridge for encouraging him to give the competition a try.
"Jeremy pulled me aside one day and said 'hey, do you want to compete in Skills?" Mandin recalls. "I was like, oh, I don't know, I'll have to think about it. Then my uncle convinced me. I've only been on the tools for 2.5 years. It was a massive learning curve and there are still days where I know I have a lot to learn, but I'm glad that it went as well as it did."
Bridge admires Mandin's commitment to preparing for the competitions, noting that he was working nearly 12-hour days before coming in for three more hours of practice three nights a week.
"I am very proud of how hard Josh has worked to prepare for both the provincial and national Skills competitions," says Bridge. "It is so great to see his dedication be rewarded with medals at both competitions. I have had many of the competition committee members, judges, coaches and participants tell me that they admire his skills and pleasant personality as well. He has been a great ambassador for Lethbridge College and for our Plumbing Apprenticeship program!"
Mandin is the third Lethbridge College student to win gold at Skills Canada. In addition to his win this year and Peeters' win in 2021, Nathaniel deWilde won in the Heavy Equipment Technician category in 2015.
Skills Canada was founded in 1989 as a national, not‐for‐profit organization that works with employers, educators, labour groups and governments to promote skilled trades and technology careers among Canadian youth. The Skills Canada National Competition is the only national, multi-trade and technology competition for students and apprentices in the country.
The WorldSkills Competition, which takes place every two years, is considered the largest and most influential skills competition in the world and represents the best of international excellence in skilled trades and technologies. Competitors represent the best of their peers and come together to participate in simulated real work challenges, while being judged against international quality standards.
Lethbridge College offers a wealth of high-quality trades programming to all learners, regardless of their level of experience in the industry. Programs include: Agricultural Equipment Technician, Automotive Services Technician, Baker, Carpenter, Cook, Electrician, Heavy Equipment Technician, Parts Technician, Plumber, Welder and Wind Turbine Technician. To learn more, go to lethbridgecollege.ca/trades.