CFSA's 40 Mile Fund's Youth in Philanthropy helps teach youngsters
Posted on 15 June 2022 by adminis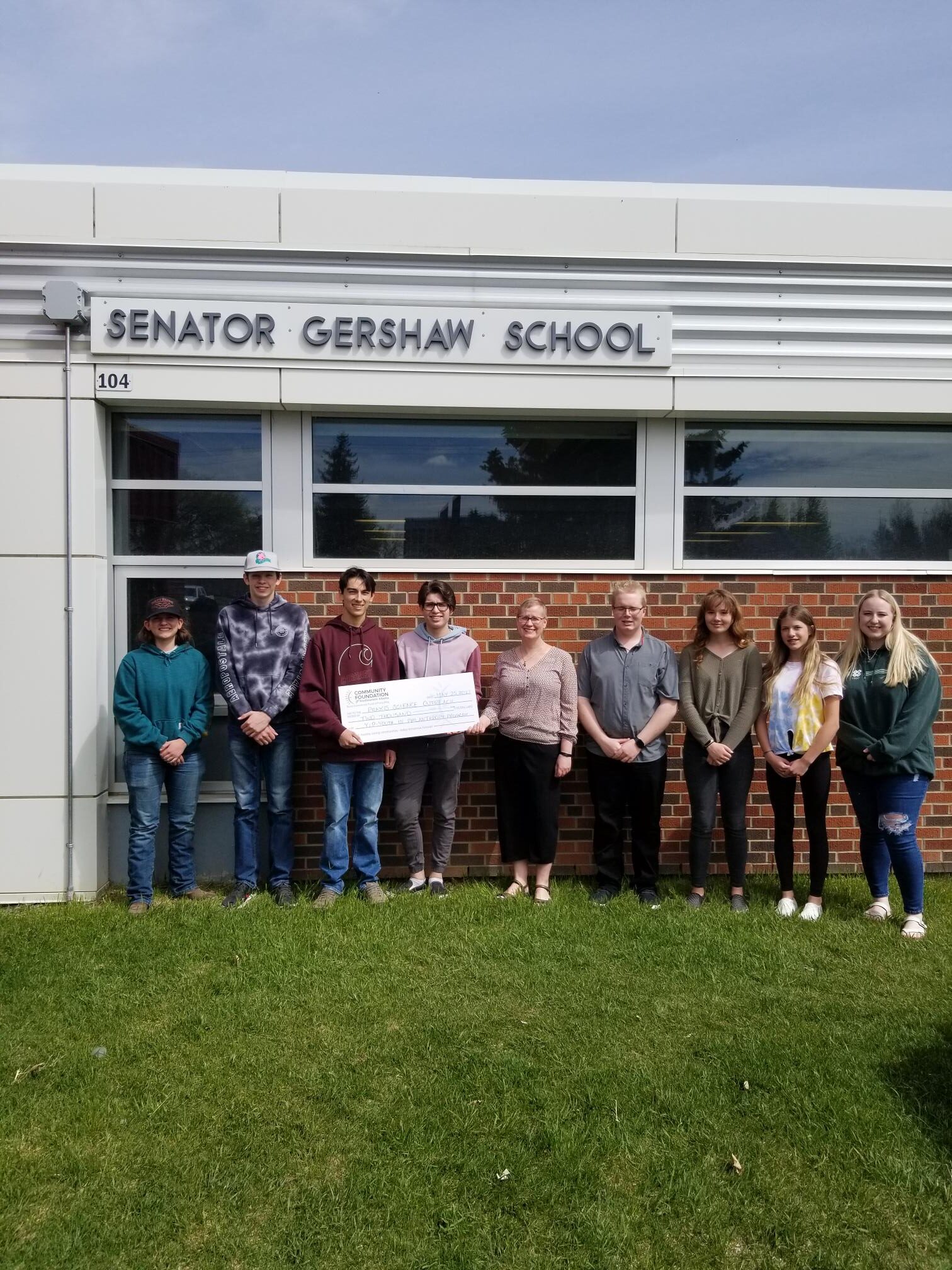 Left to right: Hayden Meyer, Curtis Duffhues , Kason Muller, Alan Janzen, Karen Saffran from Praxis Science Outreach Society, Ayden Rooks, Tori Rooks, Rianne Van Der Haar, and Trista Smith stand with their cheque from the CFSEA, given to Praxis as part of the Youth in Philanthropy program.
The Community Foundation of Southeastern Alberta's (CFSEA) 40 Mile Fund is creating the philanthropists of the future by helping youth start their journey of giving back to their communities early.
The Youth in Philanthropy program is something the Rural Community Fund of Forty Mile offers to schools in their area, to help encourage youth to get involved with the non-profits in their area.
"The youth are students who would like to participate, they get together and they do some research on different organizations, groups, non-profit groups that are important to them, that they find meaningful, that they feel that would make a big impact within the communities," said Sara Weatherhead, Community Fund Coordinator for the Forty Mile Fund. "So they do the research, they find a few different organizations, and then they do a presentation to the Community Foundation on what their findings were. And then they pick an organization that they would like the donation to go to."
So far, the Forty Mile fund has had two school groups participate, from St. Michael's School and Senator Gershaw School in Bow Island, said Weatherhead.
"We have one with the St. Michael's School, and they chose to do the Nurture Pregnancy Centre, and the Senator Gershaw school who chose to do the Praxis Science Outreach Society," said Weatherhead. Both organizations received a cheque for $2000.
Weatherhead noted how wonderful it was to see the students passionate about giving back to their communities, which directly ties into the CFSEA value of "giving where you live."
"It is just neat to see how dedicated these students are to the idea of philanthropy and the idea of giving back to communities," said Weatherhead. "They all did such a wonderful job and their thought process on where they thought the money would be, or the donation would be most beneficial. And it's just amazing to see them, through the process of it all. And then in the end be able to decide on what's important as a group and also show those presentation skills and they all just did an amazing job."
Weatherhead hopes that programs like this will inspire the next generation to be active members of their communities, and to pursue more opportunities like this in the future.