A historic day for Lethbridge wrestlers 
Posted on 1 June 2022 by Prairie Post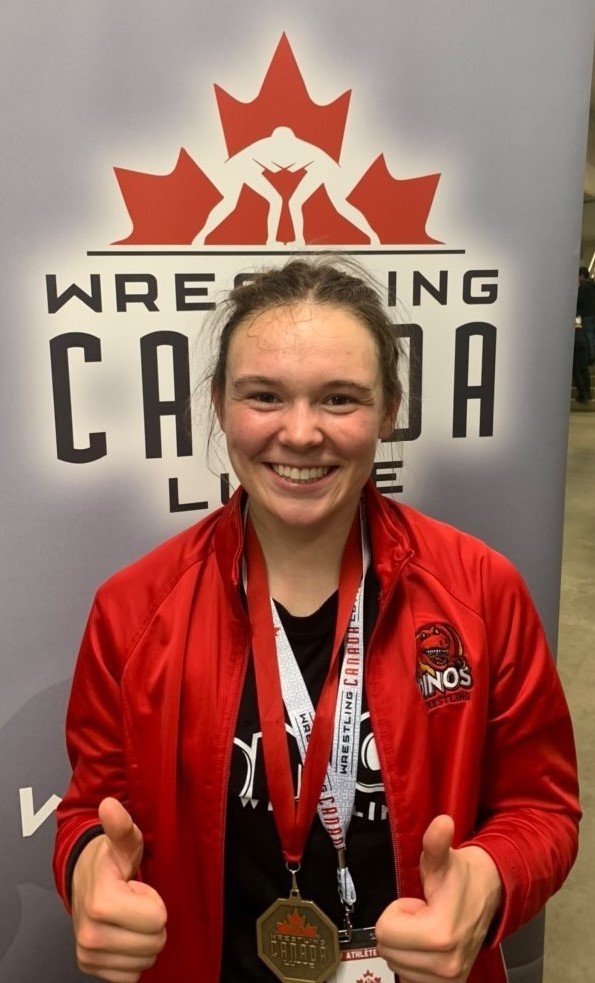 Angelina Ellis-Toddington
May 26 to 28th was the Lutte Wrestling Canada National Team Trials seeing hundreds of wrestlers from 20 different weight categories vie for a spot on Team Canada's national team roster.
Former Lethbridge Amateur Wrestling Association (LAWA) athlete Angelina Ellis-Toddington, in her first year with the Calgary Dinos, won her 62kg division without having a single point scored against her, having won two of her matches by pin and one by technical superiority (10-0). She will represent Canada at the Pan Am Games in Mexico later this year. Former LAWA athlete Brantley Saar also of the Dinos wrestled in a difficult 76kg men's division and did not place in the top 6.
Amongst the current members of LAWA in the U17 (Cadet) division, all of the attending athletes achieved a national placement in their respective weight divisions; Solomon Prenevost, 65kg, earned a 7th place finish, Reese Ferguson, 57kg, finished 5th place, Ryder Lowry, 92kg, ended the day in 4th place and Payton Shields, 61kg, earned a silver medal and competed for the true 2nd the following morning to secure her alternate spot on the Cadet Pan American National Team.
LAWA President Riley Ellis-Toddington said, "We are very proud of our athletes and their performance on this national stage."
They will be competing again at the 2022 U17/U19 Canada National Championships held in Tsuut'ina Nation Indigenous reserve on June 9th, just outside of Calgary. Head Coach Pat Selk said, "All of our wrestlers are looking to improve on their performances for the next national event." All the current LAWA athletes are returning for one to two more years of competition with LAWA before moving on to their post-secondary careers. "We have a lot of fantastic wrestlers in Southern Alberta. After historic weekends like this, the athletes get some wind in their sails; they start to believe in their training and themselves."
"It is a sign of things to come," said Technical Coach Shawn Daye-Finley.
The Lethbridge Amateur Wrestling Association (LAWA) has been active for 35 years in our community promoting, coaching and advocating the sport of wrestling. The organization provides coaching and training for ages 6 to adult.