Rodeo season kicks off over weekend in Medicine Hat
Posted on 4 May 2022 by Prairie Post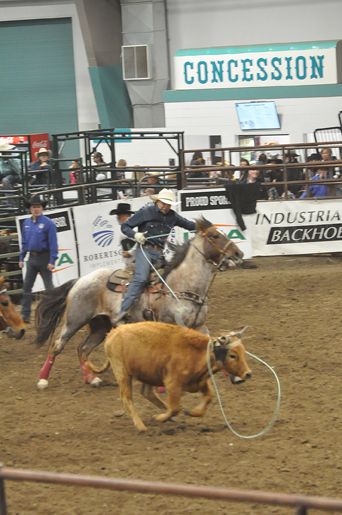 Billy Potts from Brockett competes in the team roping.
By James Tubb
Alberta Newspaper Group
Medicine Hat's 2022 rodeo season was bucked into action last weekend.
Medicine Hat Exhibition & Stampede hosted its Broncs and Honky Tonks spring rodeo April 22-24 at the Cypress Centre field house in front of sold-out crowds the last two performancesWyatt Gleeson from Sundre took home $1,690.12 for first place in bull riding, registering 86 points on Duane Kesler's bull '566 Ground N Pound. Zane Lambert finished only two points behind Gleeson and took home $1,398.72.
Suzanne Depaoli was the big winner of the weekend, as she took home $2,268.80 after taking first place in the ladies barrel racing competition with a time of 12.65 seconds. Bradi Whiteside finished second with a close time of 12.76 seconds, taking home $2,014.48.
Wyatt Hayes of Granum won the tie-down roping competition with a time of 8.5 seconds to bring home $2,264.70. There was a tie for second place in the same competition with Morgan Grant and Blake Williamson both finishing in nine seconds to win $1,821.60 each.
Kolby Wanchuk took first in saddle bronc riding with 85.5 points for a take home of $1,480.22. Ben Andersen came in second with 83 points and a take-home of $1,225.01.
Clint Laye won the bareback bronc riding competition with 82.5 points and took home $1,422.97. Michael Solberg finished second by half a point to take home $1,177.63.
Dawson and Dillon Graham were a top the team roping competition with a time of 4.3 seconds, giving them a take-home of $1,913.37 each.
Nash Loewen was the top junior steer rider with 77.5 points, securing a take-home of $343.37.37.
The Medicine Hat Exhibition & Stampede's next event is the World Professional chuckwagon races on June 16-19.