The draw of open skies ballooned into Rise Up event 
Posted on 7 April 2022 by adminis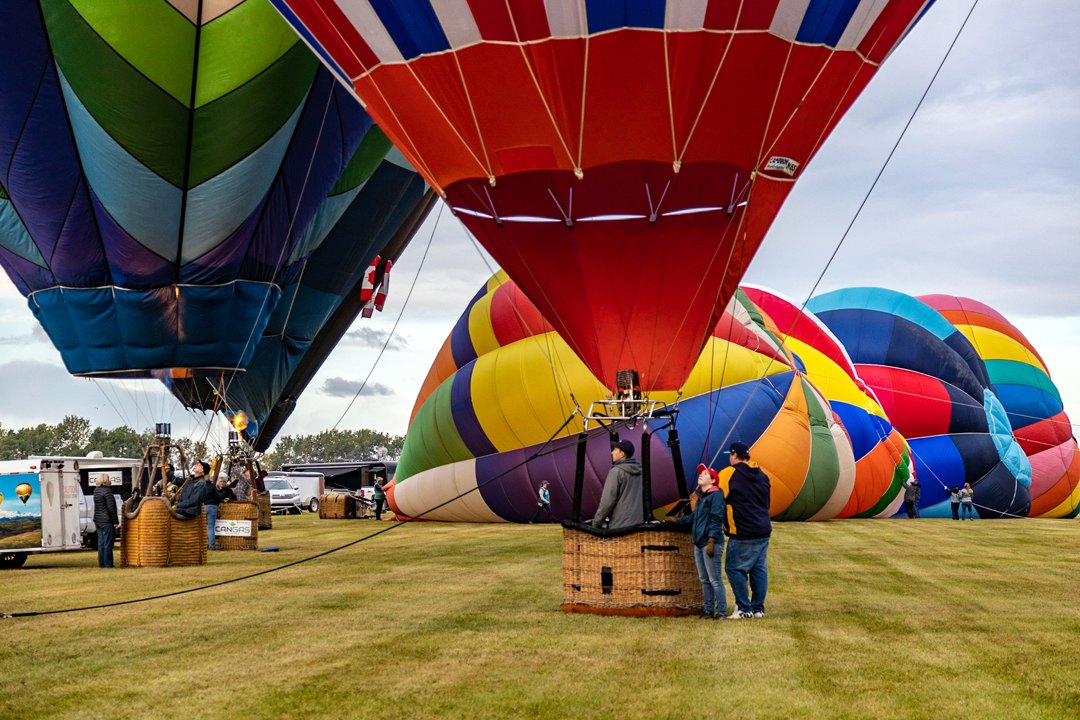 On a good day, the skies above southeastern Alberta have become no stranger to the bright colours of one determined hot air balloon pilot, and thanks to his efforts, many more are slated to take flight.
For Willy Taillon, the love of balloons started three years ago, when he and his wife Cindy were on a trip in Arizona, and took a hot air balloon flight with two other couples out into the desert. The event was "mesmerizing," said Taillon.
"Then when COVID hit, I was bored," said Taillon. "And I was looking for something to do and something to challenge myself. So I found the Calgary Balloon Club. It's a small community, and they were super helpful. And I eventually talked to my future instructor. And he taught me all the ropes on how to get into a hot air ballooning."
After 10 hours of ground school, 16 hours of flight experience, and buying a used balloon, Taillon was able to obtain his licence over the pandemic.
When he's not soaring over the city wherever the wind wants to take him, Taillon is a firefighter with the city of Medicine Hat. He adds that being a shift worker has allowed for some time off to pursue his hobby.
"I have a great network of friends that I work with and friends outside of the fire hall. So they're able to help me out and be a chase group for me, and I got some other friends outside of the fire hall that helped me as well," said Taillon. "It's a very rewarding new hobby, and I'm still having lots of fun with it. And like I said, it's, you're always learning, every flight."
Taillon notes that with the large amount of rural areas surrounding Medicine Hat, there are plenty of good landing spots. While it does get windy, and there are days where flight isn't safe, there are still plenty of days when he can.
And now, Taillon is looking to spread some of his love of ballooning to the people of Medicine Hat with the Rise Up Hot Air Balloon Festival, out of Echo Dale park from May 26–29.
"Cindy and I travelled to central Alberta last September and Hasbro and we were there with 1516 other balloons. And that, like I was saying earlier, the balloon community is small, but it's a really tight community and very helpful," said Taillon. "Just to experience what we experienced, but it was just it just took it to the next level. Being born and raised in Medicine Hat, and seeing how uplifting it was during the pandemic, trying a new hobby. I didn't realize it was gonna impact so many people in the city. So we chatted about maybe hosting a festival that was a showcase, not a large festival like you see in some other cities, but something small and manageable for our first first go."
The festival already has 15 pilots attending, with a 16th currently attempting to work out scheduling with their work. Taillon hopes that the wind will allow for several flights over the four day period, as well as a Balloon Glow, where ground-tethered balloons are inflated and illuminated at sunset for a unique visual effect.
There are five flights scheduled, as well as the glow.
"We're still having fun. There's been some challenges, lots of organizing to do, right. So it's unique for us to organize something where we could have lots of people or we could have five people come and watch us launch out of the park," said Taillon. "Our goal is to host a free event, whether you're at the park or just at home. And if the winds are right, we can fly over the city and everyone can enjoy the scenery."
Taillon made a note to reassure agricultural producers, that the balloons don't fly low enough to scare any livestock, and that they do their utmost to obtain permission from the landowners to land and to, though the wind sometimes prevents it, land on access roads and other surfaces where they won't cause damage to any crops.
Overall, Taillon is excited to see how many people have rallied behind ballooning and expressed excitement over the event, including their partner, local nonprofit Our Collective Journey.
"When the pandemic was going on there were a number of suicides per capita, especially in our city," said Taillon. "The name Rise Up means a lot of things, for me it was to rise up and not be bored. But also now that we're going through the pandemic and hopefully seeing the end of it, the endemic. We're rising up out of that. Our nonprofit group, Our Collective Journey. They're also trying to help people rise up out of maybe some mental health or addiction problems. So it was a perfect fit."
As part of this, Rise Up is welcoming anyone interested to volunteer, either for one shift or for the entire weekend. Anyone interested is encouraged to go to the event's website, riseupmh.ca, where they can also enter a draw for a chance to go up in one of the balloons. People can also visit the Coulee Balloon FaceBook page for updates and more information.
"We wanted something free for all families, at no cost, just to enjoy the beauty of the balloons in the sky, but also to get out and the park," said Taillon. "Being outside, kind of rising up from being stuck in a pandemic and indoors and not being around people assuming interaction is what we all need, and just kind of getting outside and looking at the balloons in the sky. You know, Rising Up."