Etzikom Museum & Canadian Historic Windmill Interpretive Centre looking for financial support, Date Night May 14
Posted on 6 April 2022 by adminis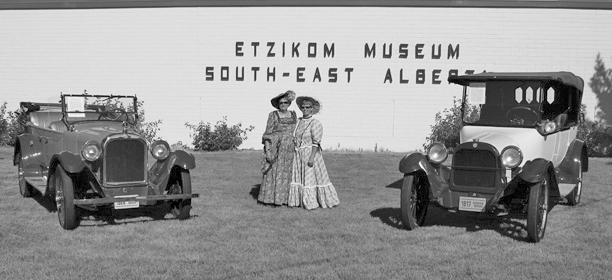 With events like the long-awaited Date Night at the Museum on the way, Etzikom Museum & Canadian Historic Windmill Interpretive Centre is asking for support to help keep blowing away visitors for years to come.
The Museum is asking for a letter of support in regards to their application to the Co-op Community Spaces Grant. The money would be used for renovation and repair, said Rachel Stromsmoe, member of the Etzikom Museum society.
"I don't know how many people know this, but the building the museum is housed in used to be the local school and the building. closed in 1984. We opened up the museum in 1990. The original school was built in the 1950s. So it's been a while I guess, that the building has been around and it's just getting a little bit worn down," said Stromsmoe. "We just identified like in some of the walls there, the main museum building, there are several cracks that have just formed over time, and even wide enough that you can start to see daylight through."
The Museum hopes to do some repairs by fall, in order to better preserve the historic building and the artefacts housed within.
"With the grant, they obviously want to make sure that any funding they put towards a project is supported by the community," said Stromsmoe. "I don't know of any better business, especially out in Etzikom. Our museum serves so many people of this community, visitors from all over the area. So, yeah, we're just looking to say, hey, community, please help us support the museum and help us out in this project so that we can continue to offer all that we do for the community.
The fall is looking to bring in more than just repairs, however. After being postponed due to COVID-19 and public health measures, Date Night at the Museum is once again planned, now for May 14. 
"It's kind of a little bit of a spin off of that movie that was made, Night at the Museum," said Stromsmoe. "Local community and museum members are going to be acting and dressed up like, it's pioneer days, or whatever's going on throughout the museum in that era."
Stromsmoe adds that there will be individuals in their many themed rooms, and the event will also include desserts and beverages, as a sort of "date night and get together."
"We are offering tickets to all the people who had reserved tickets last fall, giving them the first opportunity to see if they can make it for this upcoming date," said Stromsmoe. "So there may just only be a few available tickets that weren't already spoken for."
What limited tickets are available are $25 per person, and inquiries should be made to etzikommuseum@gmail.com for the May 14 event.