Stirling Fire Department outfitted with a wildland structural protection unit trailer
Posted on 5 April 2022 by Prairie Post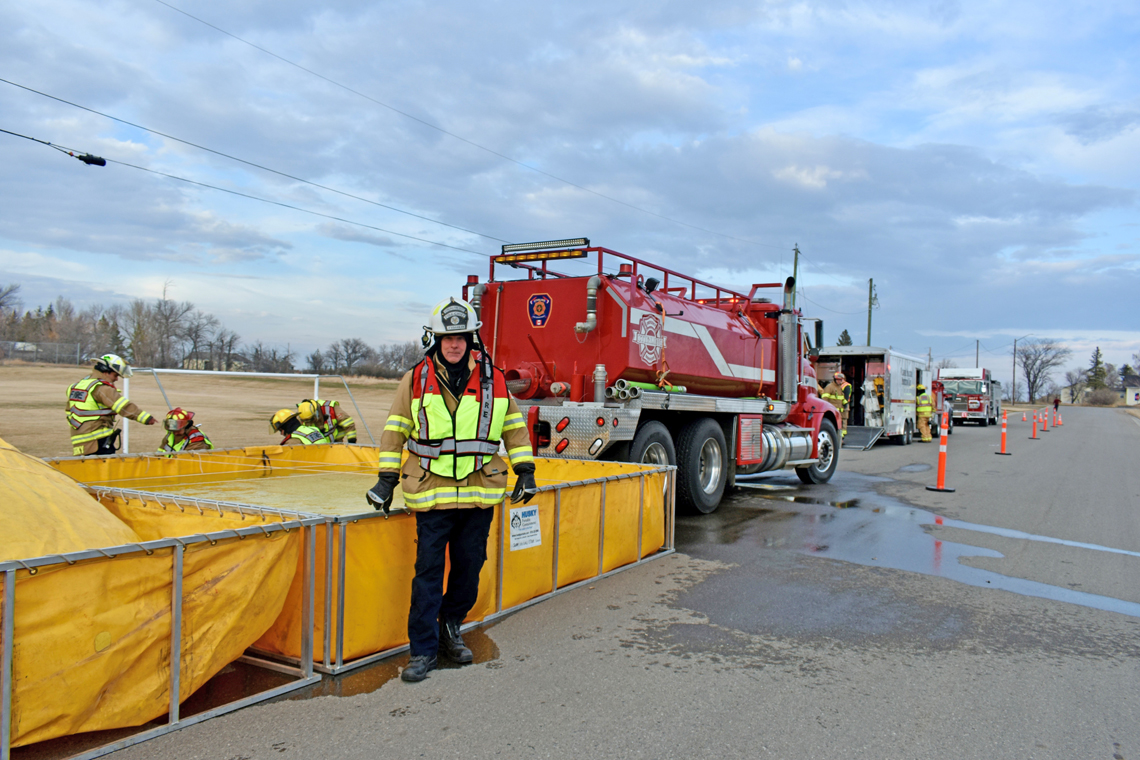 Fire Chief Rob Fisher at SPU Demonstration.
The Village of Stirling's Volunteer Fire Department is pleased to announce a renewed partnership with Flash Fire and Safety.
The Stirling Fire Department has been provided a W.A.S.P Structural Protection Unit Trailer for wildfire prevention. On March 28, the Stirling Fire Department provided a live demonstration of the trailer's capabilities.
The unit has the ability to protect up to 28 structures or provide a wet line fire break for a distance of almost a kilometer. The Stirling Fire Department has been working with our regional partners to form teams to operate the trailer and has the capability to deploy the trailer, with bush truck and full crew to help combat wildfire and interface fires.
Stirling Fire Chief Rob Fisher is quoted as saying "Stirling Fire is very happy with the partnership we have with Flash Fire and Safety. This asset is one which we feel improves the safety of not just the residents in the Stirling Fire Protection Area, but all those communities who may have need for this asset to be deployed. Stirling Fire prides itself on our training and collaboration with other communities and as such we're excited, we might be able to help save homes and prevent wildland fires from harming Alberta communities."
Representatives from Richardson Pioneer were on hand for the demonstration as the Stirling Fire Rescue Association is looking for sponsors, so they might be able to purchase the trailer in the future and have it as their asset and not a contracted asset.
CAO Scott Donselaar is quoted as saying "I never stop being impressed with the Village of Stirling Fire Department. They have an innovative approach to ensuring we have assets and training most departments of our size lack. The safety they provide to the Village is exemplary and I firmly believe we are fortunate to have Professional Firefighters who Volunteer their time with this level of commitment."
Most recently the Stirling Fire Department is being evaluated to Alberta Emergency Management Agency to have the Wildland deployment team added as an asset for the Provincial Operations Centre.
For information:
Rob Fisher, Fire Chief
Village of Stirling Fire Department
Email: robin.fisher@stirlingfd.ca
Office: (403) 756-3379
Scott Donselaar, CAO
Village of Stirling
Email: CAO@stirling.ca
Office: (403) 756 3379
The Village of Stirling is one of three communities in Canada designated as a National Historic Site and the largest village in Alberta by population with 1,269 residents as of the 2018 municipal census. While Stirling is proud of its past, the community is also preparing for the future with high-speed fibre optic broadband internet service connected to more than 85% of households as well as solar arrays on public buildings to offset municipal power consumption needs resulting in Canada's first "net zero"
Village.
Visit http://www.stirling.ca for more information.
237 4 AVENUE, BOX 360
STIRLING, ALBERTA, T0K 2E0
stirling.ca • office@stirling.ca
P (403) 756-3379
F (403) 756-2262