Suspect arrested by RCMP following break and enter and theft near Claresholm
Posted on 30 March 2022 by Ryan Dahlman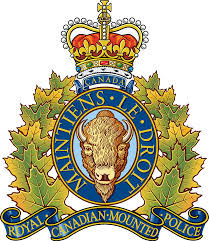 At 11:25 am on March 28th, Claresholm RCMP received a complaint that a lone 20 year old female found an unknown male suspect in her home located on a farm 6 km north of Claresholm.
It is alleged that during a verbal interaction, the suspect exited the residence and attempted to steal a Chevy pickup truck parked in the yard.
In an apparent failed attempt, the suspect re-entered the occupied residence, found, and stole keys for a 1994 Cadillac Deville car also parked in the yard. The suspect then exited the home, stole the car, and departed in an unknown direction. Members from Claresholm, Fort Macleod, and Nanton RCMP Detachments responded.
Several minutes later the suspect and stolen vehicle were observed near Nanton. Using tactics to maximize public safety, the suspect was eventually confronted and taken into custody without incident at a gas station in Nanton. Further investigation found that the suspect was in possession of drug paraphernalia, in possession of small amounts of suspected crack cocaine, was breaching a Release Order, and did not have a drivers licence. The investigation also found that the suspect had unknowingly spent the prior evening in the victim's yard. 28 year old Alexander Harsanyi of no fixed address was charged with:
1. Mischief contrary to Section 430(1)(d) of the Criminal Code,
2. Break and Enter to Dwelling House and Commit Theft contrary to Section 348(1)(b) of the Criminal Code,
3. Theft of Vehicle contrary to Section 333.1 of the Criminal Code,
4. Fail to Comply with Release Order Conditions contrary to Section 145(5)(a) of the Criminal Code,
5. Possession of Crack Cocaine contrary to Section 4(1) of the Controlled Drugs and Substances Act,
6. Operate Motor Vehicle Without Drivers Licence contrary to Section 52(1)(a) of the Traffic Safety Act; and
7. Operate Vehicle With No Insurance contrary to Section 54(1)(a) of the Traffic Safety Act.
Harsanyi Harsanyi was taken before a Justice of the Peace for a Judicial Interim Release Hearing; he was released from custody on a $4000 Promise to Pay Release Order with Conditions. Harsanyi is schedule to attend Fort Macleod Provincial Court on April 13th, 2022 at 10:00 am to answer to the charges.
Claresholm and Nanton RCMP wish to send out a general reminder to the public to report all suspicious activity. If you wish to remain anonymous, you can contact Crime Stoppers at 1-800-222-8477 (TIPS) online at http://www.P3Tips.com or by using the "P3 Tips" app available through the Apple App or Google Play Store.