Irvine native works her way from journalism to the Medicine Hat Police force
Posted on 17 March 2022 by adminis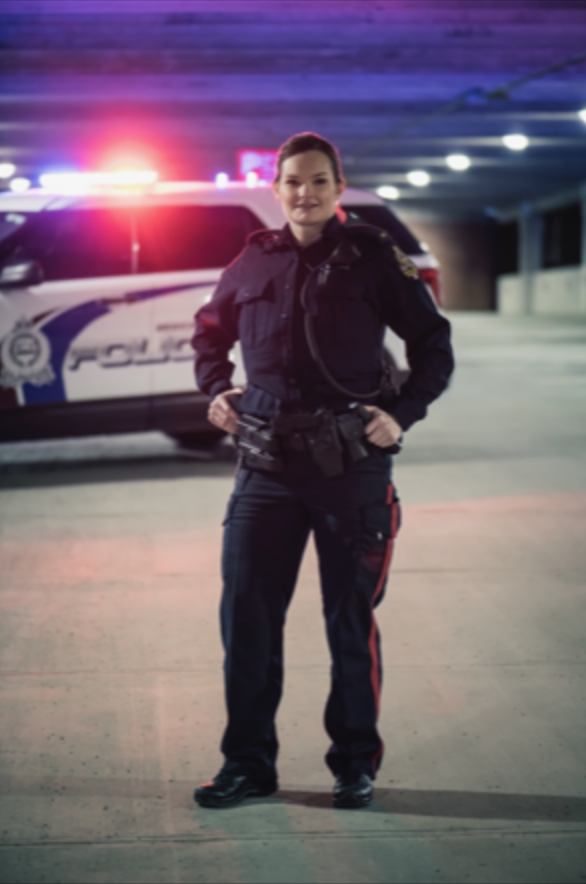 Cst. Lori Parasynchuk
Local Journalism Initiative Reporter
After going from 'on-air' to 'on-patrol', Medicine Hat's own Cst. Lori Parasynchuk feels she's exactly where she wants to be… even if trekking around downtown all day makes her feet hurt.
Growing up near Irvine, where she wants to return someday, Parasynchuk was never a child who knew exactly what she wanted to do when she grew up.
"I used to listen to local radio all the time," said Parasynchuk. "And just one day, I was listening to CHAT radio, and that is suddenly what I chose to do. So I ended up going into CHAT, and kind of doing a little job shadow, where they actually let me make my own commercial and whatnot. So I ended up doing that and then chose that career and went off to college in 1996, right after graduation and ended up getting my diploma in broadcast journalism."
Parasynchuk worked at Country 95.9 FM in Lethbridge while pursuing her diploma, an experience which allowed her to get a job right out of school and kick start her career. She worked in Brandon, Manitoba before eventually returning to her roots and getting a job with CHAT News.
It was there that she first found her interest in policing.
"Towards the end of my career, we phoned the police every day, because you want to get the latest news and be the first one to get the big story. So we call every morning at 5 a.m. Talk to the police staff sergeant and try to find out what happened. And so I started that way," said Parasynchuk. "But then I moved into TV, and I ended up doing a series on methamphetamine, which was a three-part series. And it was actually quite a hit. I ended up working quite closely with some of the members from the drug unit."
During work with the officers and several ride-alongs, Parasynchuk started to question a transition out of broadcast journalism into policing, a career where she felt like the communication skills learned in her years in the media would continue to serve her well.
Going from media to the police wasn't a clean transition, however. Parasynchuk remembered the fitness requirements to be particularly grueling.
"I wasn't huge into fitness. I grew up on an acreage, so I rode horses, I was always outside, I was always doing stuff. But my fitness level was not where it needed to be," said Parasynchuk. "So I spent a year training just to be able to get my fitness level where I needed to be. And so I spent a good portion of that before I even applied, just making sure that I fit all the qualifications before I applied."
Parasynchuk was fortunate to already know someone to assist her in both the cardio and strength training required to pass, but she still detailed the difficulty in the test, which required a series of exercises that all had to be performed within four minutes.
"It's not that I was super out of shape. I wasn't underweight or overweight or anything like that. I just, I never grew up going to the gym and lifting weights. I grew up riding horses and motorcycles and doing stuff on the acreage. So I definitely put my mind to it. And I did it and there were lots of people that I know that not in a million years, did they ever think I was going to succeed. And they even said that. But I'm like, `You know what, if you want something bad enough, and you work hard enough, you can do it,'" said Parasynchuk.
Parasynchuk's worn several hats over her years with the Medicine Hat Police Force, from her first days out in the patrol car, to spending several years as the Front Desk Officer when it became a single full time position.
Now, she's a part of the downtown foot patrol unit, and she absolutely loves it.
"We walk 40 hours a week in the downtown core in about an eight-block radius, the three of us, so if you can imagine my I get pretty good steps and so I get part of my fitness goals," said Parasynchuk. "Down here, we can go from walking to being in a foot pursuit or anything really fast. Life can change in seconds. Yeah, but I gotta say like the downtown unit is definitely one of my favourite things I've done so far."
Parasynchuk notes that she feels as if things have turned around downtown since she and her fellow foot patrol officers began walking around there, and has relished the chance to make a connection with those who frequent the area, be that the business owners, those experiencing homelessness in the area, or drug users.
"We deal with maybe the same 30 people every day," said Parasynchuk. "They've gotten to know us, they've gotten to know who we are, they know us by our first name. And, we've built rapport with them. These people are actually trusting us enough now to come to us and try to get help. We can offer those resources. We have so many different groups working with us that we can get them into treatment, we can get them housing, we can help get them back home, if they're not from here."
Even with the relationships she's built, Parasynchuk adds that no two days feel alike, which is likely part of why she tends to want to just relax with her French Bulldog at the end of the day and recharge for the next day in downtown Medicine Hat.
"​​Now that I'm on day shift, sometimes I just do 10 hours at work, go home, walk the dog and just power down, take a nap," said Parasynchuk. "I don't lead a life that is too exciting outside of work, but that's how I like it."