Lethbridge Police seize drugs and cash following search warrant execution
Posted on 7 March 2022 by Prairie Post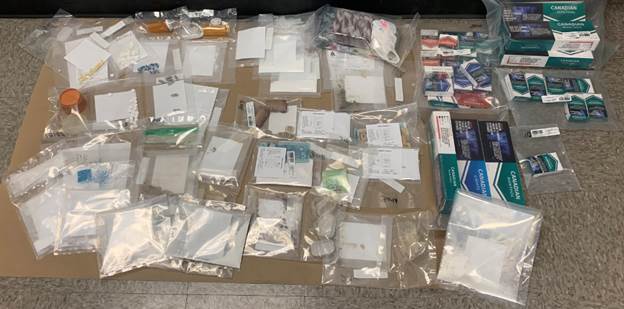 Lethbridge Police charged a woman and seized drugs and cash Friday in connection with a drug trafficking investigation.
Following an investigation into activity consistent with drug trafficking, Patrol members – with the assistance of the Safer Communities and Neighbourhoods (SCAN) unit of the Alberta Sheriffs, the Crime Suppression Team, Priority Crimes Unit, Tactical Response Unit and K9 – executed a search warrant about 4 p.m. on March 4 at a home in the 100 block of 16 Street North, and an associated vehicle.
One woman was arrested without incident. Seized following the execution of the search warrant were drugs with a street value of more than $11,100 including: 94.2 grams of cocaine; .4 grams of methamphetamine; 4.7 grams of Psilocybin, and 81 OxyContin pills. Also seized were $3,100 in cash as the proceeds of crime, and 1,500 illegal cigarettes (black stock tobacco only for sale to consumers by Indian Tax Exemption retailers and duty free shops).
Susan Graf, 58, of Lethbridge, is charged with four counts of possession of a controlled substance for the purpose of trafficking, and possession of the proceeds of crime. Graf was released with a scheduled court appearance of May 26, 2022.