Kodiaks volleyball teams begin postseason journey starting March 4
Posted on 3 March 2022 by Prairie Post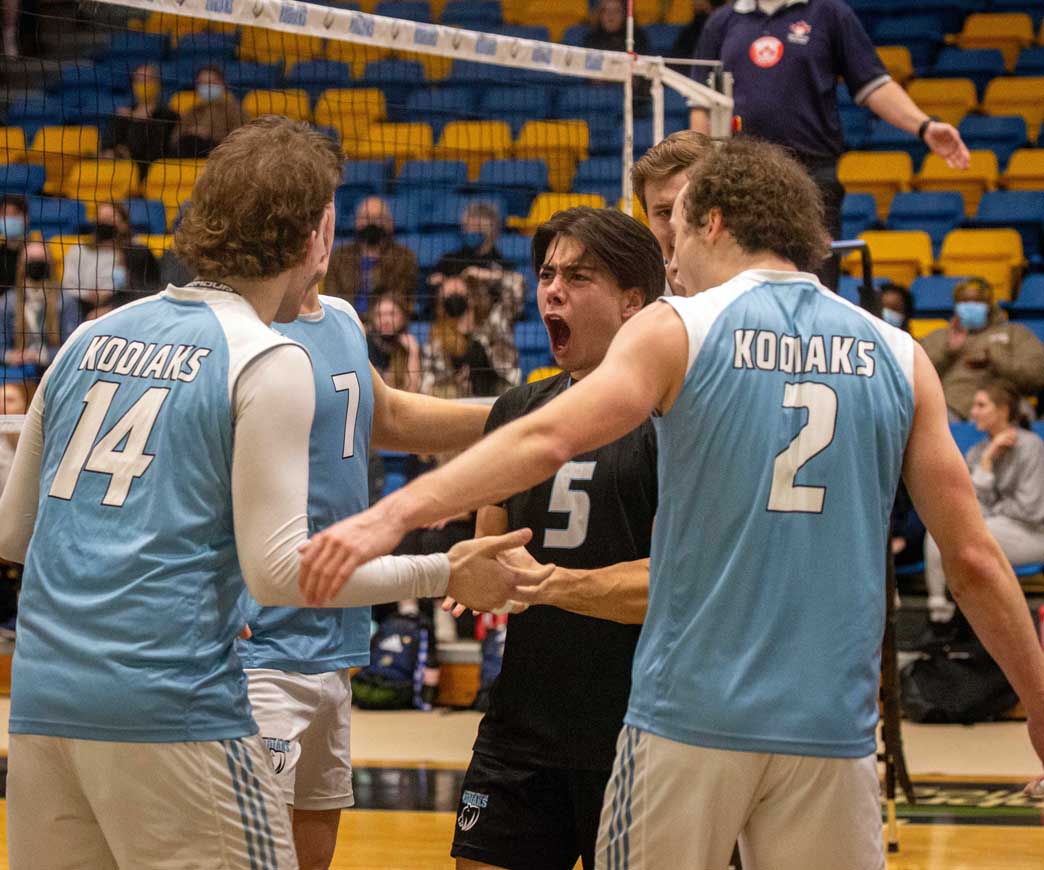 The Lethbridge College Kodiaks men's and women's volleyball teams are set to begin their championship pursuits this weekend.
Both teams have qualified for Alberta Colleges Athletic Conference (ACAC) postseason play, which opens this weekend with an all-new format. The Kodiaks will need to win two single-elimination games this weekend to qualify for the conference's "final four" which will be played March 11-12.
Opening round action kicks off on Friday night, with both Kodiaks squads drawing the SAIT Trojans as their opponent. Kodiaks women's volleyball will host the Trojans on Friday night, while the Kodiaks men will play at SAIT.
If the Kodiaks emerge victorious on Friday, they will head to Red Deer Polytechnic on Sunday to take on the RDP Queens/Kings in an ACAC quarterfinal matchup.
Volleyball
WOMEN'S
#4 Kodiaks (8-8) vs #5 SAIT Trojans (6-10)
• 6 p.m. Friday at Val Matteotti Gymnasium
Season series:
• Jan. 14: SAIT 1 at Kodiaks 3
• Feb. 5: Kodiaks 3 at SAIT 1
• Feb. 6: Kodiaks 0 at SAIT 3
The Kodiaks women's volleyball program returns to the ACAC postseason for the first time since 2018. The team will look to use home court to full advantage on Friday, as the Kodiaks went 5-3 at the friendly confines of the Val Matteotti Gym during the regular season.
Kodiaks head coach Anna Schwark says her team enters the postseason with confidence they can go on an extended run, knowing how tough they have battled top competition all season. For example, the Kodiaks recently pushed undefeated Red Deer Polytechnic, the second ranked team in the nation, to five sets before narrowly falling in a tense match.
"I am very happy with how we have performed this season," says head coach Anna Schwark. "We had some awesome highs and some lows, but through it all we really used every experience as a learning opportunity. It's a big reason why we competed so well against the current first and second place teams."
After a lost season due to the pandemic, the Kodiaks feel fortunate for the opportunity ahead of them.
"It's definitely exciting," says Schwark. "I think we are all just realizing how fortunate we are to have this opportunity again and we want to get out there and have fun with it."
Scouting the opposition
Lethbridge College held a 2-1 advantage in the season series against SAIT, but the Kodiaks are fully aware the Trojans will provide a tough challenge.
"No matter who we see on the other side of the net in this league, we know it won't be an easy win," says Schwark. "I think going into this weekend with a competitive mindset and being ready for a push-back will be the most important mental factor we need to keep under control."
The Kodiaks game plan will include creating a high level of offensive randomness to keep their opponents guessing.
"We need to stick to Kodiaks volleyball, which is all about the serve receive game," says Schwark. "I think we are peaking exactly where we want to because we have put in the work in the gym and fitness centre all season. If there ever was a test where we have real potential of getting wins in championships, it's now."
Kodiaks players to watch
Jamie Brown (fourth year, Exercise Science, Fort Macleod)
"Jamie is a team leader and league leader," says Schwark. "She has consistently been achieving over 20 kills per game over the last weeks of league play. On top of that, I think she's playing the most consistent volleyball in practice that she has all year so I'm excited to see her get out there this weekend."
Mack Lewicki (fourth year, Open Studies, Taber)
"Mack is another team leader right now who has been so strong and steady as a captain," says Schwark. "She offers a lot of important guidance on the court and we rely on her serve receive abilities to get us out of a lot of tough rotations. Lately she is really doing a great job of abusing the block on offence so I expect to see more of that this weekend which will be fun because it's so difficult to defend."
Eryka Woods (first year, General Studies, Lethbridge)
"Eryka is a first-year middle but has really stepped up as a league leader," says Schwark. "She runs a great offence, reads the setter well on defence and a few of our wins can be partially credited to her and her transition ability to create one on ones for our outsides."
MEN'S
#5 Kodiaks (9-7) vs #4 SAIT Trojans (10-6)
• 6 p.m. Friday at SAIT
Season series:
Feb. 5: Kodiaks 3 at SAIT 2
Feb. 6: Kodiaks 2 at SAIT 3
Feb. 19: SAIT 3 at Kodiaks 2
The Kodiaks will open the postseason against a familiar foe, having faced the Trojans three times over the past month. If nothing else the two teams have proven they are very evenly matched, with each game going five sets.
It was a rollercoaster type of regular season for Kodiaks head coach Greg Gibos, who says his team learned a lot from their battles with injuries and adversity.
"The regular season has been an excellent teacher of resilience and grit," says Gibos. "This team has overcome injuries and illness that decimated the roster over various parts of the season. We've started nine different lineups due to various alignments and it's brought the group together through shared adversity. We're looking forward to using these skills during the playoffs which will require the additional mental toughness during these exciting next few weeks."
The Kodiaks last postseason run in 2020 resulted in their first national championship appearance. Gibos knows his athletes are hungry for more postseason success and will be thankful for the opportunity to compete for a championship after losing the 2020-21 season due to the pandemic.
"We've been waiting for moments like this since our plane touched down from Fredericton in 2020," says Gibos. "The emotions, joy and excitement that come from championships are something these athletes dream of. We can't wait for that first serve Friday night to begin to chase the opportunity for another ACAC championship. I know our athletes will dedicate themselves fully to each other."
Scouting the opposition
Every regular season game between the Kodiaks and Trojans could only be described as epic, with massively entertaining back-and-forth momentum swings. Gibos knows his squad must be at their best to advance to the next round.
"We are going to be playing an extremely difficult opponent in the first round of playoffs this season," says Gibos. "SAIT is another team who battled injuries specifically in the first half and their 10-6 record doesn't do justice to their capabilities as a program. We know we are facing a team that could contend for national championship and we are expecting a long, emotional match on Friday. We've played this team three times this season with all three matches going the full distance and five sets. This matchup will come down to ball control. We have all the confidence in our reception team to take over and allow us the best opportunity for success."
Kodiaks players to watch
Nolan Moes (second year, Renewable Resource Management, Barrhead)
"Nolan has been a dominant force for us in every statistical category," says Gibos. "He is currently third overall in points earned at 245. Statistically, Nolan is in the top 10 in the ACAC in blocks, kills and the leader in service aces."
Malcolm Fisher (third year, General Studies, Lethbridge)
"Malcolm has become a difference maker for the Kodiaks in the second half," says Gibos. "He's been the Kodiaks best passer with a 2.37 rating as well as sitting fourth overall in the conference in digs. His leadership on the floor has helped define the Kodiaks program, and he will be relied on heavily to steady our passers this weekend."
Kodiaks announce special ticket prices for Friday
The Kodiaks have announced there will be no capacity restrictions in place this weekend. Masking will be encouraged but not mandatory, and food/drink will be allowed inside the Val Matteotti Gym.
Special ticket prices will be in effect for Friday night's women's volleyball game. Admission is free to students with Lethbridge College ID cards; $6 for adults; $3 for seniors, youth and alumni; and $2 for college employees and University of Lethbridge students (with valid U of L ID cards).
Learn more about the Kodiaks at gokodiaks.ca and follow along all season on Twitter, Instagram and Facebook. High-quality photos are available to download from the Kodiaks Flickr account.