Kodiaks enter pivotal weekend Feb. 18
Posted on 17 February 2022 by Prairie Post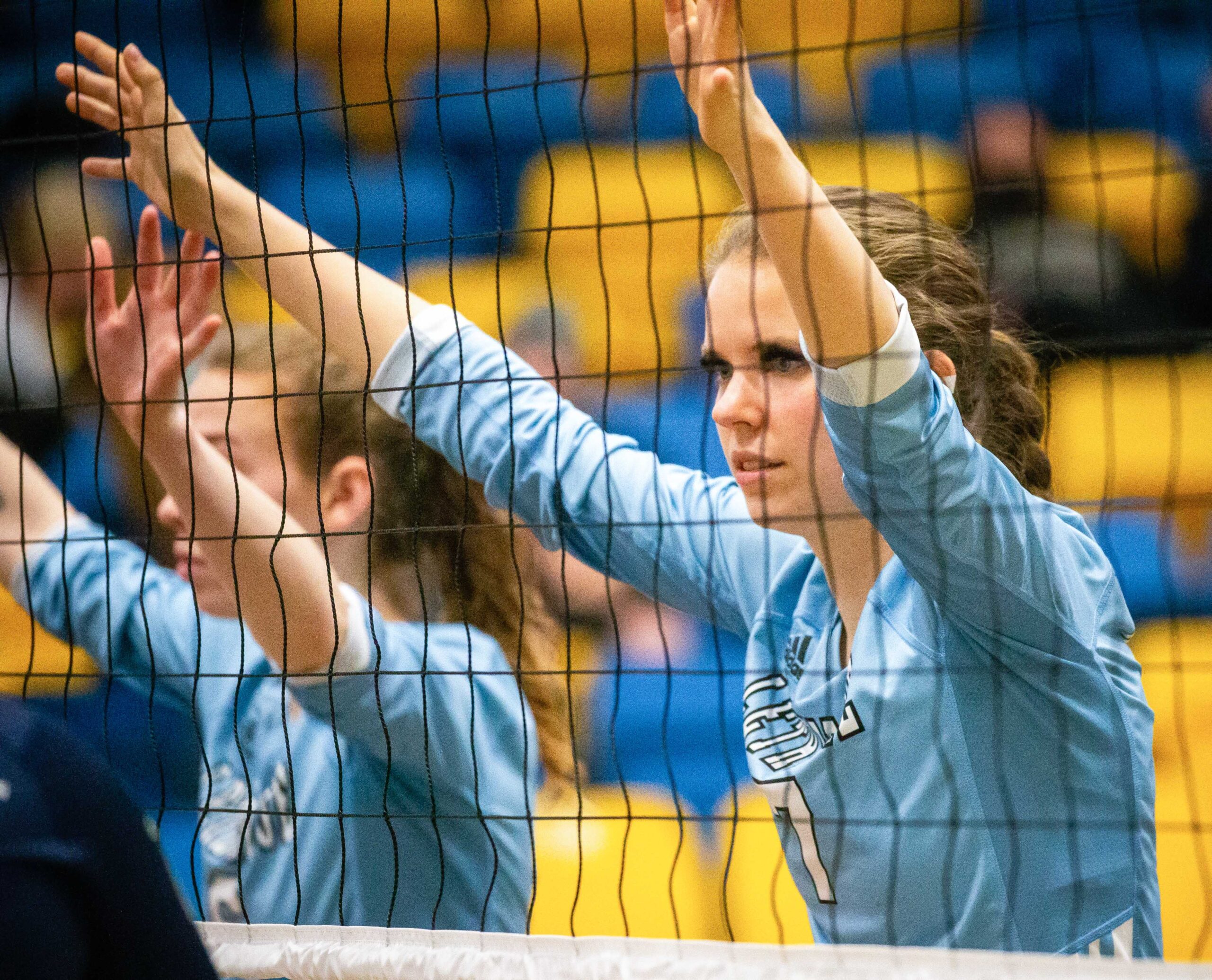 Claire Armstrong WVB
Playoff seeding will be on the line as the Lethbridge College Kodiaks basketball and volleyball teams are on the verge of wrapping up their Alberta Colleges Athletic Conference (ACAC) regular seasons this weekend. The Kodiaks indoor track squad also returns to action for their second Grand Prix event of the season.
Men's volleyball will be the only Kodiaks team to host a home game this weekend, as they serve up their regular season finale against the SAIT Trojans this Saturday night. The winner of the match will claim third place in the ACAC south division. Kodiaks women's volleyball will head to Briercrest for a two-game series to finish off their regular season campaign, looking to move up to second place in the ACAC south division with wins on Friday and Saturday.
Kodiaks women's basketball will also wrap up regular season play this weekend, traveling to Ambrose on Friday followed by a matchup at SAIT on Saturday. Lethbridge College needs one victory to secure second place in the ACAC south division.
The Kodiaks men's basketball team will continue their fight for first place in the ACAC south with two crucial tests this weekend. The team will first visit Ambrose on Friday before a highly anticipated showdown at SAIT on Saturday. Lethbridge and SAIT are in a heated battle for first place, as the Kodiaks hold a game in hand and trail the Trojans by just two points. The Kodiaks still have one regular season makeup game against Briercrest to play next week.
Meanwhile, Kodiaks indoor track returns to action at the ACAC Grand Prix #2 this Saturday in Red Deer. The team is coming off a successful exhibition meet at the Panda Open in Edmonton last weekend and will be looking for more personal bests in their final tune-up before ACAC championships in March.
Fans are permitted to attend the Kodiaks home game this weekend. Restrictions remain in place, including limited capacity and a masking policy. Food and drink will be allowed inside the Val Matteotti Gymnasium. No proof of vaccination is required for attendees.
Volleyball
MEN'S
Kodiaks (9-6) vs SAIT Trojans (9-6)
6 p.m. Saturday at Val Matteotti Gymnasium
The Kodiaks men split against two high-quality opponents last weekend. Lethbridge came all the way back from down 2-0 to defeat the nationally #2 ranked Briercrest Clippers in five sets last Thursday. The Kodiaks then dropped a 3-1 decision to Red Deer Polytechnic on Saturday.
This Saturday will mark the regular season finale for both the Kodiaks and Trojans, as they enter the match with identical records. Playoff positioning is on the line as the winner will secure third in the ACAC south division. The Kodiaks will also honour two graduating players prior to the game.
Nolan Moes (second year, Renewable Resource Management, Barrhead) continues to be a force at the service line, sitting second in the conference with .74 aces per set. Libero Malcolm Fisher (third year, General Studies, Lethbridge) is currently third in the conference with 120 digs.
WOMEN'S
Kodiaks (8-6) vs Briercrest College Clippers (8-4)
6 p.m. Friday at Briercrest
1 p.m. Saturday at Briercrest
The Kodiaks face a critical test in their final regular season series against Clippers. The Kodiaks must win both games to leapfrog Briercrest and grab second place in the ACAC south division, which comes with a first-round bye in the playoffs. It won't be easy, however, as the Clippers defeated Lethbridge 3-0 last Thursday night.
Jamie Brown (fourth year, Exercise Science, Fort Macleod) remains third in the ACAC with 3.62 kills per set. Setter Johanna Dixon (second year, General Studies, Calgary) is averaging 7.82 assists per set, fifth most in the conference.
Basketball
MEN'S
Kodiaks (11-2) vs Ambrose University Lions (5-8)
Kodiaks (11-2) vs SAIT Trojans (12-2)
A potential first place matchup with SAIT looms on Saturday, but the Kodiaks will be wise to not overlook a tough game with the scrappy Ambrose Lions on Friday. The Kodiaks are in control of their own destiny and can clinch first place in the ACAC south if they win their final three games.
Veteran guard Orin Porter Jr. (fifth year, Computer Information Technology, Nevada) continues to lead the offence by averaging 18 points per game. Chris Schlauwitz (second year, Business Administration Accounting, Dawson Creek) has been tenacious on both sides of the ball and is tied for the team lead in steals with 18.
WOMEN'S
Kodiaks (10-4) vs Ambrose University Lions (3-10)
Kodiaks (10-4) vs SAIT Trojans (8-6)
The Kodiaks will look to bounce back after their third straight heartbreaking loss, as a late comeback fell just short in a 67-64 defeat at Briercrest last Saturday. The Kodiaks can no longer catch St. Mary's for first in the ACAC south but can clinch second place with a single victory this weekend.
Rookie sensation Courtney Deemter (first year, Nursing, Calgary) is just two points behind Medicine Hat College's Katelyn Rozdeba for the overall ACAC scoring lead, with both players having two games remaining. Matlin Jacobs (fourth year, Open Studies, Cardston) was named a Kodiaks January athlete of the month, recognizing her tremendous impact on both ends of the floor.
Indoor Track
ACAC Grand Prix #2 – Saturday at Red Deer Polytechnic
Kodiaks indoor track also returns to competition this weekend for a Grand Prix event hosted by Red Deer Polytechnic. The Kodiaks men's team is coming off a third-place performance in the first ACAC Grand Prix event in January, while the women will look to build on a fifth-place finish. The team is building up towards the ACAC Indoor Track Championships on March 26-27.
Maria Boix-Frias (first year, Massage Therapy, Banyoles, Spain) was named a Kodiaks Athlete of the Week after finishing second in the 600m event at last weekend's Panda Open. Logan Danyluk (first year, Massage Therapy, Lethbridge) also impressed, finishing third in last weekend's 600m event.
ACACTV partners with Telus Optik TV – The ACAC is excited to announce a new partnership with Telus Optik TV. All conference games available on ACACTV will now also be televised on Telus Optik TV (Channel 1998). Fans can continue to watch the Kodiaks on ACACTV Pay Per View.
Learn more about the Kodiaks at gokodiaks.ca and follow along all season on Twitter, Instagram and Facebook.