Posted on 10 February 2022 by Ryan Dahlman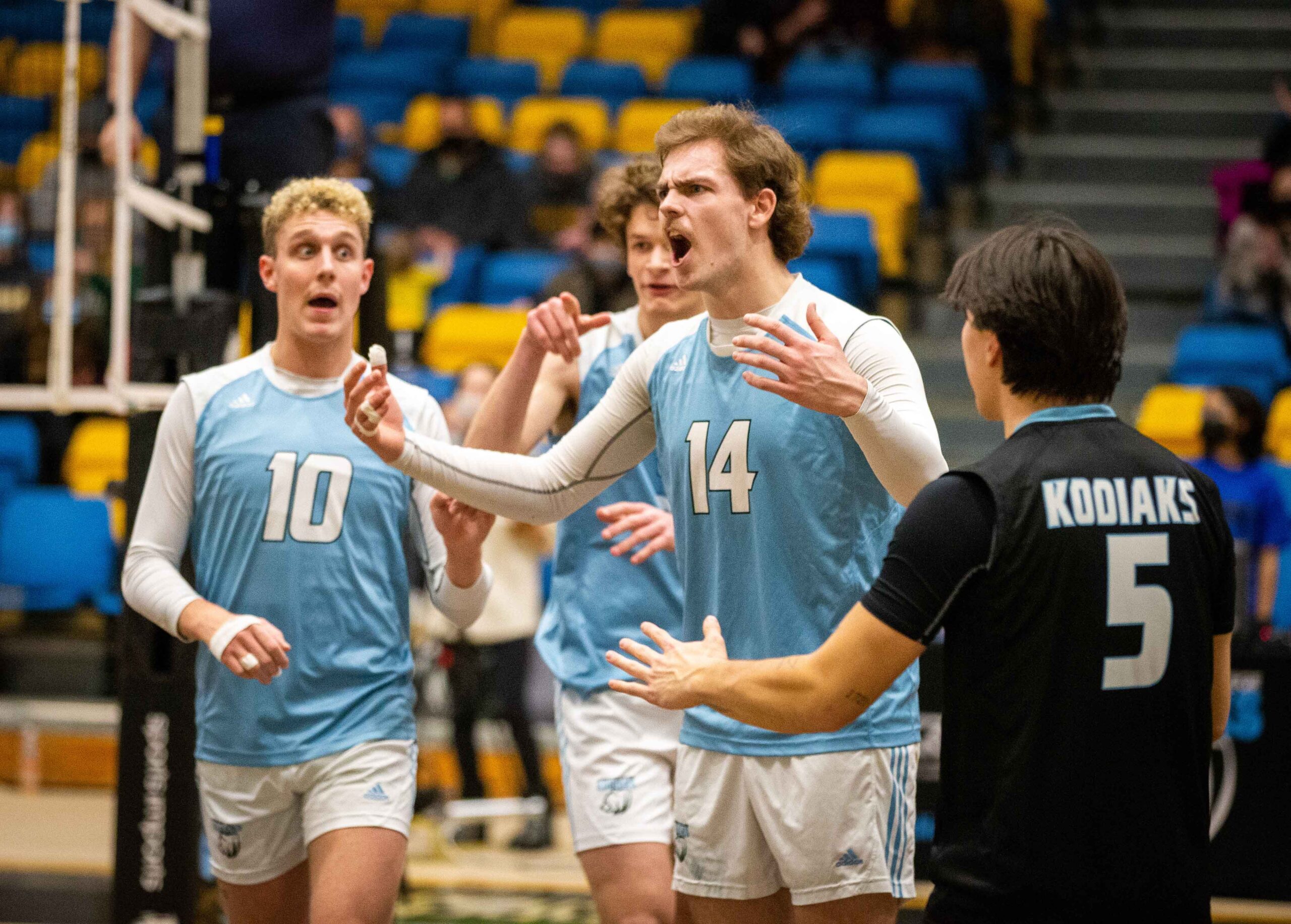 Kodiaks ready for action packed weekend
Feb. 10, 2022 – The Lethbridge College Kodiaks volleyball teams will be looking for some home cooking this weekend, as they prepare to take on a pair of tough Alberta Colleges Athletic Conference (ACAC) rivals.
The action kicks off tonight as the Kodiaks host the Briercrest College Clippers. Both games should be highly competitive, with the Briercrest men's team ranked second in the Canadian Collegiate Athletic Association (CCAA) while the BC women's team trails the Kodiaks by just four points in the south division standings.
The Kodiaks will then host Red Deer Polytechnic on Saturday afternoon. It will be a great test for the hosts, as both RDP squads occupy first place in the ACAC south division.
Kodiaks women's basketball will also be in action on Saturday, as they make the trek to Caronport, SK, to take on Briercrest. The Kodiaks men's basketball team is off this weekend after having their game at Briercrest postponed due to COVID concerns.
Fans are permitted to attend Kodiaks homes games this weekend. Restrictions remain in place, including limited capacity and a masking policy. Food and drink will be allowed inside the Val Matteotti Gymnasium.
Volleyball
WOMEN'S
Kodiaks (8-4) vs Briercrest College Clippers (6-4)
6 p.m. Thursday at Val Matteotti Gymnasium
Kodiaks (8-4) vs Red Deer Polytechnic Queens (14-0)
2 p.m. Saturday at Val Matteotti Gymnasium
The Kodiaks took two of three games last week, defeating Olds College before splitting a home-and-home set with the SAIT Trojans. Lethbridge College will be keen to put extra distance between themselves and the Clippers in the ACAC south division standings, as Briercrest sits four points back with two games in hand.
Jamie Brown (fourth year, Exercise Science, Fort Macleod) remains third in the ACAC with 3.69 kills per set. Mack Lewicki (fourth year, Open Studies, Taber) has continued her strong play of late, being named the Kodiaks player of the game on Saturday after delivering 10 kills and 13 digs against the Trojans.
MEN'S
Kodiaks (8-5) vs Briercrest College Clippers (10-2)
8 p.m. Thursday at Val Matteotti Gymnasium
Kodiaks (8-5) vs Red Deer Polytechnic Kings (10-4)
4 p.m. Saturday at Val Matteotti Gymnasium
The Kodiaks men went 1-2 last week and will look to pick up momentum against tough rivals this weekend. The team picked up an impressive five-set win against SAIT last Saturday before dropping a five-set heartbreaker to the Trojans on Sunday. The team will use this weekend to measure up against two nationally ranked opponents.
Nolan Moes (second year, Renewable Resource Management, Barrhead) and Jackson Gaehring (second year, Civil Engineering Technology, Lethbridge) have paced the Kodiaks offence, leading the team with 115 and 109 kills, respectively. Libero Malcolm Fisher (third year, General Studies, Lethbridge) is currently fifth in the conference with 2.33 digs per set.
Basketball
WOMEN'S
Kodiaks (10-3) vs Briercrest College Clippers (2-10)
Noon Saturday at Briercrest
The Kodiaks will look to bounce back after suffering a pair of heartbreaking losses against first place St. Mary's University last weekend. The Kodiaks nearly made an incredible comeback on Friday before coming up just short. On Saturday, the Kodiaks battled back to tie the game in the final minute but fell victim to a game-winning buzzer beater.
Kirsten Barwegen (fourth year, Open Studies, Lethbridge) and rookie Courtney Deemter (first year, Nursing, Calgary) continue to lead the Kodiaks in scoring and are top five in the conference in PPG. Barwegen is also fourth in the conference in rebounds per game, averaging 10.8. Matlin Jacobs (fourth year, Open Studies, Cardston) was named a Kodiaks January athlete of the month, recognizing her tremendous impact on both ends of the floor.
ACACTV partners with Telus Optik TV – The ACAC is excited to announce a new partnership with Telus Optik TV. All conference games available on ACACTV will now also be televised on Telus Optik TV (Channel 1998). Fans can continue to watch the Kodiaks on ACACTV Pay Per View.
Learn more about the Kodiaks at gokodiaks.ca and follow along all season on Twitter, Instagram and Facebook.