AMTA: supply chain continues to be a concern as rules for truckers entering Canada now in effect
Posted on 19 January 2022 by Ryan Dahlman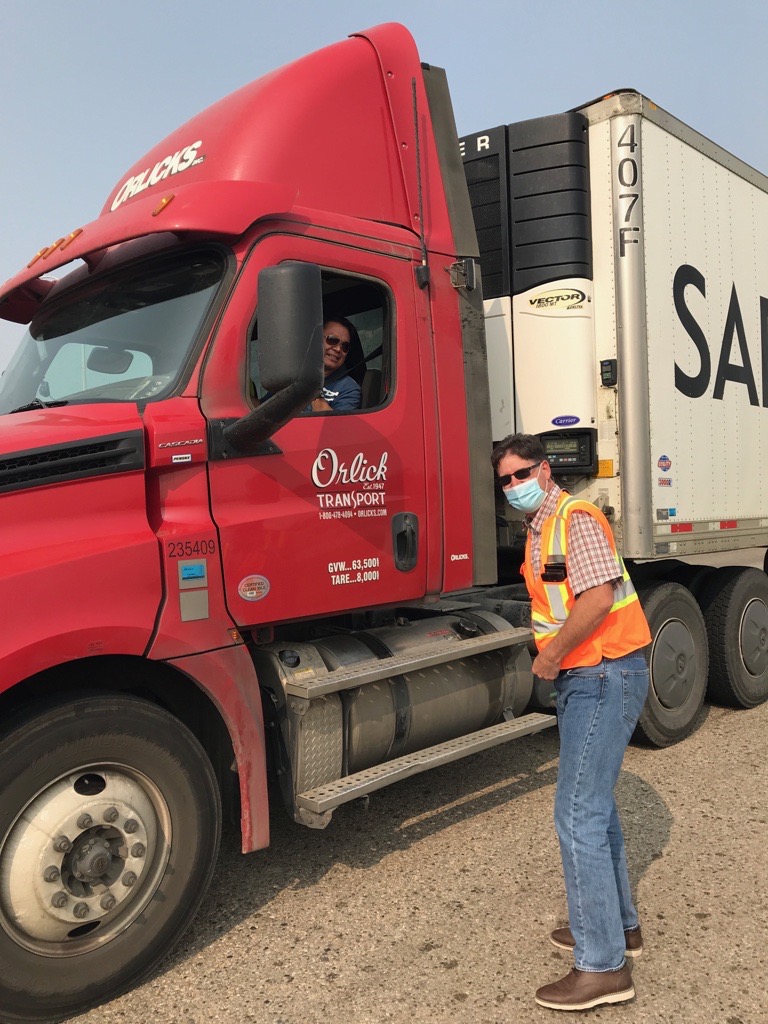 ATMA's Chris Nash and a driver.
Some confusion regarding truckers and their vaccination status Jan. 12 forced the federal government to clarify statements.
On Jan. 12 it was reported that unvaccinated Canadian truckers would be allowed to come in from the United States, but that was partially in error. No Canadian trucker will be denied coming from the United States but under the assumption that they cannot go into the United States unvaccinated in the first place.
On January 13, a trio of federal ministers issue a joint statement regarding the situation with truckers entering Canada and their vaccination status.
"On November 19, 2021, we announced that as of January 15, 2022, certain categories of travellers who are currently exempt from entry requirements, will only be allowed to enter the country if they are fully vaccinated with one of the vaccines approved for entry into Canada. These groups include several essential service providers, including truck drivers. Let us be clear: This has not changed. The information shared yesterday was provided in error. Our teams have been in touch with industry representatives to ensure they have the correct information," explained Minister of Health, Jean-Yves Duclos, the Minister of Transport, the Honourable Omar Alghabra, and the Minister of Public Safety, Marco Mendicino. "A Canadian truck driver who is not fully vaccinated can't be denied entry into Canada—Canadian citizens, persons registered as Indians under the Indian Act and permanent residents may enter Canada by right. As announced in November and as we've communicated with the industry recently, starting January 15, unvaccinated Canadian truck drivers entering Canada will need to meet requirements for pre-entry, arrival and Day 8 testing, as well as quarantine requirements."
The statements adds that the final decision regarding entry and quarantine is made by a government representative at the port of entry, based on the information presented to them at the time. Any individual who is symptomatic upon arrival to Canada will be directed to a Public Health Agency of Canada (PHAC) official and will be directed to isolate for 10 days from the time they enter Canada.
To qualify as a fully vaccinated traveller and to enter Canada, foreign national truck drivers must have received at least two doses of a vaccine accepted for travel, a mix of two accepted vaccines or at least one dose of the Janssen/Johnson & Johnson vaccine; have received their second dose at least 14 full days before they enter Canada (if a driver received their second dose anytime on Saturday, January 1, then Sunday, January 16 would be the first day that they would meet the 14-day condition; have submitted all required COVID-19 information into ArriveCAN.
Alberta Motor Transport Association President Chris Nash says the government has to ensure as many truckers are available to keep the supply chain fluid at a time when they were already a lot of truckers needed. 
"We already have a fragile supply chain based on driver shortage, based on what you see in B.C., based on product not being ready and needing to go quick, so the supply (of drivers) is not there to move product already to have a strong and resilient safe supply chain," explains Nash.
"So, with these order announcements coming for requirements for the U.S. on the 22nd and for Canada on the 15th the challenges, we don't have the uptake of vaccinations at a high enough rate that it will not impact the supply chain. So the concern is as you've seen through the CTA reports of 10 to 15% of truckers can be sidelined as of the 15th to be able to cross the border, which impacts our supply chain."
Nash indicates that the vast majority of drivers are vaccinated so this will not effect them. However, because there is a low number of drivers on the road now, it will be tenuous times for the moving of goods which are needed by Canadian shoppers and of course Canadian businesses who export.
"Obviously, it's difficult; we've got a fairly high (vaccination rate); we're looking at 70 plus percent uptake of the vaccination on our drivers so a good majority can still cross the border and not have the issues come the 15th and still be able to come back into Canada, not having to be tested just as long as they have their documentation and everything that they need to have to be able to cross normally. They don't need to test, you know, unless they're symptoms and stuff like that, but at the end of the day is, we saw the big block at the border (i.e. major traffic jam at Coutts) just in the first few days … when they opened the borders to the public.
"That part will work itself out but we'll see on the 15th, it's more along the lines of what it's going to do to our supply chain impacts are (i.e) the drivers that will not be crossing the border after the 15th."
Nash hopes that the government as well as the public understands and appreciates the importance of a healthy motor transportation system. He says having enough truckers to keep the supply moving is essential for Canada and Alberta, especially during a time when the economy is rebuilding itself following the pandemic.
"When the shelves go empty, it really comes down to the point of how do we get in there and that is the trucking world and that's why they're essential. You know, when we look at what's going on here and the effects of what could happen on the 15th, we want to be clear, we support the vaccinations," explains Nash. "To get through this, we want folks to get to work, we worked with Montana to be able to say 'drive up and get your shot, move on, we're doing the things to get there.' But the drivers, they work in isolation, they stepped up to the plate at the beginning of COVID when there was no food, no services, no washrooms, things like that, but they made sure that they kept the goods moving. 
"But when it comes to vaccinating, we still need to reach those folks that need to be educated on it to make sure that we can have that strong resilient supply chain. It's essential when you look at how much product on the back of a truck and 51.7% of Alberta's GDP was on the back of a truck. You look 30,000 loads a day and we're moving across the border every day by truck. And you start to see the impact of hitting the supply chain while it already is in a fragile state of not having drivers having the BC stuff and having all of that, it's going to be even more evident how essential as when carriers have to choose who they will move product for, which has an impact both on import and export for Canada."
Nash says they are trying to find ways to entice more people to take on the profession and make it easier to get a good education so there's more of a pool of drivers.
Currently, that pool of prospective truckers is small. 
"Right now we have been hearing about trucking HR Canada puts out the stats, there's the opportunity we can be 40,000 drivers short here in the next year or so," explains Nash. "Right now, we are 23-27,000 drivers short. It's very critical that we start filling that with with drivers and having that career path. So to your point, you know, how do we make that education pathway to bring new people into the industry when we look at licensed drivers in Alberta not employed but licensed, we saw the Class 1 diminish from 2019-2020 by 4,600+ drivers and all of them are under the age of 55. So having the opportunity to bring new people into the industry, is critical considering the average age is 47 years old for a driver and we are seeing more exiting than coming in. And again, it all boils down to that impact in the supply chain and really how that's gonna affect Albertans and Canadians as a whole to get goods to the shelves and things that need to move for health for everything."