Lethbridge Police wrap up Christmas Check Stop Campaign
Posted on 4 January 2022 by Prairie Post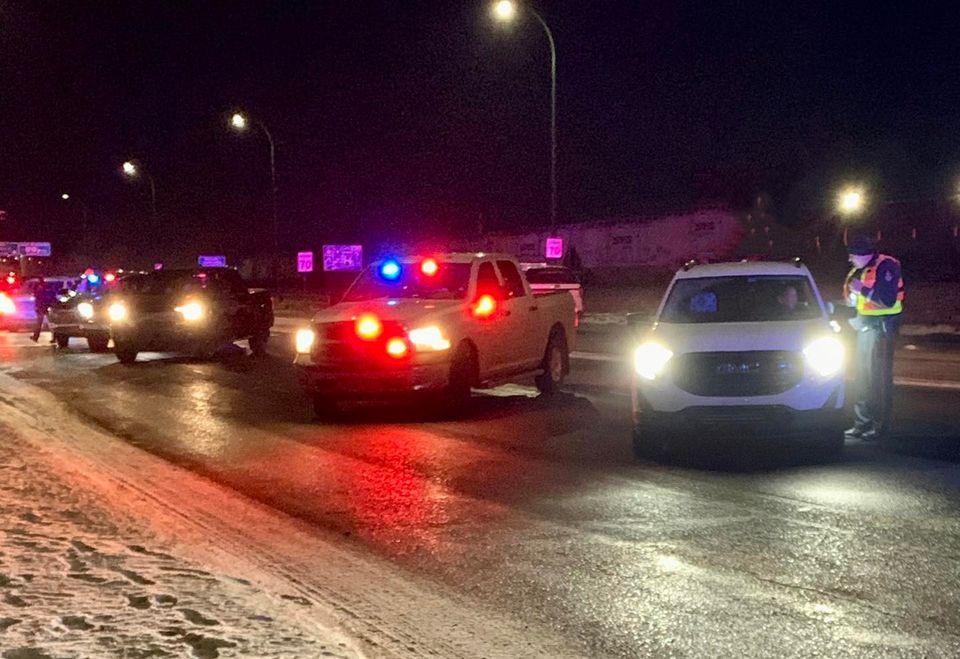 The Lethbridge Police Service Christmas Check Stop Campaign, which wrapped up this past weekend, resulted in a dozen impaired drivers taken off the road in total.
There was just one impaired driver caught during the previous Check Stop campaign, when COVID-19 restrictions resulted in far fewer party-goers on the road and less vehicles checked. This holiday season saw a total of about 1,760 vehicles checked.
"This year we exceeded what we were hoping to get as far as numbers in totality, including vehicles checked and the number of impaired drivers," said Acting Staff-Sgt. Brent Paxman, of the Traffic Response Unit. "We're getting a high percentage of compliance, which is good for anyone on the road."
While the goal of the Check Stop Campaign is to locate and apprehend drivers due to the significant risk they pose to public safety, it's also hoped the highly-visible Check Stops act as a deterrent to those who might otherwise drink and drive.
In addition to the 12 Immediate Roadside Sanction (IRS) Fails, this campaign resulted in four IRS 'Warns' for drivers with a blood/alcohol content of .05 or greater, and eight IRS for zero tolerance with a Graduated Driver License.
This is the second LPS Christmas Check Stop Campaign held since IRS legislation came into effect. While no Criminal Code charges result, penalties include a specific period of license suspension and vehicle seizure, as well as substantial fines and fees. Those given an IRS fail must also participate in an educational course and install an ignition interlock device in their vehicle before they can apply to have their license reinstated.
Impaired driving Criminal Code charges can still be issued by police, but under extenuating circumstances such as those involving repeat offenders, a motor vehicle collision with injuries, or having minors in the vehicle.
The IRS legislation results in less time lost by members. Paxman spoke with a pair of officers who reported they were able to process an impaired driver and have the vehicle taken off the street within 30 minutes of the stop and without ever leaving the scene.
"We weren't seeing that before (IRS sanctions came into effect). That was a minimum of two officers, three to four hours off the road. So we've been able to check a lot more vehicles this year," he said.
In addition to roadside sanctions, the Christmas campaign saw a total of three suspended drivers caught and 84 Traffic Safety Act tickets issued for various infractions through the campaign.
Included in those total campaign numbers were those from this past weekend, which saw about 60 vehicles checked through a number of roving stops. There were three IRS Fails and 16 TSA tickets issued.
Paxman thanked the many community partners which collaborated during the campaign, including the Alberta Sheriffs and Coaldale RCMP, as well as volunteers with Mothers Against Drunk Driving (MADD). He also thanked the majority of drivers police encountered on the roads who acted responsibly when it came to drinking and driving, and appreciated their patience during mandatory alcohol screening, which was brought into effect in 2018.