MH News Santa Claus fund growing, also helping rural areas
Posted on 28 December 2021 by adminis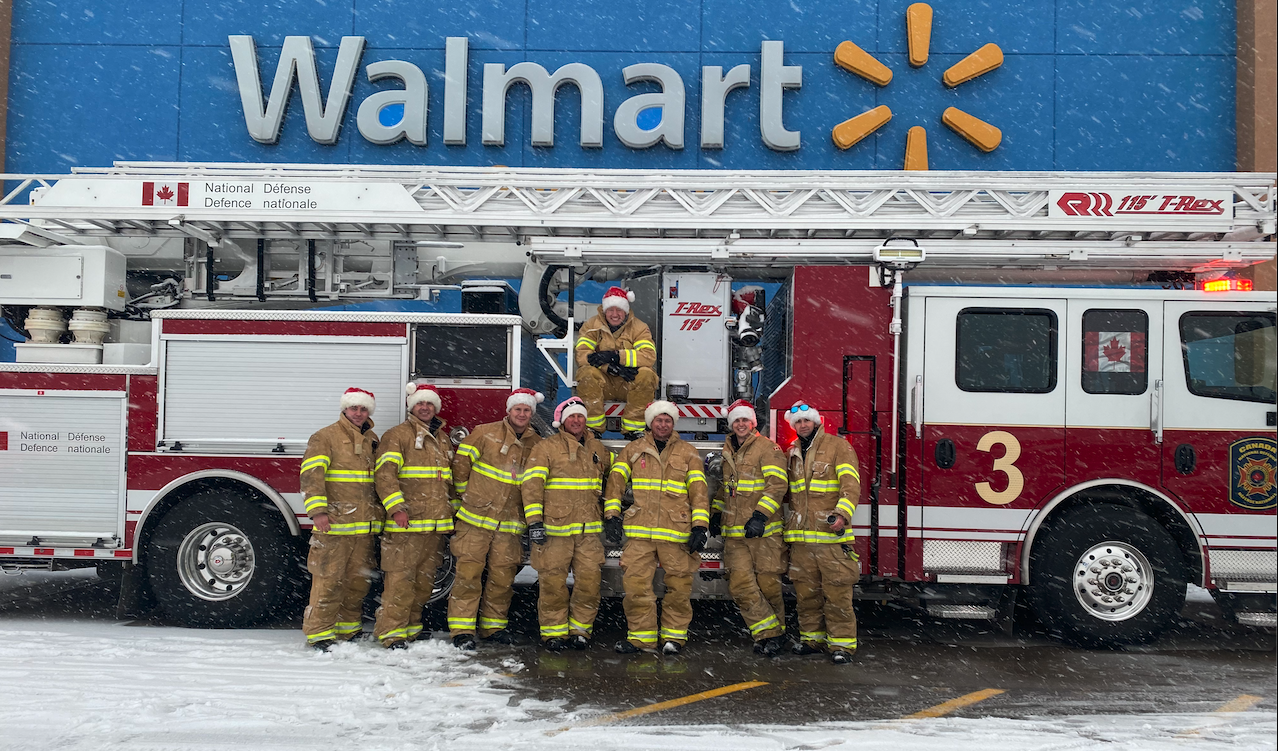 Suffield Firefighters pose for a picture while collecting donations for the Medicine Hat News Santa Claus Fund outside a Walmart. Photo provided by Deanna Doerksen
Local Journalism Initiative Reporter
The number of families helped by the Medicine Hat News Santa Claus fund has gone up by 50% in the past five years, something that Executive Director Deanna Doerksen calls "both heartwarming and heartbreaking."
"it's always kind of that bittersweet, right. It's difficult to see so many struggling, but it's just, it's so wonderful that our community is as generous as they are to support us and support those families," said Doerksen. "So it's hard to see so many families in our community struggling. And yet, it's heartwarming that our community is so generous to be able to donate to us so that we can serve those families. This year, we have served over 700 local families with a combined total of over 1400 children ages 0–17."
The Santa Claus fund has given out around $71,000 in meal vouchers this year, which can be redeemed at Sobeys, the Medicine Hat IGA, or South Country Co-op.
"We also provide children with toys, or parents toys for the children. And so each child receives two gifts. They also receive a stuffed animal, and a book. And then each family receives a board game," said Doerksen. "And when we have the ability, we also provide the families with Vitality packs and stocking stuffers. So personal hygiene items, and then, you know, little stocking separate items for the children as well."
This assistance is available not only to Medicine Hat residents, but families across all of Southeastern Alberta, said Doerksen, who notes that they have been seeing more need for assistance in the rural areas as well in recent years.
"​​At the Santa Claus Fund, we just want to meet families where they're at, and give them the dignity of being able to provide Christmas for their families," said Doerksen. "Many of our families are families that, you know, live paycheck to paycheck. And when you throw the you know, they're often those single moms and they're struggling to make ends meet and what should be a beautiful time of the year becomes a burden at Christmas, right. And it becomes heavy on the parents' hearts, wanting to be able to provide their families with a Christmas and we just want to be able to help them do that with dignity."
"We are hoping for our economic climate to improve. In a perfect world, we'd love to see our numbers go down so that there were less families that needed our assistance, but we're so grateful to be able to support them now," said Doerksen.