Christmas Check Stop campaign a key to keeping roads safe
Posted on 24 December 2021 by Ryan Dahlman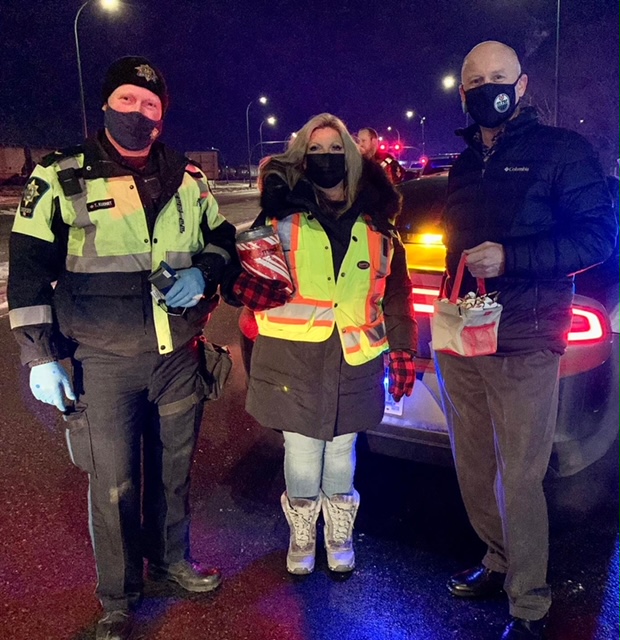 Anita Huchala, centre is always a part of the Check Stop in Lethbridge and a big part of MADD in Southern Alberta.
Police have new sanctions which allows them to "administer stricter penalties on the road" and this will come in handy with Check Stop programs across Southern Alberta. 
According to a Lethbridge Police Service, "the primary goal of the Check Stop program is to locate and apprehend impaired drivers due to the significant risk to public safety they pose. Police will, however, also be checking for valid documentation including driver's licenses, vehicle registration and insurance as well as equipment, liquor and other violations."
To execute a Christmas Check Stop campaign in Lethbridge, it takes a lot of planning with police officers shift and to get Mothers Against Drunk Driving volunteers integrated.
Acting Sgt. Brent Paxman, of the Traffic Response Unit of the Lethbridge Police Service says the size of the Check Stop depends on resources.
"I can run a Check Stop anywhere between three to, I mean as many as (early December) was the biggest one I've ran, and it was 17 officers. Depending on how many we have, we just adjust where we set up, how we set up. I guess the location would be the biggest point there because with the limited amount of officers, you can't handle a road like Whoop Up Drive or Highway 3, but when the larger amount that you can go to those bigger areas and shut down those roads and do those Check Stops," explains Paxman who adds nothing has changed since federal and provincial regulations changed in regards to impaired driving penalties. "I've been running Check Stops, and I've been in traffic over a span about eight years now, I think nothing's really changed in how we set up other than I guess a couple of years ago, we got the mandatory or post screening mandated from from Canada and so we can go out Check Stops a little bit differently just meaning that everyone going through a Checks Stop is required to provide a breath sample, there's no need to gather the evidence beforehand.
"So that's kind of how things are run now since 2018 Is everyone that comes through is giving a breath sample right away and then we're just kind of going about it like that."
The road is not cordoned off by the police but in order to get through a main road, a driver will be forced to have to make their way through a Check Stop. Paxman says one a driver is flagged to pull into talk. They will only have to deal with one officer per vehicle. On busy roads Lethbridge Police set up in a way that all officers are tied up and busy and then there's still a flow of traffic… They pull over the next vehicle and do their questions and testing."
Paxman adds there's no major long vision plan on where they specifically hold the Check Stops, it just depends on a variety of factors including number of available officers and Mothers Against Drunk Driving is another consideration.
"We don't pick our spots well in advance, but we do have a few spots within Lethbridge that we know as the traffic unit as busy spots. We want to pick spots that we're going to get a lot of vehicles coming through," explains Paxman. "We like the type of traffic that you can handle however it depends on how many officers we have. So with 17 officers the other night, I was able to pick our busiest road in Lethbridge by far and we shut it down. I haven't been able to do that for a number of years because we haven't had that volume of officers. So I simply pick the spots the night or the week leading up to that check, stop and go about it like that."
Paxman adds that the Southern Alberta Mothers Against Drunk Driving campaign which is led by Anita Huchala, President of the MADD Lethbridge and Area Chapter, who is also through MADD, a fully-trained Victim Support Volunteer. He says after the officers conduct their interview with the driver they will ask if it is okay to to talk to a MADD representative.
Huchala says they have a role to play there.
"The officers direct the traffic they pulled in. We kind of stand back and let them have their conversation with the motorists, explains Huchala who had nine volunteers our at the Dec. 4 Check Stop in Lethbridge. "As long as they've cleared that motorists confirm that they're a sober driver, then they introduce us so they would turn to us and say something "like we have a volunteer here from MADD Lethbridge and Area that has something for you and we step forward and we say "you know, thank you for driving sober and here's a special gift from us from MADD Lethbridge and Area — Merry Christmas. Have a safe ride home." you know, whatever we're comfortable with saying all of our volunteers can I train them, but I allow them to feel comfortable on what they're saying."
They usually go from 9-11:30 p.m. This last go the had A major donation of candy canes from Bulk Barn to put in MADD's thank-you gift bag which then can double as a small mini hanging refuse bag for the vehicle.
Huchala says that during that early December Check Stop they received a touching $50 donation on the spot for the local MADD. The people didn't even want a tax receipt, they just wanted to show their appreciation towards MADD and what they do.
Huchala says the Check Stops aren't popular with everybody.
"I have to say a lot of people are pretty receptive that you know, okay, the police are out here, this is what they're trying to do. We don't heard a lot of negativity," explains Huchala. "There's the occasional person, you know, they don't feel that they should, because we've got the mandatory breath sampling, a lot of people are like, "Oh, I don't have to do that." Well, yes, you do. We need to have a little bit more education as to what what is expected of the Check Stop or anytime when you're pulled over. The police, like even if you're speeding, if they want, they can do a breath demand. I don't think people are understanding that."
Vehicle occupants are reminded that If they observe a suspected impaired driver, and it's safe and lawful to do so, call 9-1-1 immediately. If you are going to drink, make arrangements for a safe ride home. With Operation Red Nose sidelined once again, please designate a sober driver (who does not drink any alcohol), call a taxi or other ride service.