MADD busy across the province with CheckStops
Posted on 23 December 2021 by adminis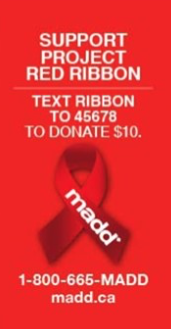 Local Journalism Initiative Reporter
Unlike nearby Lethbridge, Medicine Hat may not be seeing any charity check stops, Mothers Against Drunk Driving Canada (MADD) has still been hard at work across the province.
While there are the traditional stops in other parts of Alberta, the pandemic has created a need for more creative methods of getting their message out, said Tracy Crawford, Regional Manager of Western Canada for MADD.
"There have actually been, last weekend and the weekend before, quite a few of what Alberta calls the charity check stops, where MADD works with detachments and their province to put together a charity check stop in the communities. So they had a few of those going on last weekend," said Crawford. "And which was, which is great, gets us out in the community in a safe way, but still reminds everybody to drive sober and plan ahead. That's been at least one more of those going. So those are, especially with COVID, dependent on the comfort of the officers, you know, and making sure that they can have an area where their officers are following all protocols. So sometimes we're not able to attend all of them, because of that. In most cases, we do also provide police officers with materials to hand out so if we're not able to be at the check stop, we will provide ribbons or other things to hand out to people that are going through the check stop."
Many chapters in Alberta have been extremely active during the pandemic, in some cases the most active Crawford has ever seen them. Many of these volunteers have been working with both new and old partners to spread the message even when they can't be there in person.
"They're being very focused on different billboards, different public service announcements, sign campaigns, very active, working with different community partners, and being able to do these things. So a lot of our different businesses have digital signage, so we've been able to partner with them," said Crawford. "And they've been putting out free messaging for MADD during the holiday season, reminding people to plan ahead. So that's been really positive. And these are areas that we haven't necessarily explored as much in the past. We're partnering with Alberta Transport, which has been an amazing partner this this past year, they worked on a crashed car campaign in I think 11 or 12 communities across Alberta, where we've put a crashed car in different locations, branded don't drive impaired, and it's, it was visually very impactful as people don't pass that sigh and be in that place for a good two weeks at a time."
Other efforts have included movable signs placed into the ground, usually close to where someone was charged with driving impaired, to help remind those on the roads that it can and does happen everywhere and not only to plan ahead, but to stay alert for those driving in a manner that suggests they may be under the influence of alcohol or drugs.
The spots for this signage also includes ATV parks, said Crawford, as there have been instances of snowmobiling or ATV accidents while impaired.
This uptake in activity from the MADD chapters may be needed, as Croawford notes that there has been an increase in imparied driving over the course of the pandemic.
"The past two years with COVID, the police have advised that they have seen a large increase in the amount of impaired driving that's happened. Definitely increase in drug impaired driving. So that's definitely been a big concern. This is why again, we're trying to be so creative and getting our message out to the communities," said Crawford. "Even in the communities that don't have representatives, we still are trying to work with police partners to see what we can do to get messaging out there. We're doing a big sign campaign. We're working with different partners that have identified some areas as well, where these areas where we don't have representatives, but they're having a lot of issues with impaired driving. So we're working with them to put in place large billboard signs, in large in busy corridors to remind people to be, you know, not to drive impaired. But it definitely has been an increase. So we've been really focusing on trying to, again, work with a lot more partners to expand our capabilities."
The increase in problems has thankfully been met with an increase in partners, both with the police, taxi companies, as well as INEO, who have reached out to get MADD messaging on their digital signs which are present in many liquor stores.
It's not only partners that can do their part to prevent crashes due to impaired driving, however.
"The biggest thing is, especially over the holiday season, but even all throughout the year our message always is to plan ahead. Don't ever drive impaired. Think about how you can get home safely," said Crawford. "But the other big piece too is if you see somebody that you feel may be driving impaired, call 911. The police want that phone call. They want to be able to intercept that vehicle before a crash happens. Anybody in these communities can be proactive into stopping impaired driving, you don't need to be a volunteer. You don't need to be a police officer, but we all have a voice. And we all can often make a big difference if we see somebody that is driving in a way that we should be contacting the police in an unsafe way."