Lethbridge Police invite community to take the plunge in 2022
Posted on 23 December 2021 by Prairie Post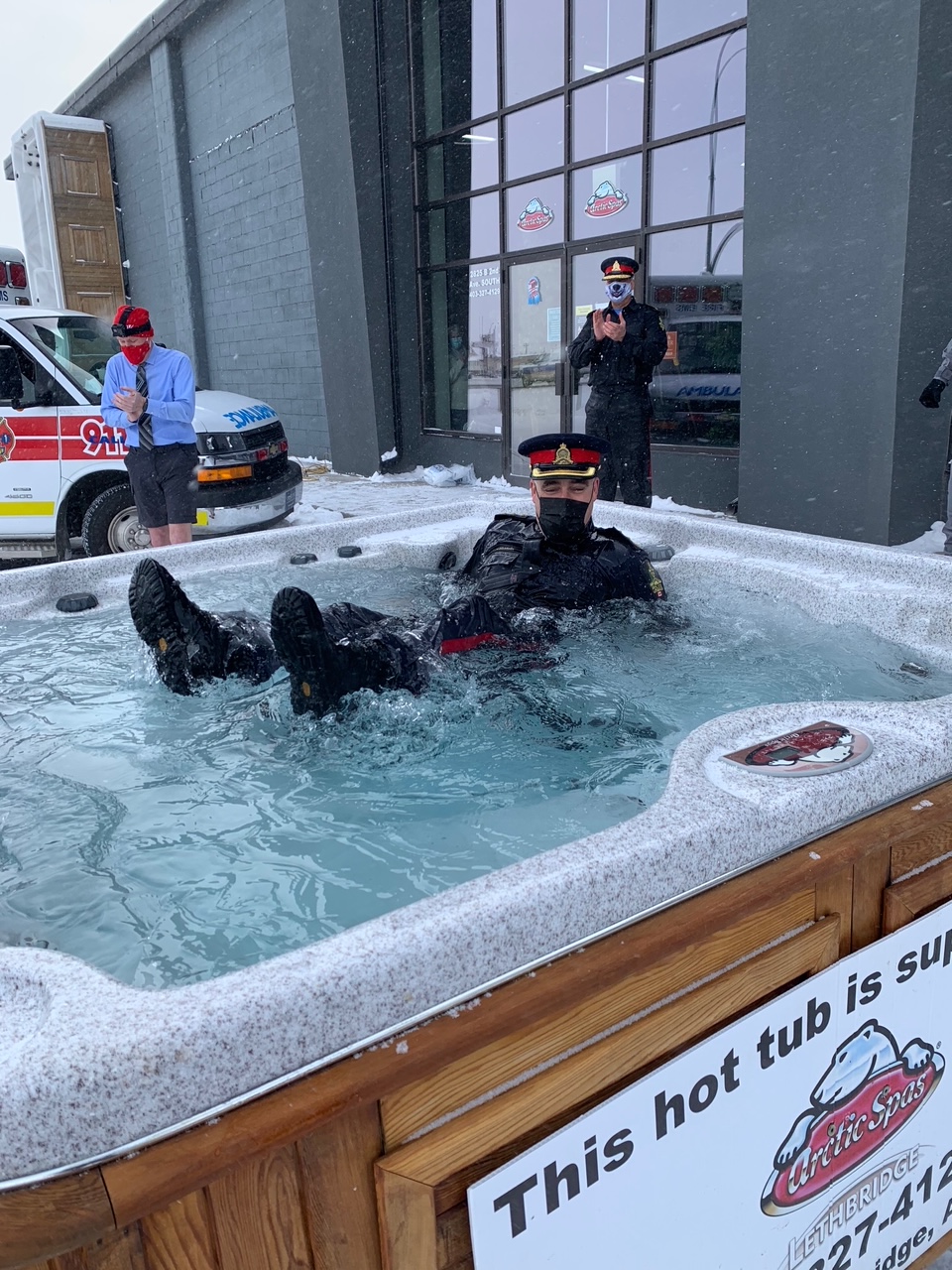 The community is invited to join the Lethbridge Police Service and various community partners to make a splash for Special Olympics in 2022.
Last year the COVID-19 pandemic forced the Law Enforcement Torch Run (LETR) Polar Plunge into a 'virtual' mode, with a Lethbridge Police contingent – calling themselves 'BRRRothers in Blue' – taking turns immersing themselves in an unheated, iced-over hot tub to raise funds for Special Olympics.
Registration is open for in-person plunges across the province in 2022, with the Lethbridge event scheduled for Feb. 5 at Henderson Lake Park. Participants must agree to comply with the Restriction Exemption Program and steps will be taken to ensure the safety of all participants.
Lethbridge Police Const. Braylon Hyggen, who is Chair for LETR Alberta, says everyone involved is excited to return to live, in-person events.
"We've been doing this virtually for pretty much the last two years now, and it's just not the same as being able to gather and do this as a group," he says. "The LETR is celebrating its 40th anniversary this year, and it's so great after 40 years to still be doing this."
In addition to the traditional, in-person plunge events, there will once again be a virtual option for those looking to get creative with their plunges from home. Those unable to participate are encouraged to donate to the cause. To sponsor the 'BRRRothers in Blue' team, go to https://bit.ly/3eeupHt
For more information on Polar Plunge 2022, including registration, go to https://bit.ly/3z1QS4h
The history between law enforcement agencies and Special Olympics is a lengthy one. The Law Enforcement Torch Run began in 1981 in Kansas, where a police chief saw an urgent need to raise funds and increase awareness for Special Olympics.
While some police officers support the cause because of family members with intellectual disabilities, Hyggen was hooked after watching some Special Olympians in action.
"It's great to see when you go to some of these sporting events, it doesn't matter who scores the goal or gets the basket, everybody is excited," he says. "It tugs at your heart and you realize the true meaning of sport and how much they enjoy it."
The Polar Plunge is just one of the Law Enforcement Torch Run events to raise funds and awareness for Special Olympics Alberta. For more information on the LETR, go to https://bit.ly/30OwVkF
Media note: See attached an image from this past year's Polar Plunge and some of the LPS contingent who took part.