Holiday sweetness: Take a trip to Take the Cake
Posted on 23 December 2021 by adminis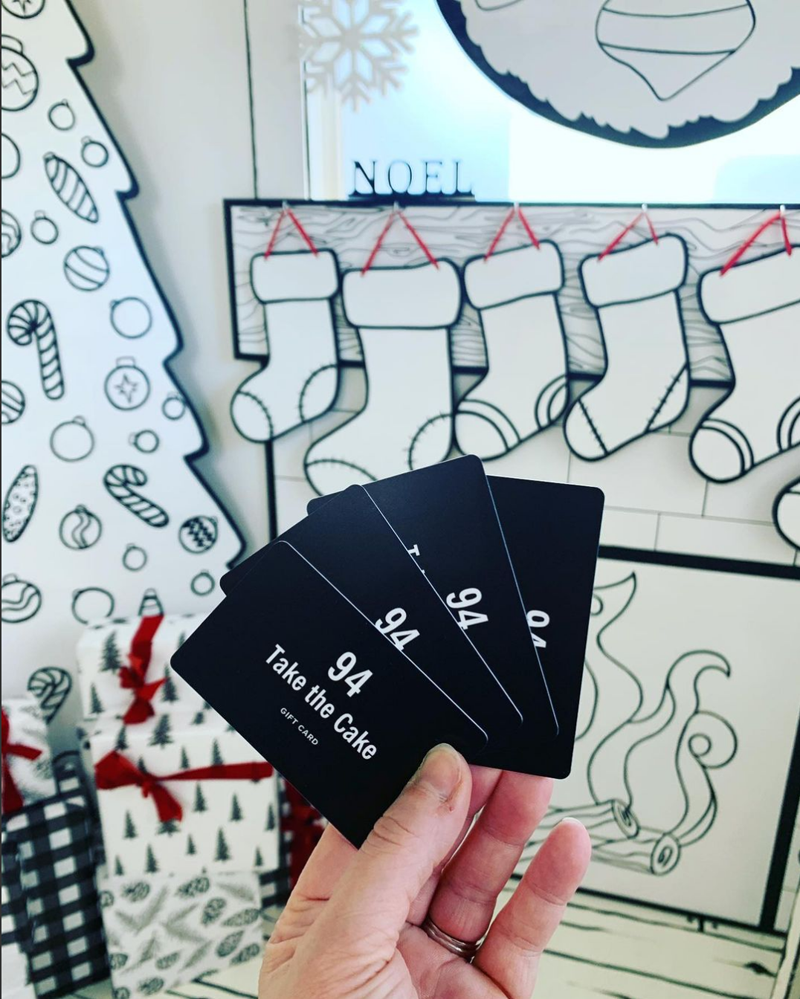 A picture of the inside of 94 Take the Cake in Okotoks, with some of their gift cards.
Local Journalism Initiative Reporter
Moving into six years of business in the historic district of Okotoks, 94 Take the Cake prepares for both the holiday season and a whole new clientele in the new year.
94 Take the Cake is a custom cake and coffee shop, which hides their unique aesthetic inside a 117 year-old house.
"We have redesigned our entire location to look like a coloring book," said Sherry Lindenback, the owner of 94 Take the Cake. "The great thing is that the people bring color and life to the space. So the background just becomes a nice, kind of static background. And then people bring the lights and the colour to the space. And the amazing goodies that are nice and bright and colorful, like macarons. And our cupcakes become the focus in your photos."
Lindenback has a background in interior design, and wanted to set herself apart from the many other cafes and bake shops in town with something more than just their ever-changing selection of goods in what she calls the "age of Instagram."
"We're not on the beaten path, we're not on the main street in downtown Okotoks, we are a destination. And so we didn't always get that foot traffic that a small local coffee shop would get," said Lindenback. "So I needed to do something to bring people to me, I needed to do something that was different and eye-catching. And with my interior design background, I came across this concept and just fell in love with it and ran with it. The nice thing with it too, is I change it every couple months. So we'll repaint the wall, and we'll do new drawings. And so the design is always evolving and changing. And we change seasonally as well. And right now we're dressed up for Christmas. But again, everything is still in the black and white drawings. So it's great, because every time you come in your photos will be different."
The selection available at Take the Cake varies from day to day based on orders and the seasons, but the consistently offer a variety of cupcakes and french macarons, allowing for both those looking to form a habit and those hoping for something new to find a treat.
"We always do have a really nice fresh baked daily selection of cupcakes we always do have, we make our own French Macron in house. So always have a wonderful selection of French Macron. We do lots of tarts, we also do fresh pies in the location. We also have hot chocolate bombs, which are really super popular for the holiday season, we've got lots of those going. We always have lots of sugar cookies daily. And we do lots of assorted cookie boxes, just lots of different varieties of baked goods that may change slightly everyday depending on theme and orders and whatever the holidays are too, we like to follow what the holidays are. So if it's national gingerbread day, then we'll have lots of gingerbread stuff in stock," said Lindenback.
This wide variety is only going to expand in the new year, as Lindenback has partnered with local pet supplier the Bone and Biscuit for a line of cakes for dogs, which she referred to as "Pupcakes."
"I've had many people over the years call and ask if we do dog cakes, because we are a cake shop. And we have done some for animals before we've done some for pigs, we've done some for some dogs," said Lindenback. "And because it's just basically natural ingredients that they're looking for, right, which is what we do in the shop every day. So it's not really a big stretch, it's just kind of a natural progression of the business, something different. Something moving into 2022 and a new little side venture for Take the Cake."
"The biggest thing about 94 Take the Cake is we pride ourselves in making everything fresh every day. You know you come in and you see the Baker's baking. Yeah, we have amazing staff, my staff is telling me the background," said Lindenback. "We do have an amazing team. We've got them all making everything fresh every day. You can smell the gingerbread when you walk in, you can smell the sugar cookies when you walk in. I think that's a big thing."