Redcliff RCMP cap off an amazing Christmas fundraiser Dec. 17
Posted on 20 December 2021 by Prairie Post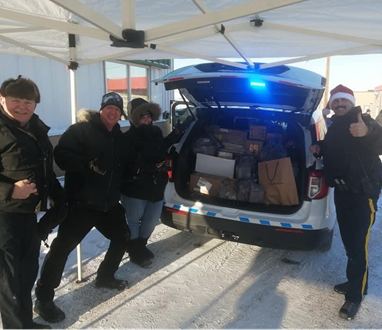 A lot of fund was had in stuffing the cruiser. Photo contributed
Redcliff RCMP's inaugural Stuff the Cruiser a huge success.
On Dec. 17, Redcliff RCMP held their inaugural Stuff a Cruiser in support of the Root Cellar.
Redcliff RCMP partnered with Town of Redcliff peace officer and volunteers from the Redcliff Victim Services Unit at the Redcliff Family Foods grocery store in Redcliff where food and cash donations were collected to Stuff a Cruiser.
"It was a huge success, we collected 4402.7 lbs of food and raised over $1,500.00 to support the local food bank. The Root Cellar arrived half way through the event with their van to unload the cruisers as they were already stuffed! In total we stuffed the police car 4 times! The food and money that was donated will make a huge difference for many families in our community. The support we received from Redcliff and Cypress County was overwhelming, it was amazing to see our community come together to support the Root Cellar," says Sgt. Al Rivard, acting Redcliff Detachment Commander.
Redcliff RCMP and the Town of Redcliff Peace Officer would like to thank everyone in the community who came out to support this event as well as Redcliff Family Foods who also donated a large amount of food.