NDP wants broadband improved in rural areas
Posted on 16 December 2021 by adminis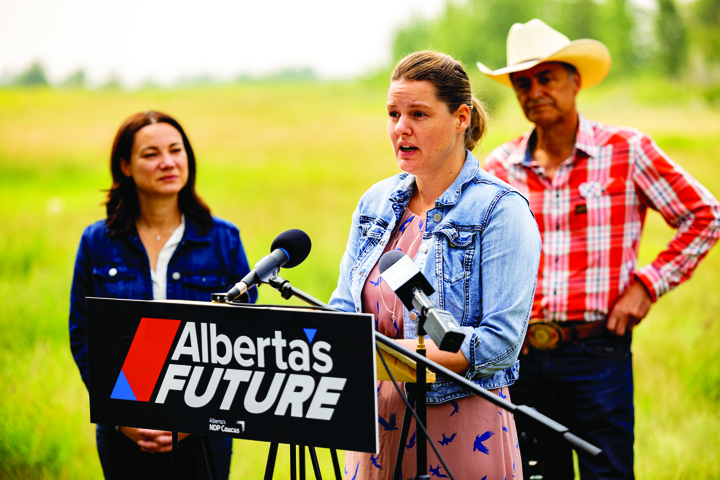 Heather Sweet says rural areas need vastly improved broadband.
Local Journalism Initiative Reporter
Alberta's NDP have announced their Bridging the Digital Divide Paper, published on November 25th, 2021.
Part of this paper details a commitment by the party that, if elected in 2023, they will invest $520 million into delivering high speed internet across the province, said Heather Sweet, Critic for Rural Economic Development with the NDP.
"We clearly see that the government has no plan," said Sweet. "They have announced in dollars. But yet they haven't announced a single detail about how they plan on delivering that service. And our plan is fully costed. We had a company that did the contract that was able to do the assessment and write the report for us. And it's a conservative estimate. So we know that the money that the government has put forward isn't even close to what would be needed to ensure that the infrastructure is in place for rural Alberta. And clearly, they have no plan of how they're actually going to deliver on the money that they committed."
The NDP's plan aims to include municipalities in the conversation to bring reliable internet to their communities, said Sweet.
"I think the most unique and great detail about our project is that it's about a partnership. So we're going to be asking anyone who is interested in looking at delivering this service to put their name forward and propose a contract," said Sweet. "Obviously, the most cost effective contract will be the one that would be honored with the intention that this would work with the local gas coops, the local municipalities, or any small businesses that are looking at providing Internet service. This is not about working with these big providers, this is about making sure that we have a solution that makes sense to the municipalities and to the people of Alberta, that will be delivered by the community that's going to be providing this service."
The plan, if carried out, would create 18,700 jobs in building the infrastructure, and have a return to the GDP of around 4 billion dollars, as well as promoting economic growth in the province, said Sweet.
"The biggest issue that we're seeing right now, that this current government is failing on, is that they really just left the municipalities to figure it out on their own. So we're seeing communities like Grand Prairie that are really having to actually come up with their own internet providing system and put, try to create a contract to be able to provide this because they know that they need it for their communities. The government isn't helping out these municipalities that are asking for support for this and the thing is, this is about municipalities that are able to do that today. And some of these municipalities need additional support. And so our plan would ensure that we support every single Albertan, every single municipality community, Hamlet, County, with the services that they need, without expecting that they have to figure out where they're going to get the funding source from," said Sweet."
Sweet mentioned that larger companies often do have internet access in these areas while the farmers and rural citizens who live there do not, something that was made even more obvious with COVID-19 and the increased demand for remote work and schooling.
"I have an example that was given to me by a local farmer that I was talking to, and they were trying to use their columbines harvest and the Combine wouldn't start. And so they reached out to the local dealer and said, you know, like, our combine is not working, we don't understand what's going on. And so they pinged it with a satellite. And they said, Oh, well, you know, it's because you didn't warm enough long enough, start it again, let it get to the temperature it needs to be at and you'll be good to go," said Sweet. "The irony of that is that the area where the combine was sitting on a farm didn't have any internet service. So the company was able to ping it with the satellite, but the local farmer who needed to be able to get the data off of their combine, wasn't able to do that and transfer it to their computer for their own personal data management. And that is the issue and the inconsistency that's currently happening in rural Alberta is that big companies can contain your vehicle and get the information from your vehicle, but the owner of that vehicle can't get the information that they need. And so we need to fix that."